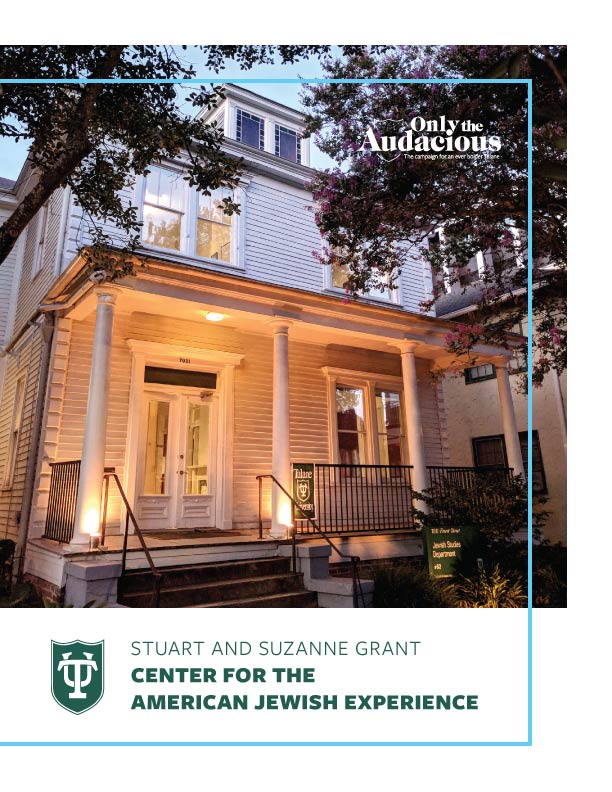 In December 2020, Colonel (IL) Jennifer N. Pritzker, IL ARNG (Retired) facilitated a gift commitment of $1,000,000 over five years from the TAWANI Foundation to establish the Audrey G. Ratner Excellence Endowed Fund for American Jewry and Jewish Culture. Additionally, the TAWANI Foundation agreed to match, dollar for dollar, over a period of five years, private cash and stock donations received by Tulane in support of the Audrey G. Ratner Excellence Endowed Fund, for a total of up to $1,000,000. The TAWANI Foundation gift is made in honor of Audrey Gilbert Ratner, the matriarch of the Ratner-Pritzker families. Ms. Ratner is mother to Jennifer, and grandmother to both Andrew Pritzker and Emily Ratner. Ms. Ratner selected Tulane to be the recipient of this honorary gift from her daughter Jennifer to honor her grandchildren's education and continued involvement at Tulane.
The Audrey G. Ratner Excellence Endowed Fund for American Jewry and Jewish Culture supports a dynamic slate of action-oriented programming goals, innovative student engagement activities, and cutting edge research, educating Tulane students for the transformative purpose of becoming the forward-thinking Jewish leaders of tomorrow. To accomplish this goal, the endowment will support key initiatives and programs. Students will have opportunities to cultivate leadership skills through structured academic experiences: the Audrey G. Ratner Jewish Leadership Course (see more below) and Student Faculty Research Funds. Research funds invite students and faculty to collaborate on research of value to both the Department of Jewish Studies and the Jewish community at large. Student projects would be overseen or approved by faculty, while faculty research would be required to have a student component.
The Audrey G. Ratner Excellence Endowed Fund for American Jewry and Jewish Culture also supports dynamic and innovative scholarly and public programming (including guest scholars, public lectures, and conferences). This fund will bring the world's elite scholars to campus, where they will share cutting-edge research in American Jewish Studies with the Tulane community and wider public audiences. Guest scholars may also share their research in our classes, providing Tulane students with the opportunity for intellectual exploration with the world's leading Jewish Studies scholars.
Hallmarks of the Ratner Fund include
Audrey G. Ratner Jewish Leadership Course
The Ratner Jewish Leadership Course will deepen the personal growth inherent in the experiential learning opportunities offered by Hillel's Tulane Jewish Leaders program (TJL) and the Center for Public Service. With the focused academic coursework of the Ratner Jewish Leadership Course, students will grow their understanding of the academic side of Jewish culture and life. Both Jewish and non-Jewish students will cultivate essential tools to revitalize and reimagine Jewish life and be allies to the Jewish community, making it their own on a fundamental level.
Audrey G. Ratner Speaker Series
The Ratner Speaker Series supports lectures, roundtables, and films and could bring internationally renowned speakers to Tulane University. Our participants—artists, scholars, public intellectuals, communal leaders—will contribute to a robust conversation about American Jewish culture, history, and ideas, to which the entire Tulane community would be invited. Ratner Speakers will also meet with student leaders at Hillel, connecting their academic work with our community and offering another area where student leaders could experience life-changing growth in their personal understanding and relationship to Judaism and Judaic culture. As part of the match challenge, new donors can make contributions of any amount to support this program. Those donors who make gifts of $100,000 or greater would be able to create named endowed funds.
The Audrey G. Ratner Excellence Endowed Fund for American Jewry and Jewish Culture also supports the salary of a Program Manager, who spearheads and facilitates programming and initiatives. Read more about the TAWANI Foundation's transformational gift and matching challenge and explore ways that you can contribute to the match below.
Matching Opportunities
The TAWANI Foundation's $1 million match challenge invites others to make a difference. With your support, the initial gift and accompanying match will represent a $3 million total investment, enabling transformative programming for the Tulane community and beyond.
Ratner Speaker Series Named Lectures
The TAWANI Foundation's initial gift supports the flagship lecture. Matching gifts would enable new donors to name individual lectures within the Ratner Series by establishing endowed funds ranging from $100,000 to $250,000. Larger gifts would bring more well-known luminaries to campus, while the smaller offerings would bring rising stars. Doing so would serve an added benefit for the thriving Jewish community at Tulane—that of attracting additional stakeholders invested in the future of Jewish Studies at Tulane.
American Jewish Studies Excellence Endowed Fund (AJSEEF)
This fund will support the fundamental operations of the Ratner Fund by contributing to and further augmenting the program manager salary, supporting honoraria for guest speakers and funding for conferences and working groups, providing for student-faculty research funds, and supporting thematic and focused research initiatives. Gifts to the AJSEEF would also support a general fund for guest scholars who would speak in classes such as the Ratner Jewish Leadership Course.
Conferences and working groups on important topics would also fall under the purview of this powerful resource. Donors may support this fund with gifts of any amount, but those who engage by contributing endowed gifts of $50,000 would be offered the opportunity to create named funds in support of the AJSEEF. All of the Ratner match monies will be folded into the Ratner Fund.
A special thanks to our matching donors:
Dr. Lawrence Kanter established the Kanter American Jewish History Research Endowed Fund. This Fund will further Tulane's mission to be the academic leader for the innovative and holistic study of American Jewry, creating a platform for Southern Jewish history to emerge into the national spotlight.
The Carol Gene and Howard S. Cohen American Jewish Studies Excellence Endowed Fund will fund research initiatives and provide opportunities for our faculty and students to fundamentally reshape the ways in which we understand the American Jewish experience.
Alan Rottman established the Rottman Family Lecture Endowed Fund as the second lecture in the Audrey G. Ratner Speaker Series. The Lecture honors generations of family doctors: Dr. Kenneth Paul Rottman, Dr. Marion Marcus Rottman, Dr. Morris Maxwell Rottman, Dr. Arnold Reis Rottman, Dr. Hana Rottman, Dr. Annie Marcus Chernov, Dr. Martin Marcus Rottman and Dr. Karen Meyers.
The Sylvia R. and Lawrence N. Margolies Student-Faculty Research Fund encourages the development of and engagement with American Jewish Studies by supporting student research with a faculty mentor, or faculty research with a student component.