Public programs such as lectures, seminars, films, and exhibits led by the world's leading scholars, practitioners and Jewish communal leaders, sharing cutting-edge research in American Jewish Studies with the Tulane community and wider public audiences.
Spring 2023 Public Programs
The Art of the Jewish Family
March 16th at 7pm
A.B. Freeman Business School Goldring/Woldenberg Business Complex Executive Classroom 470
This event will also be livestreamed.
The Rottman Family Lecture
Part of the TAWANI Foundation Audrey G. Ratner Speaker Series
In The Art of the Jewish Family, Laura Arnold Leibman examines five objects owned by a diverse group of Jewish women who all lived in New York in the years between 1750 and 1850: a letter from impoverished Hannah Louzada seeking assistance; a set of silver cups owned by Reyna Levy Moses; an ivory miniature owned by Sarah Brandon Moses, who was born enslaved and became one of the wealthiest Jewish women in New York; a book created by Sarah Ann Hays Mordecai; and a family silhouette owned by Rebbetzin Jane Symons Isaacs. These objects offer intimate and tangible views into the lives of Jewish American women from a range of statuses, beliefs, and lifestyles–both rich and poor, Sephardi and Ashkenazi, slaves and slaveowner.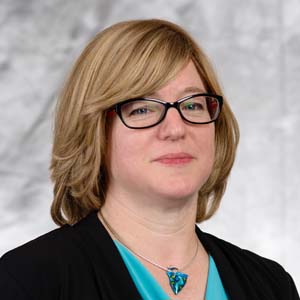 Laura Arnold Leibman is Professor of English and Humanities at Reed College. Her work focuses on how material culture changes our understanding of the role of women, children, and Jews of color in the early Atlantic World. Leibman is the author of The Art of the Jewish Family: A History of Women in Early New York in Five Objects (Bard Graduate Center, 2020) which won three National Jewish Book Awards, and Messianism, Secrecy and Mysticism: A New Interpretation of Early American Jewish Life (2012), which won a Jordan Schnitzer Book Award and a National Jewish Book Award. Her latest book Once We Were Slaves (Oxford University Press, 2021) about an early multiracial Jewish family who began their lives enslaved in the Caribbean and became some of the wealthiest Jews in New York was a finalist for a National Jewish Book Award. She has written several other books and numerous academic articles, one of which won the 2015 Wasserman Essay Prize from the journal American Jewish History. She has been a Fulbright scholar, a visiting fellow at the Oxford Centre for Hebrew an Jewish Studies at University of Oxford, and the Leon Levy Foundation Professor of Jewish Material Culture at Bard Graduate Center. She is also known for her scholarship in Digital Humanities.
Fall 2022 Public Programs

Film Screening: Children of the Inquisition
October 20, 2022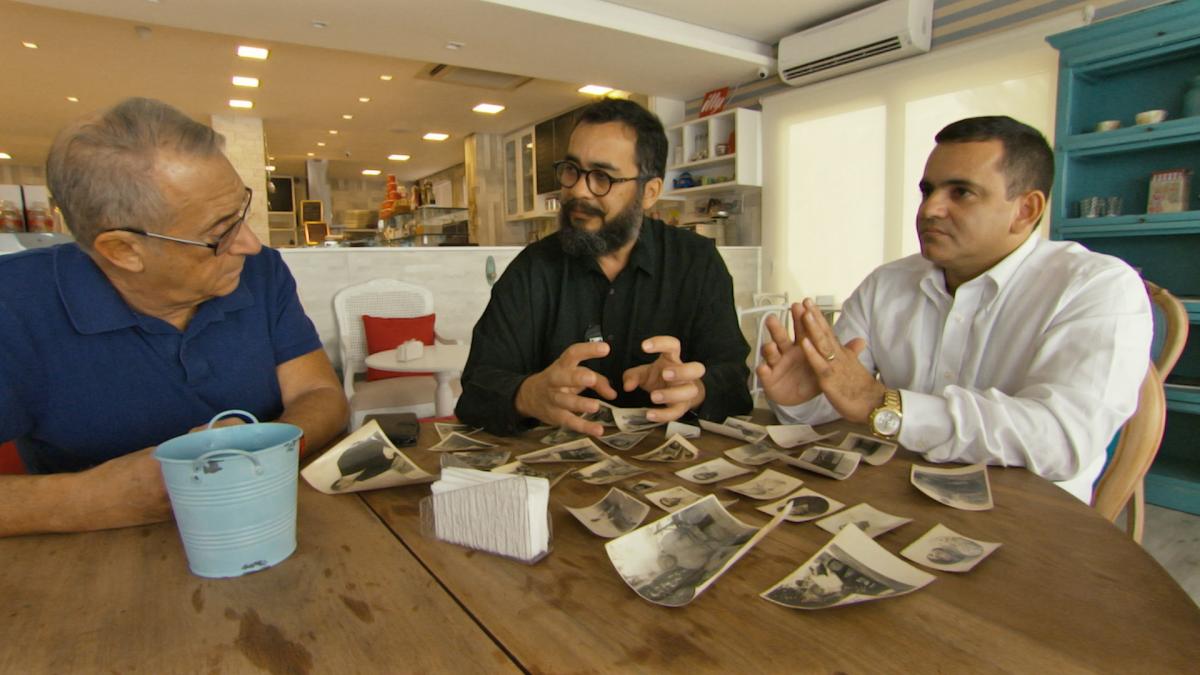 Freeman Auditorium
Woldenberg Art Center
5:30pm
Children of the Inquisition: Their Story Can Now Be Told reveals the stories of the families who were forced to convert to Catholicism or flee during the Spanish and Portuguese Inquisitions (1478-1834) through the eyes of their contemporary descendants. Through these families' journeys, the film explores and reveals the commonalities that transcend race and religion. In the film, descendants come to understand how their ancestors shaped history and how their perilous history shaped their identities. The film's producer and Tulane parent, Hilary Klotz Steinman, will help to introduce the film and answer Q&A afterwards.
If you cannot attend in person, the film's producers have agreed to share a link for 24 hour virtual access to the film. Sign up for the eventbrite event!
The Audrey G. Ratner Speaker
The Audrey G. Ratner Speaker Series supports lectures, roundtables, and films and could bring internationally renowned speakers to Tulane University. The series is generously provided for by the TAWANI Foundation, the sponsor of the Audrey G. Ratner Excellence Endowed Fund for American Jewry and Jewish Culture and the Audrey G. Ratner Speaker Series.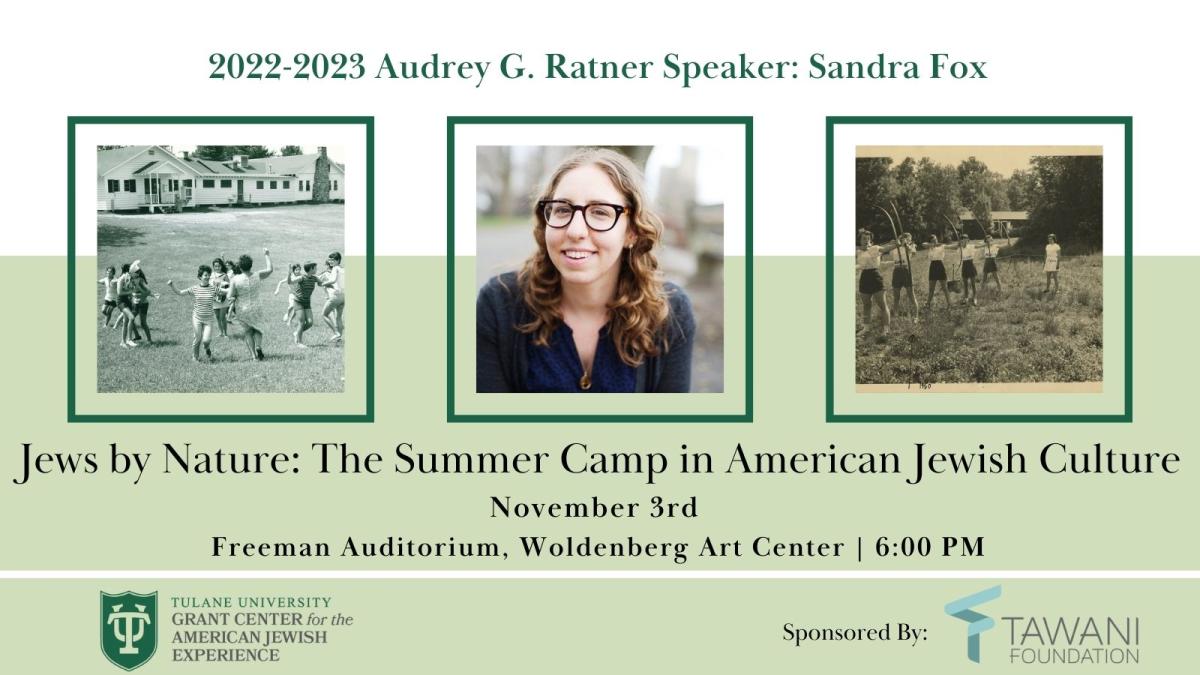 "Jews by Nature: The Summer Camp in American Jewish Culture"
November 3, 2022
Freeman Auditorium
Woldenberg Art Center
6pm
How did the residential summer camp become an integral part of American Jewish life? Is there something special about the relationship between Jews and camp? In the decades directly following the Holocaust, American Jewish leaders anxiously debated how to preserve and produce what they considered authentic Jewish culture, fearful that growing affluence and suburbanization threatened the future of Jewish life. Many communal educators and rabbis contended that without intervention, Judaism as they understood it would disappear altogether. They pinned their hopes on residential summer camps for Jewish youth, institutions that sprang up across the U.S. as places for children and teenagers to socialize, recreate, and experience Jewish culture. Adults' fears, hopes, and dreams about the Jewish future inflected every element of camp life, from the languages they taught to what was encouraged romantically and permitted sexually. But adult plans did not constitute everything that occurred at camp: children and teenagers also shaped these sleepaway camps to mirror their own desires and interests and decided whether to accept or resist the ideas and ideologies their camp leaders promoted. In this lecture, Sandra Fox explains how a sense of cultural crisis birthed a rite of passage for Jewish children across the country.
Sandra Fox is a Visiting Assistant Professor of Hebrew Judaic Studies at New York University and the director of the Archive of the American Jewish Left in the Digital Age. Dr. Fox is the founder and executive producer of the Yiddish-language podcast Vaybertaytsh: A Feminist Podcast in Yiddish and is a peer-review editor at In geveb: A Journal of Yiddish Studies. Her book, The Jews of Summer: Summer Camp and Jewish Culture in Postwar America (Stanford University Press, February 2023), addresses the experiences of youth in postwar Jewish summer camps, and the place of intergenerational negotiation in the making of American Jewish culture.
Impactful Giving Opportunities
Lectures, Roundtables, and Films
A fund for Lectures, Roundtables, and Films will bring internationally renowned speakers to the Grant Center. Our participants—artists, scholars, public intellectuals, communal leaders—will contribute to a robust conversation about Jewish culture, history, and ideas, to which the entire Tulane community is invited.
For questions or more information, contact
grantcenter@tulane.edu