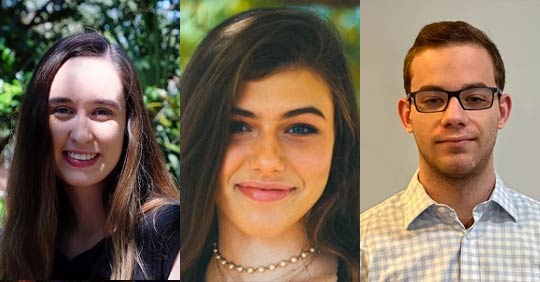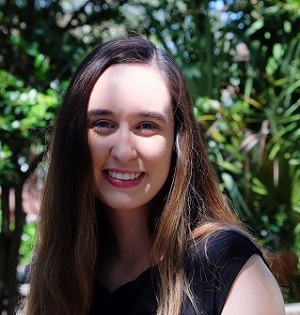 Karlyn Simcox, our new Digital Media Assistant and Newsletter Design Editor, is a junior studying international relations and legal studies in business through the Altman Program in International Studies and Business, and recently added the Gender-Based Violence Certificate to her program of study. 
Simcox serves as New Member Coordinator to Phi Alpha Delta Pre-Law Fraternity and Secretary-General to WaveMUN, Louisiana's first high school Model United Nations conference. She served as a political organizing intern with the Kristin Palmer for City Council at-large campaign and with ACORN International as a democratizing data intern for the Voter Purge Project (VPP). She was also a cohort member of the Tulane Center for Public Service Internship Program.
Her diverse interests include the Spanish and Portuguese languages, social movements in Latin America, and international human rights. But Simcox says her chief passion among all her interests is ending sexual violence on campus, and she has engaged in these efforts as a current member of Sexual Aggression Peer Hotline and Education (SAPHE), and as the outgoing Undergraduate Student Government (USG) Director of Sexual Violence Prevention and Response.   
Simcox has worked in the Political Science office for three years and says she's excited to see what she'll learn from her work on the department newsletter and from the news students submit under the new format.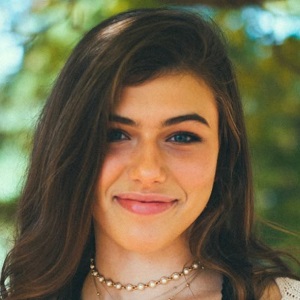 Rowan Scarpino, will contribute to the department newsletter as a writer and has a special interest in faculty and student research. She is a junior pursuing a double major in international relations and philosophy and minors in Spanish and legal studies. She is a Phi Alpha Delta brother and member of the Tulane Organization of Global Affairs.
Having recently discovered a passion for international development, Scarpino hopes to work in the future with Latin American NGOs or private organizations to provide emergency health, education, or conflict resolution services to rural and indigenous areas. "I'm especially fascinated by the intersection between democracy, or lack thereof, civil society, and socioeconomic equity in Latin America," she says.
Scarpino is looking forward to completing an honors thesis next year and is currently brainstorming ideas. Her favorite so far is the influence of technology on state fragility and human rights as states decline in legitimacy but increase coercion to balance lost sovereignty.
After graduation, she plans to go into the Peace Corps with the hope of being stationed in Latin America. Her long-term goal is to attend law school and become a human rights lawyer.
Currently, Scarpino volunteers as a legal intern with Catholic Charities Immigration and Refugee Services Legal Team. She researches the political and socioeconomic conditions that prompt migration and works with asylum-seekers to complete paperwork. Scarpino says this work is providing her valuable insight into the asylum process and immigration law. She previously served with Catholic Charities as a tutor in English as a Second Language and US citizenship.  
Scarpino's other passions include the arts, specifically drawing and oil painting, health and wellness, international cuisine and, "the quest for extraordinary food, and of course travel," she says. She has worked in the Political Science office since her freshman year and currently works as a server at Superior Seafood.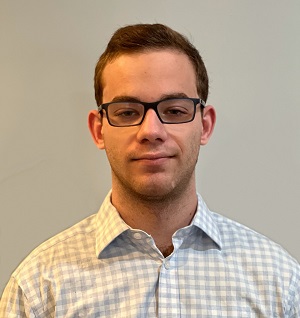 Jack Rieger, a contributing writer and the newest member of our team, is a junior pursuing a double major in international relations and homeland security. He has been a member of the Tulane Organization of Global Affairs since freshman year and a participant in Model United Nations organizations since middle school.
Rieger has a keen interest in current events and is especially intrigued by American foreign policy, national defense, the environment, and China. He has high esteem for civic service and hopes to one day work in government helping to shape environmental, national security, or foreign policy. Through his coursework in homeland security, Rieger has developed a new interest in emergency management. He has taken independent courses through the online FEMA Institute and is considering the topic, "the intersection between national security and environmental issues as climate change continues to worsen," for his honors thesis next year.
Before moving to New Orleans, Rieger interned under former Westchester County legislator Jim Maisano in the Westchester County, New York, Department of Consumer Protection conducting field inspections of various businesses. As a volunteer, Jack worked with the Miracle League of Greater New Orleans helping to give disabled children the opportunity to play a team sport like baseball.
Rieger recently started working in the Political Science office and is excited with his new role as part of the news media team. His other interests include reading, paying close attention to football and basketball, breakfast, travel, and listening to music.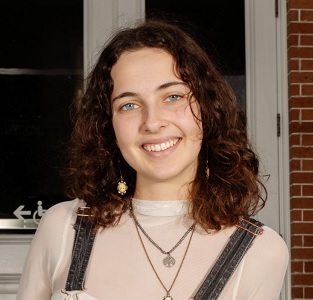 Tali Gorodetsky, contributing writer and the newest member of the Political Science team, is a senior double majoring in international relations and art history and on track to graduate in December 2022. She will continue her higher education past undergraduate with a master's in art history through Tulane's 4+1 program.
Gorodetsky is an active brother in Alpha Kappa Psi, serving as Community Service Chair and Pledge Parent. She is a DJ for Tulane's progressive radio station, WTUL, where she has held Executive Media Director and Apprentice Director positions. She recently sat for 24 hours broadcasting live outside of the LBC to fundraise for the station. Gorodetsky also served as a peer mentor for the Art and Art History Scholar Society where she worked with faculty to create impactful first-year programming related to the fine arts.
Gorodetsky wishes to combine her deep passion for the arts with a policy-focused degree to discover how worldwide connections may reinforce and protect the artistic canon. In the summer between her junior and senior years, Gorodetsky will be attending the Tulane-Siena Institute for International Law, Cultural Heritage, and the Arts. There, she will study the complex relationship between international law and cultural property as it pertains to looted antiquities, collections ethics, and art's place in armed conflicts. Gorodetsky is looking forward to writing a master's dissertation with the potential focus on how to protect art from various conflicts, such as climate change or civil wars.
Gorodetsky is very passionate about live music (the joy of this city!), biking, and exploring all the hidden gems that New Orleans has to offer. In her time at Tulane, Gorodetsky believes she has been to every coffee shop within three miles of campus, thus crowning her the Coffee Queen. Outside of Tulane, Gorodetsky works as a server at Tal's Hummus.