Thank you for joining us for our 56th season!
If you are not on our email mailing list and would like to be added, click on the link to our Contact page and fill out and submit the form provided.
2023/24 SEASON UPDATES
*
*
PLEASE JOIN US FOR

"ONCE AGAIN"
A MEMORIAL FOR B. MICHAEL HOWARD
SUNDAY, SEPTEMBER 24, 2023
DIXON HALL,
TULANE UNIVERSITY, UPTOWN CAMPUS
2 - 4 PM
DOORS OPEN AT 1:45 PM
MEMORIAL STARTS AT 2:00 PM
LIGHT REFRESHMENTS TO FOLLOW
NOLA.COM ARTICLE:
MICHAEL HOWARD, A MULTIFACETED FORCE IN TULANE THEATER, DIES AT 79
*
SLT 2024 AUDITION UPDATE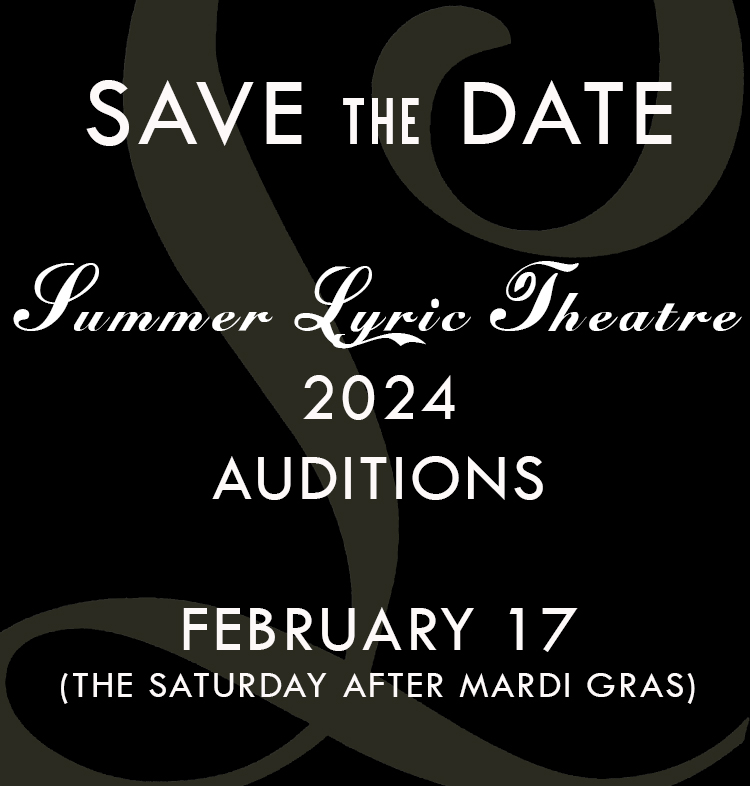 *
SUMMER 2024 SEASON
TBA (June ?)
TBA (July ?)
TBA (August ?)
Join us this Summer for our exciting shows!
AND
Summer Musical Theatre Workshops for ALL AGES!
Check back next Summer for more information about our 2024 educational workshops.

THANK YOU FOR YOUR SUPPORT!
Thank you for your support in creating another stellar season of shows! Please continue to check back with us for future updates.
If you have any further questions, you can contact the box office by phone at 504-865-5269.
The material on this site may not be reproduced, distributed, transmitted, or otherwise used, except with the prior written permission of Summer Lyric Theatre at Tulane University. For more information, please contact us.