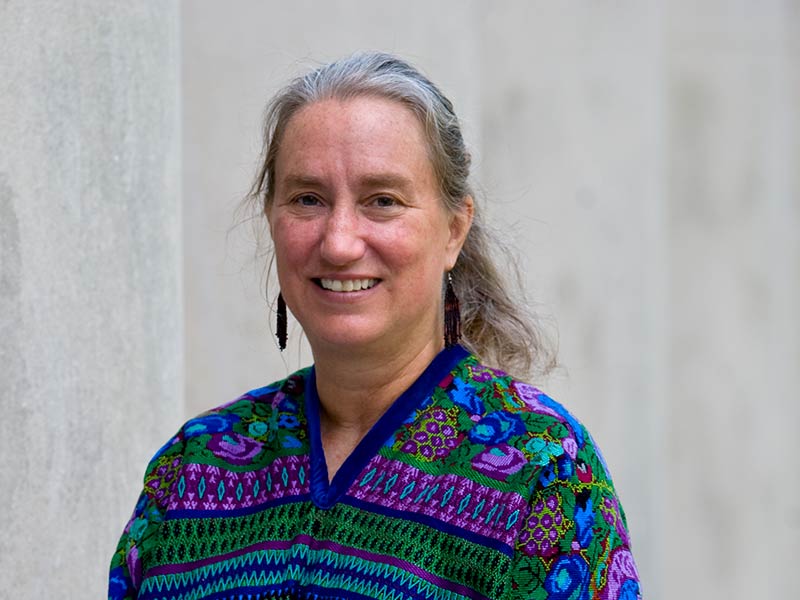 Biography
Fields of Study: Linguistics, Mayan languages, discourse; Mesoamerica, Guatemala
Dr. Judith M. Maxwell received her PhD from the University of Chicago in 1982. She works on discourse primarily within Mayan languages, particularly those of the K'iche'an and Q'anjob'alan families. Questions that interest her within discourse are canons for artistry, encoding of cultural constructs, mechanisms of coherence, co-reference and tracking, knowledge, and belief states, presuppositions, creating and indexing societal relationships, alignments, animacy hierarchies in relationship to syntactic and pragmatic structures, and masking. Dr. Maxwell also works with contemporary language issues: the processes of standardization, language maintenance and shift, bilingual/multicultural education, and issues of language, identity, and authenticity.
Dr. Maxwell works with colonial manuscripts, primarily in Kaqchikel and in Nahuatl, exploring issues in language change, borrowing and restructuring in conditions of contact, and lexical embellishment and shift. She also works with regional varieties of English, again looking at issues of language, power, and identity. The performance of gender provides another arena for research both within English and cross-linguistically. She is interested in the mechanics of how language works and in what it works to do. Kaqchikel, Chuj, Nahuatl, and English provide her primary data, but all languages are fair game to Dr. Maxwell.
Since 2010, she has been heading a collaborative team of Tulane students and Tunica-Biloxi tribal members and scholars working to revitalize Tunica language, a language which has been "sleeping" since the last native speaker, Sesotrie Youchigant, died in the 1950s.
Kaqchikel, one of the principal Mayan languages, is spoken by more than half a million people in highland Guatemala. Q'anil is a set of four basic language lessons: (a) greetings, (b) people, professions, activities, (c) food, (d) actions. In a set of e-lessons, eleven native speaker Kaqchikel teachers model the language use and provide interactive exercises to help you practice the language. Filmed in Guatemala, these lessons give you a basic introduction to Kaqchikel language and culture. This e-course is designed to accompany ANTH 6840 Beginning Kaqchikel Language taught by Ixq'anil Judith M. Maxwell, Louise Rebecca Schawe and Williedell Schawe Professor of Linguistics and Anthropology.