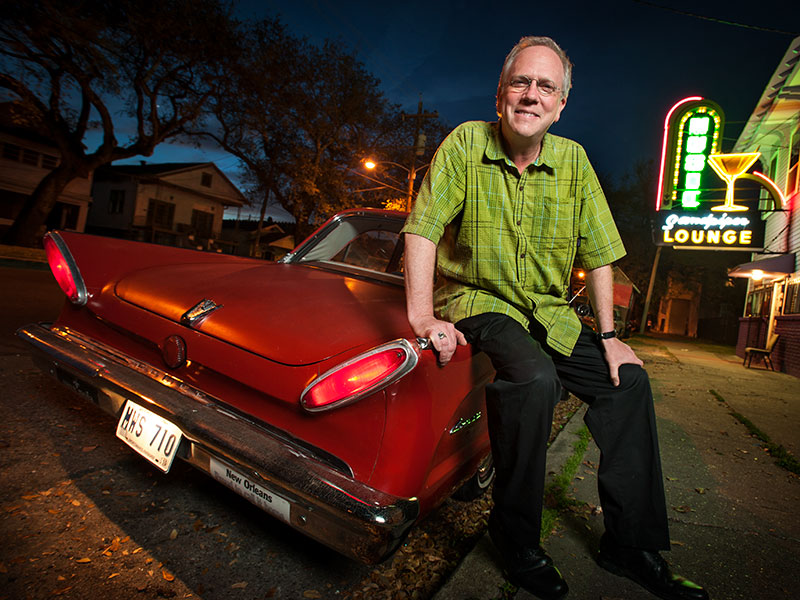 Education
Ph.D. University of Texas, Austin
Biography
Fields of Study: Folklore; ethnography, American vernacular music/culture
Nick Spitzer, the producer and host of American Routes, is a folklorist and a professor of anthropology and American studies at Tulane University. Nick specializes in American music and the cultures of the Gulf South, and received a Ph.D. in anthropology from the University of Texas in 1986 with his dissertation on zydeco music and Afro-French Louisiana culture and identities.
American Routes, which is distributed by PRX, reaches nearly a million listeners each week on over 268 stations and via its website.
Nick was founding director of the Louisiana Folklife Program, and edited and co-wrote Louisiana Folklife: A Guide to the State (1985) and The Mississippi Delta Ethnographic Overview (1979) for the National Park Service. He created the Folklife Pavilion for the 1984 Louisiana World Exposition, where he curated The Creole State: An Exhibition of Louisiana Folklife. He has also served as senior folklife specialist at the Smithsonian Institution (1985-1990), the artistic director for the Folk Masters concert/broadcasts from Carnegie Hall and Wolf Trap (1990-97), and the Independence Day concerts broadcast live on NPR from the National Mall (1992-2001).
As Louisiana State Folklorist (1978-85), he created films, festivals, exhibits and recordings of regional music, and co-produced a 90-minute Folk Festival USA special on Louisiana music for NPR, helping to bring Cajun music and zydeco to national visibility. His work continued at the Smithsonian, where he curated folk festival programs and directed or served as commentator in films about American music, including Great Performances, broadcast on PBS and the Discovery Channel. He has also served on the boards of the Fund for Folk Culture and the National Council for the Traditional Arts.
Nick has been a cultural commentator and producer for NPR's All Things Considered and Fresh Air, CBS' Sunday Morning, and ABC's Nightline. Spitzer directed the film Zydeco: Creole Music and Culture in Rural Louisiana (1986), and has produced or annotated two dozen documentary sound recordings. In 2002 he co-curated 'Raised to the Trade': Creole Building Arts of New Orleans at the New Orleans Museum of Art. He is an essayist and co-editor for the book Public Folklore (1992, 2007) and co-author of Blues for New Orleans: Mardi Gras and America's Creole Soul (2006).
A former resident scholar at the School of American Research in Santa Fe, and a Fellow of the American Folklore Society, Nick received the AFS' Benjamin Botkin Lifetime Award in Public Folklore, an ASCAP-Deems Taylor Excellence in Broadcasting Award in 2004, the New Orleans Mayor's Lifetime Achievement in the Arts Award, and in 2006 was named Louisiana Humanist of the Year for cultural recovery efforts after the catastrophe.
Nick's radio experience goes back to the 1970s, when he served first as program director of WXPN-FM, the college radio station at Penn in Philadelphia, where he majored in anthropology. After graduation, he was afternoon drive host on the popular "underground" rock station WMMR-FM in Philadelphia, and later worked as a deejay on the legendary progressive country station KOKE-FM during the early boom days of the Austin music scene.
His interests include ethnography of the Gulf Coast, cultural creolization, American vernacular music/culture, and public cultural policy. Nick received a Guggenheim fellowship for work on traditional creativity in Louisiana Creole communities.
Other Works by Nick Spitzer