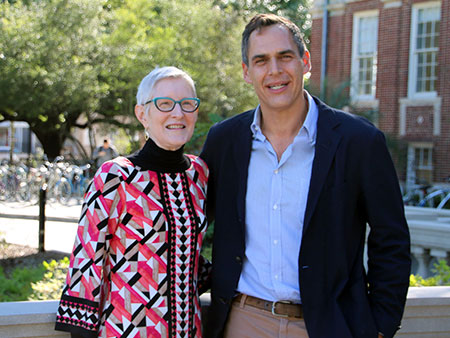 The influence of a supportive, encouraging French professor transformed Jeff Klein's life, inspiring him in turn to transform the lives of his fellow Tulanians by establishing an endowed fund in her honor.
"It almost feels like a movie that a teacher changed my life, but she did," Klein says.
A 1993 Tulane graduate, Jeff Klein is now a successful hotelier, the owner of the iconic Sunset Tower on Los Angeles' Sunset Strip. But it wasn't always obvious to everyone that he would make it to the top.
When Klein was 10, a doctor told the dyslexic youth that he would never speak a foreign language. At Tulane, he enrolled in French and was fortunate to have Elizabeth Poe as his professor. Her encouragement shifted the trajectory of his life.
Poe urged him to study abroad for a year in Paris. He was a bit uneasy about leaving his friends, but he took the plunge and embarked for France. As a result, he became a fluent speaker—he still is—and developed a sense of style that has inspired the unique look of his acclaimed hotels.
"She encouraged me to step outside of my comfort zone," Klein says. "In a storybook way, she taught me to follow my instincts. She taught me that there's nothing wrong with dreaming, and she taught me that if you work hard enough you can achieve your dreams."
And achieve he did. When Klein graduated from Tulane with a major in French, he entered the hotel business, envisioning that the highest rung he would ever reach would be general manager. He started as a bellman at a hotel in New York City, working his way up the chain. Then a mentor saw his potential and invested in him. With that backing in 2001, Klein opened the high-end City Club Hotel in New York City.
Although he owns three hotels, he is probably most famous for owning the Sunset Tower. Built in 1929, in its early days it became home to the royalty of the silver screen. It then fell into years of decline before Klein restored it as the spot for the Hollywood glitterati.
Klein and Poe had not been in touch for years when something moved Klein to send his former professor a short email several months ago, telling her how influential she had been in his life. She remembered him fondly and informed him that she is retiring from the School of Liberal Arts this spring.
Klein thought the timing was perfect to make a gift to Tulane in her honor. He chose to support a cause that is meaningful to them both, creating the opportunity for students to have a profound experience in France through the Professor Beth Poe Travel Fund in French Immersion Studies.
Poe said that there were tears streaming down her face when she learned of Klein's generosity.
"When you've taught for 40 years, you like to think you've had a positive impact on some of the students you've taught or tried to help. This incredibly generous and kind gesture on my behalf was like validation of everything I've tried to do for 40 years."
Both hope many future Tulane students will be able to enjoy life-changing immersive opportunities in France funded through this generous gift. And all because a teacher believed in her student, and because he always rose to her expectations.
"It all really does go back to her teaching me to follow my gut," Klein says "and that dreaming is OK."