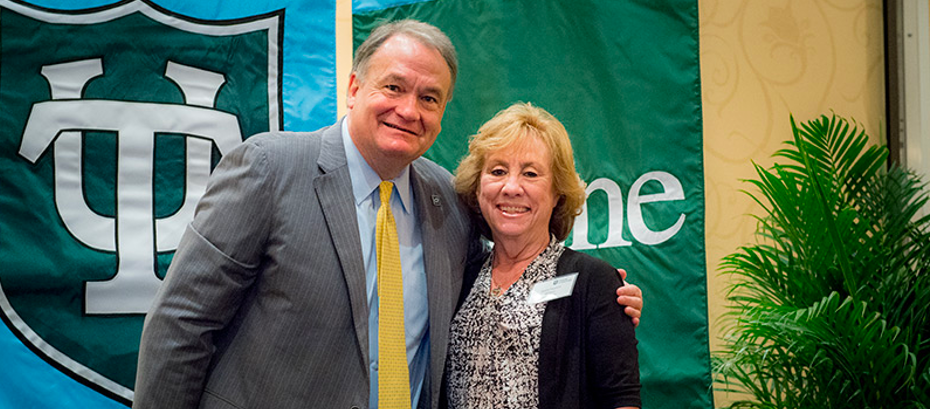 Last month, the Political Science department suffered a devastating loss. Sheila Favalora, an esteemed former member of our administrative staff, passed away on January 29, 2023 aged 75 after a long and courageous struggle with ALS. Sheila was born in Jefferson Parish on April 6, 1947. She is survived by her husband Armand Favalora, her son and daughter-in law Dwayne and Christine Falcon, and her nieces and nephews Amy and Alan Favalora and Nacol and Nick Waligura. She is also survived by her cherished grandchildren, Ryder and London Falcon, and her beloved surrogate grandchildren, Maddy, Maysen, and Timmy Favalora, and TK and Shane Waligura. We invite you to learn more about Sheila's family and their plans to honor her memory by visiting her obituary, at https://www.tharpcares.com/tributes/Sheila-Favalora. 
Sheila is particularly notable within the Tulane community for her 50-year career at Tulane, and within the Political Science community for her leadership at the Payson Center for International Development. Beginning her Tulane career in 1972, Sheila initially worked as an administrative assistant to the Head Basketball Coach. In this role, Sheila immersed herself within the Tulane community, making many lifelong friends that her family says brought her joy to the very end of her life. Excelling, Sheila moved to the Athletic Director's office before serving as the Executive Administrative Assistant for the President. This role is essential to the functioning of the University overall and brought Sheila close to some of the biggest names and most important events that Tulane offered at the time. Ultimately, Sheila's final position was as the Senior Program Manager at the Payson Center for International Development. Although the Payson Center was restructured into the Law School in 2008, it did important work to reduce global inequalities through humanitarian aid, emergency relief, and health, education, and other human development initiatives. Her family notes that this role allowed Sheila's generous nature, innate kindness, and radiant positivity to shine through. Not only did Sheila make a positive impact on the world through the Payson Center, but she made a positive impact on hundreds of students-- including a diverse array of foreign exchange students-- by going out of her way to assist anyone in need. 
Throughout her Tulane career, Sheila received numerous awards. She was recognized by President Fitts himself, pictured above, for her service and contributions to the Tulane community. Upon receiving each of her awards, Sheila always thanked the students and coworkers that "have kept her challenged and young." The Tulane faculty, staff, and students are lucky to have had an administrator with such determination and grace dedicate 50 years of her life to make Tulane the learning community we know and love today. We at the Political Science department will endeavor to honor Sheila's memory by working with the same passion and benevolence that Sheila demonstrated in every aspect of her life.