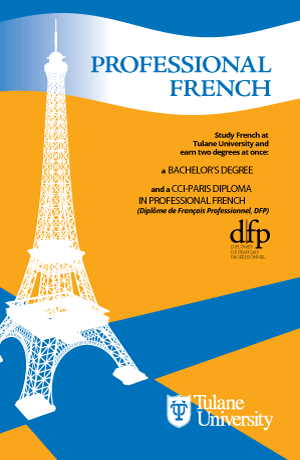 Download the Professional French Brochure
Diplôme de Français Professionnel
The B.A. or M.A. in French may be combined with a DIPLÔME DE FRANÇAIS PROFESSIONNEL awarded by the Paris Chamber of Commerce in the following fields:
The Diplômes de français professionnel will enable you to demonstrate the level of competency required by your future employers. They will also allow you to connect with international and French-speaking professionals and will help you, therefore, on your path to becoming a successful global citizen.
Designed and offered by the Paris Ile-de-France Chamber of Commerce and Industry, the Diplômes de français professionnel are calibrated to coincide with the different levels of the Common European Framework of Reference for Languages (CEFR) developed by the Council of Europe, with diplomas ranging from level elementary (A2) to proficient (C2).
Candidates obtain a diploma upon completion of an exam, which is conceived based on real-life professional situations and is adapted to today's economy. The Department of French and Italian at Tulane is a CCI accredited test center. It provides training for the DFP certification exam, at the B1, B2, or C1 level, depending on your level of proficiency. To prepare for the exam, students are strongly encouraged to take FRENCH 3060 (Business French), offered in the fall semester and FRENCH 4060/6060 (Professional French), offered in the spring semester.
Please feel free to contact Professor Sojic (asojic@tulane.edu) if you have any questions regarding the Professional French Program.