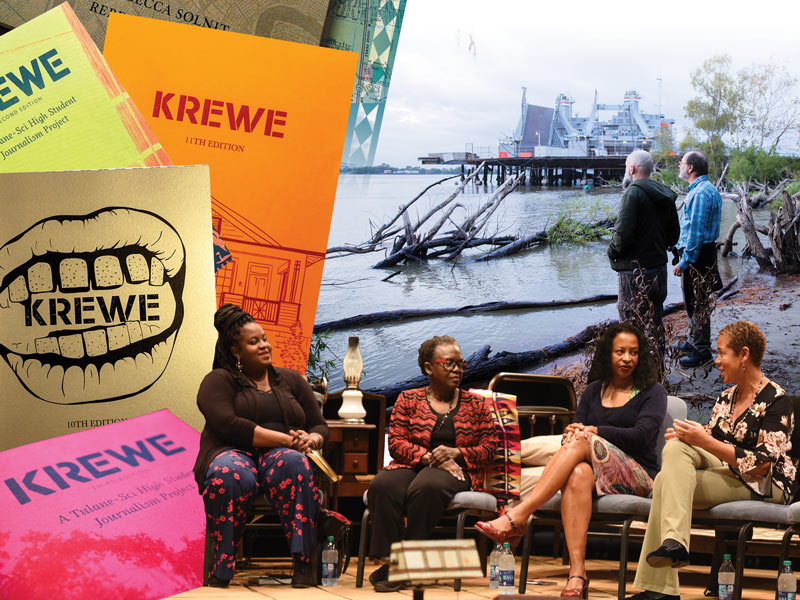 Originally published in the Summer 2022 School of Liberal Arts Magazine
Monday, August 15th, 2022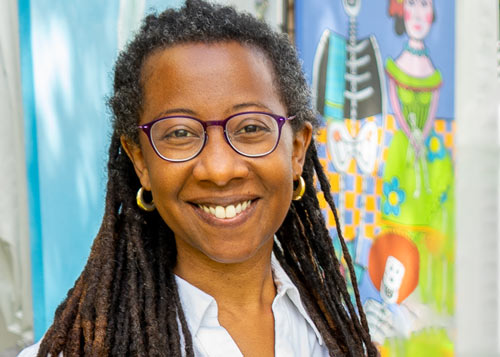 New Orleans Center for the Gulf South (NOCGS) Assistant Director and native New Orleanian Denise Frazier has an interdisciplinary Ph.D. in Latin American Studies. A lifelong musician and performance artist, Frazier is a member of the music ensemble Les Cenelles and the theatre company Goat In The Road.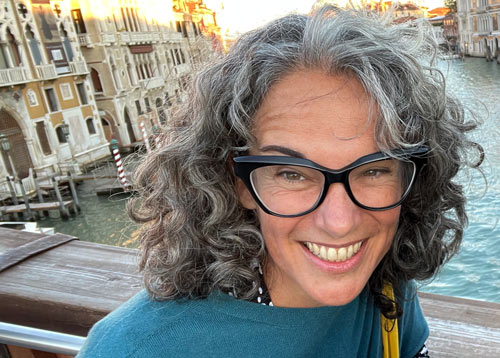 NOCGS Clark Executive Director Rebecca Snedeker is an Emmy Award-winning documentary filmmaker. Co-director of a book project with over 40 contributing writers, artists, cartographers and researchers, Snedeker also serves on the Steering Committee of New Day Films—a 50-year-old co-op of independent filmmakers distributing their work together as a Collective.
At the New Orleans Center for the Gulf South (NOCGS) in the School of Liberal Arts at Tulane, directors Rebecca Snedeker and Denise Frazier develop their programming around the belief that the more we understand where we are, the more fully we can engage in cultivating a collective destiny—our future and survival in this region.
"That survival," says Frazier, "is intrinsically linked to valuing each other as human beings, appreciating both our individual and shared humanity, determining how we can collaborate, effectively communicating with one other—and then relating and applying all of these components to our knowledge building and education."
Much of NOCGS's collaborative work focuses on understanding the Gulf South region, its place in the world, and its relevance in global climate change research. In 2018, NOCGS entered a partnership with the Haus der Kulturen der Welt and the Max Planck Institute for the History of Science, Berlin, on an ongoing, international, interdisciplinary project called the Anthropocene Curriculum. The term Anthropocene is intended to be a useful concept that proposes our present geological era to be the period during which human activity has been the dominant influence on climate and the environment. NOCGS joined this project by co-organizing and hosting the week-long Anthropocene River Campus at Tulane, where participants from 30 countries explored social, political, economic, and ecological topics through collaborative research, immersive site-based experiences, and collective discourse.
When it comes to the Gulf South region and the future of its communities, collaboration is a matter of survival.
The ideology of the center—as well as the intrinsic nature of its work—encourages experimental programming alongside more traditional symposia and on-campus lectures. Programming often includes immersive, place-based learning experiences that instigate research on the built and natural environment of the Gulf South region. NOCGS supports several research fellowships for scholars and artists, as well as a biennial Gulf South Writer in the Woods position, a collaboration between the center and A Studio in the Woods. Through collaboratively-taught courses and the Third Coast Residential Program, NOCGS partners with environmental activist and cultural organizations across New Orleans and the Gulf South, as well as other Tulane entities, to give students experiences that focus on understanding how culture and environment locally intertwine, and to address the ways in which students' academic and professional goals can actively contribute to the interests of our surrounding community, and the university's participation in their advancement.
Within all its work, NOCGS strives to create spaces to brainstorm, cooperate, and learn together, approaching each experience with Snedeker's provocation: "Dare to look around. Dare to look within." As interdisciplinary artists themselves, its directors are no strangers to collaboration. They encourage the staging of settings where scholars, artists and knowledge-bearers outside of academia can communicate across areas of expertise and gain deeper understandings of pressing, complex problems—such as how climate change and environmental racism are impacting Southern Louisiana and the world. This work is not always easy, and friction is bound to occur, but it is a natural and often productive dynamic.
As Snedeker explains, "We're accustomed to, and skilled in, working with groups of people and ensembles in a variety of ways, and we've brought our willingness to address uncomfortable tensions to our research and our programming—and allowed it to inform the center's practices."
Deeply collaborative work requires trust-building, intense communication, self-reflection, compassion, understanding and grace. Over time, the New Orleans Center for the Gulf South has nurtured a diverse constellation of voices and explored sites through which they create offerings that impact the lives of many and—significantly—the future of our region.
New Orleans Center for the Gulf South Amplifies Regional Voices in Learning
Continued Collaboration on Anthropocene Curriculum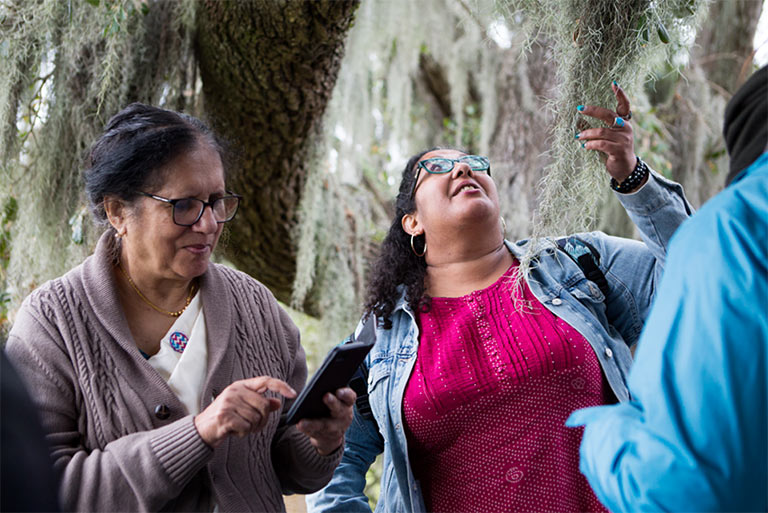 NOCGS will continue its role in the international Anthropocene Curriculum project over the coming years with several local, upriver, and international partners. Snedeker and Frazier have investigated the Anthropocene framework since 2018 in the Braid and Flow virtual series and via presenting at The Shape of a Practice conference and Anthropocene Campus Venice. In 2021, they launched AnthropoSonic, presenting composers whose work lies at the intersection of climate change and sound; and, in 2022, AnthropoFest, a performative workshop collecting, creating, and responding to a time capsule of objects and cosmic matter at the New Orleans Jazz and Heritage Festival in the Louisiana Folklife Village's new Sustainability Tent. This October, Snedeker will participate in the transdisciplinary program Where is the Planetary with artist Koki Tanaka, in an episode about composing planetary narratives.
4th Annual Tulane Gulf South Indigenous Studies Symposium
In Spring 2022, NOCGS presented the fourth installment of this symposium that brought scholars, artists, and practitioners from different backgrounds together for learning, contemplation and community. Created in response to the tricentennial of the founding of the colonial city of New Orleans, this symposium has become the center's annual signature event. Presenters included members from thirteen regional tribes and several universities and organizations who addressed the myriad ways this culture is practiced—and endangered— via areas like sports, foodways, storytelling, and the plantation/petrochemical complex. Special consideration was given to the impact of climate change on Indigenous communities, following Hurricane Ida's landfall last fall in an area home to several tribes. Keynote speaker Dr. Andrew Jolivétte (Atakapa-Ishak Nation), founding director of the Native American and Indigenous Studies Program at UC San Diego, delivered a talk titled "Thrivance Circuitry: Queer Afro-Indigenous Futurity and Kinship Through Wi hokišak kuš in Louisiana and Beyond."
10 Gatherings of Powerful Voices Becoming Archive & Article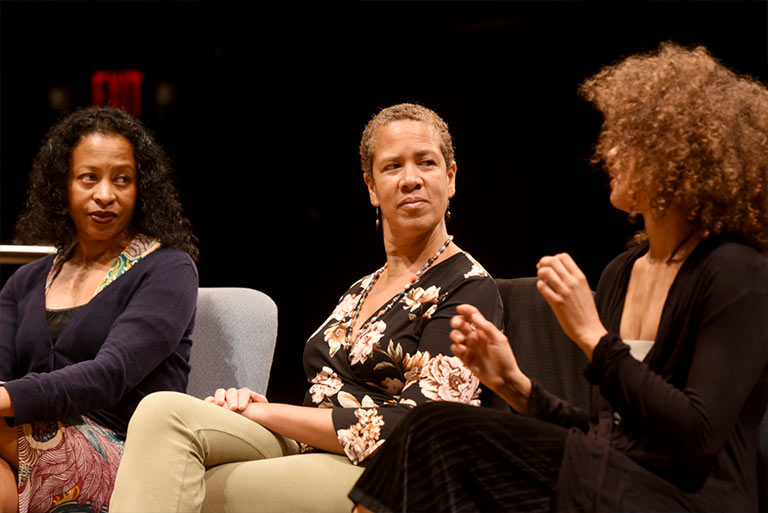 2022 saw the 10th iteration of the collaborative public programming series, Women and Movement. With inspiration from the NOLA4Women project and support from choreographer and Tulane alumna Jarrell Hamilton, NOCGS launched this series to engage regional women scholars and artists in discourse about place, performance and the socio-political issues that transform bodies, art, language and community. Past events have featured nationally renowned and region- based women including Courtney Bryan, Asali DeVan Eclessiastes, Gia Hamilton, Autumn Knight, Stephanie McKee-Anderson, Kesha McKey, Jia Tolentino, and Angela Tucker. And every spring, NOCGS partners with Theatre & Dance Professor John "Ray" Proctor to produce panel discussion "African American Women Affecting the Arts," moderated by No Dream Deferred director Lauren Turner. Snedeker and Frazier are currently co-authoring a piece about the findings of these biannual dialogues.
Third Coast Travels Upriver to Create Sound Maps of the Petrochemical Corridor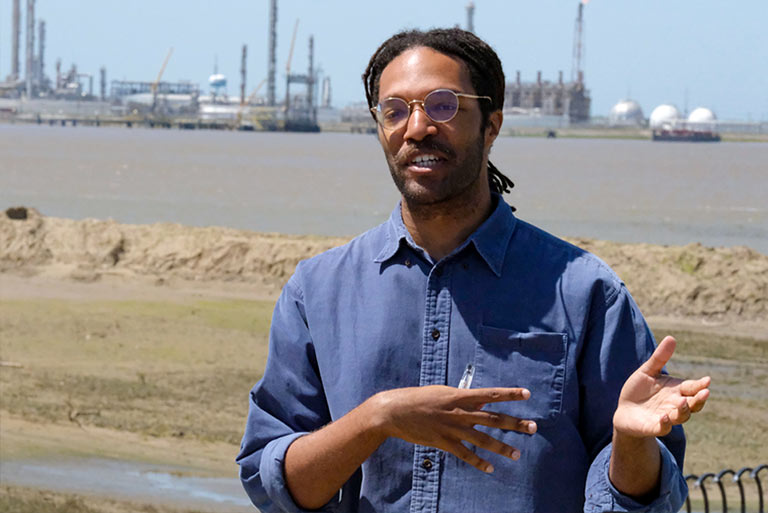 NOCGS collaborates with faculty and students through this program to plan immersive research trips to various Southern Louisiana sites. Third Coast students, Tulane faculty and staff, scholars, environmental activists, artists, and the public are invited to trips each semester. Last summer, a Central City tour with undergraduate student assistant Jamia Brown explored local funerary practices, geology, urban farming and foodways, culture and architecture through the footprint of one neighborhood. The group visited Monroe Fellows and alums Theodore Pierre and Susanne Hackett's Pierre Parlante (Speaking Stones) project in Lafayette Cemetery #2, Ms. Jeannette Bell's community garden, the Albert and Tina Small Center for Collaborative Design, and the Southern Food and Beverage Museum. In Spring 2022, graduate student Ryan Clarke helped organized Listening for Southern Resistance, an immersive research excursion along Cancer Alley with Jessica Dandridge, director of The Water Collaborative. Participants met residents of Gordon Plaza and activists from RISE St. James along the petrochemical corridor where they considered the impacts of environmental racism and recorded audio for a collective soundscape, and sketched the corridor for the eventual co-creation of a regional sound map.
Celebrating the 17th Issue of Krewe, a NOCGS Journal of New Orleans Stories
This journal of New Orleans-based creative nonfiction storytelling is written and produced with students in English Department Professor Michael Luke's journalism course alongside local high school students from partner institutions including Bard Early College, Morris Jeff, and New Orleans Charter Science & Math. For the last eight years, Luke's students have read, examined, and analyzed New Orleans and Louisiana-based journalism in tandem with Krewe, thanks to a generous gift from the late Andrew Fredman (A&S '84). They are required to get out of the classroom and confines of Uptown to engage with New Orleanians, cover often-underreported communities and dig deeper into their stories. Through the coursework, undergraduates explore the wide range of issues that make New Orleans a simultaneously challenging and alluring place. They act as Tulane student mentors, paired with high schoolers to provide guidance throughout the journalism process and, eventually, help the younger students to produce their own pieces for the magazine—designed and printed by Southern Letterpress.