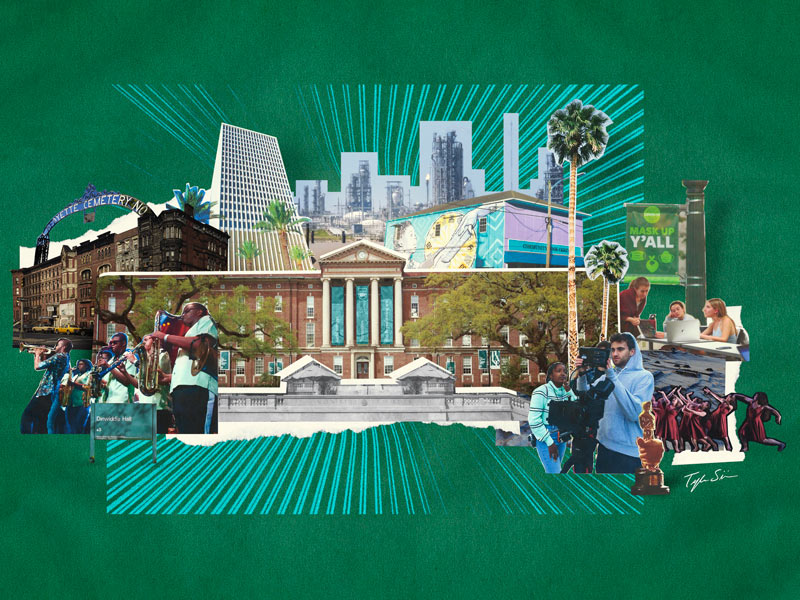 Tyler Simien
A Young Alum to Watch
at the age of only 22, the recent graduate has a resume to be reckoned with
In May, Tyler Simien graduated from the School of Liberal Arts with a BA in Studio Art, concentrated in graphic design, and a minor in Strategy, Leadership and Analytics (SLAM). Before even beginning college, he started his own photography & graphic design company, which he's helmed since 2014, with clients like Mariah Carey, Pharrell and Kash Doll. In his extracurricular efforts on-campus, Tyler held Design Chair titles for the inaugural Tulane Student Film Festival and with Tulane University Campus Programming (TUCP), creating the brand look and feel for both entities as well as developing marketing collateral for their annual and monthly events. And if all that wasn't enough, he's also spent the last year as a freelance digital designer for Parkwood Entertainment—the Los Angeles-based management, production and entertainment company founded in 2010 by none other than Beyoncé Knowles-Carter—and where he'll be working full-time come fall.
Tyler's impressive work with SLAM professor Jolene Pinder on the film festival is what brought him into the fold, literally, for this issue of our magazine, as we sought a student artist to produce an original inner spread illustrative of all the partnerships featured in this issue. Pinder couldn't say enough about his drive, creativity and flexible, collaborative nature. We borrowed a few minutes from Tyler's very busy schedule to get some thoughts from the new young alum on his time at Tulane, what it was like working for Beyoncé's brand while also making grades and creative deliverables, and what's next for him as a professional heading out into the workforce—albeit with plenty of real-world experience already under his belt.
I so admire and respect how Tyler built such an impressive professional portfolio as an undergraduate, inclusive of both the branding and graphic design for our inaugural Tulane Student Film Festival, as well as the very exciting work he did outside of school with Parkwood Entertainment. I am eager to follow the trajectory of his career as he heads to L.A. for this next step in his professional journey.

— Jolene Pinder,
SLAM Faculty
Why Tulane?
Tyler Simien (TS): Being from Lake Charles, Louisiana, I wanted to attend a university that was prestigious, but not too far from home. Tulane was the perfect fit, and it was in one of my favorite cities in the world! Once I toured campus, I was determined to study here.
Tell me about your major/minor combination. Did you start out seeking that mix of art and management, or did something help get you there?
TS: I always knew I wanted to study art and design, but I wanted a minor that would open up more doors for me than an art minor alone would. My academic advisor told me all about the SLAM minor at the start of my freshman year, and I would say the ensuing combination of my courses is what made my time at Tulane so enjoyable. I loved being able to take studio art classes in the morning, and then end the day studying public relations with Professor [Anna] Whitlow or building a film festival from scratch with Professor Pinder.
Perfect lead-in to our next question: What advice do you have for incoming freshmen?
TS: Adventure out as much as you can. My freshmen year was so fulfilling because I was able to balance coursework with exploring everything New Orleans has to offer. From trips to the Prytania Theater for the Rocky Horror Picture Show with the JAUNT Series, to attending my first Voodoo and Jazz Fests, I think my friends and I made the most out of our time here because we were always looking for more to do.
I'd also recommend joining a few Tulane organizations just to get your feet wet on campus until you find your tribe. TUCP granted me lifelong friends and taught me valuable lessons that I'll always be grateful for!
How was your experience collaborating on the film festival?
TS: I learned so much working on the marketing committee for the inaugural year of the Tulane Student Film Festival. Under Professor Pinder's incredible lead, I got to work with like-minded students who all brought their own perspective to what the festival's look and feel should be like. Working as a freelancer, I'm used to presenting and explaining my own vision to a client, so it was extremely refreshing working with other creative students to make something that felt true to all of us. Committees aside, it was also inspiring to see how willing we all were to step in and help out wherever we saw the need.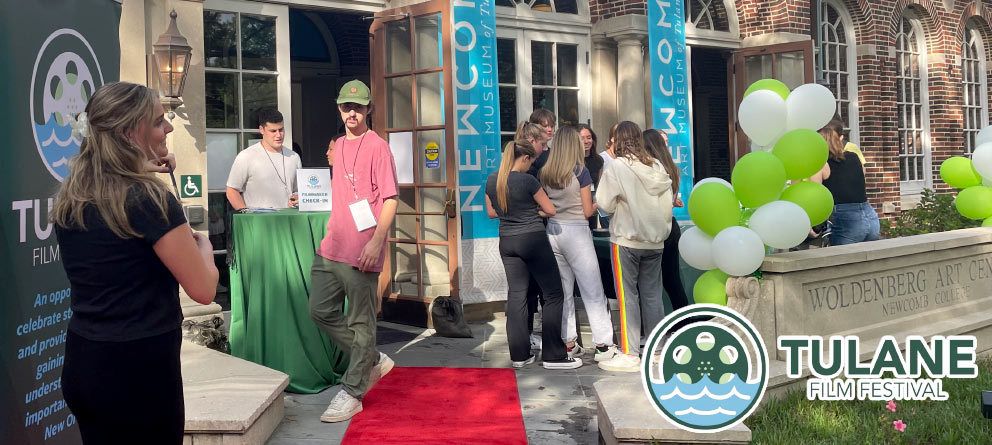 Students and faculty of the "Special Topics: Film Festival" SLAM course welcome attendees to the Woldenberg Art Center for the inaugural Tulane Student Film Festival screening on April 20, 2022 | Photo by Hannah Levitan
Highlight of your senior year?
TS: There were so many standout moments throughout my senior year, but I think our final TUCP Event: TGIO (Thank God It's Over) was the icing on the cake. It was held on the last day of classes, and it was so bittersweet watching my peers enjoying good food and live music from Jeremy Zucker on the LBC quad one last time. We got so many compliments during and after the event, and it was so rewarding knowing that we went out with a bang.
What will you miss most about Tulane once you head out to Los Angeles?
TS: I'll absolutely miss the creative collaboration in my art classes! I got to experiment with so many new mediums and techniques under great guidance. But I'm really looking forward to L.A., and to working in an environment that encourages creative growth and is so influential in every space they occupy.
And New Orleans? What are you most excited to come back and visit for?
TS: New Orleans will always be my second home and I'll absolutely be back for music festivals in the future. There are music festivals all over, but the culture here just can't be replicated.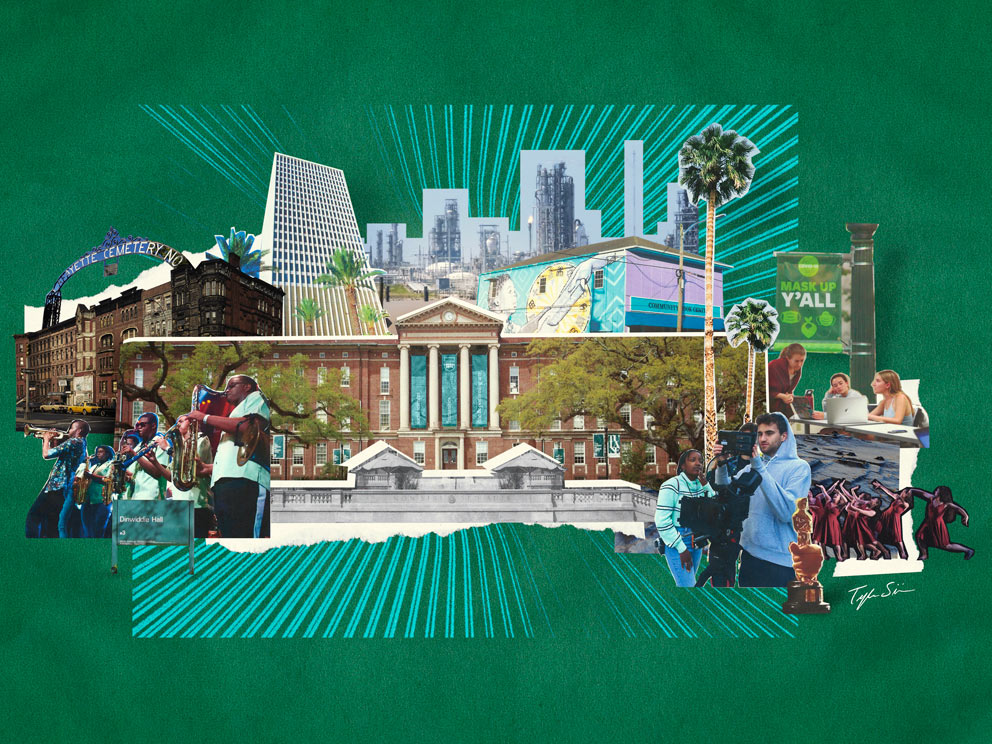 Artwork Created by Tyler Simien, SLA '22, for the Summer 2022 School of Liberal Arts Magazine