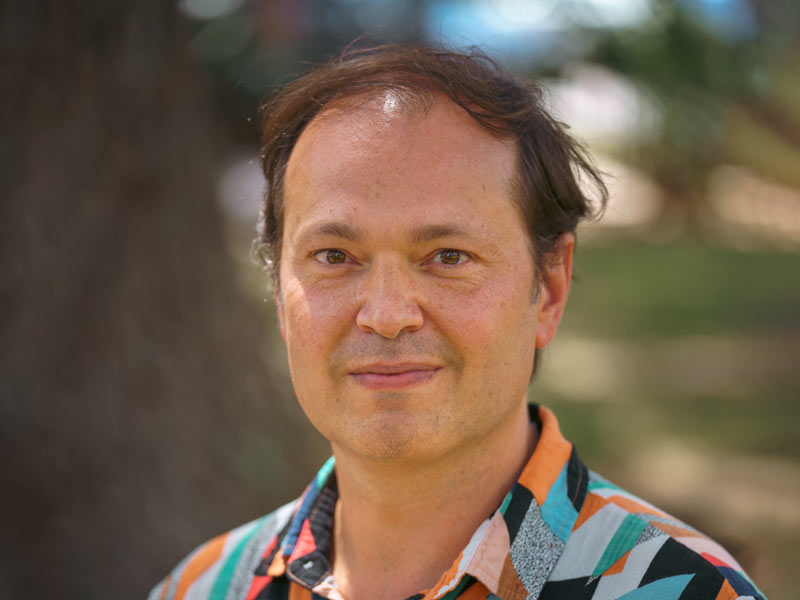 Education
Ph.D., University of California, San Diego
Biography
Rick Snow is a composer of acoustic and electronic music and a creator of multi-modal installation work, custom instruments, and sound sculptures. His work frequently embraces generative music composition techniques applied to the use of microtonality and sound synthesis to create sonic experiences that evoke gestural, liminal, and environmental interpretations. He is a professor of Digital Media Practices and a faculty member in the Department of Music where he oversees the Music Science and Technology area. He teaches courses in Music Digital Signal Processing, Music Performance Systems, and Composition for Electronic Media in the Music Department. He also regularly oversees Engineering Senior Design Projects in the Engineering Physics program.
His recent work and collaborations include Tension Echoes (2022) for quintet and live computer music commissioned by the Louis Moreau Institute, Background Radiation (2021) for quintet and live computer music for the written for the Nouveau Classical Project and recorded by Ensemble Linea, and Elevator Pitch (2019), a transducer activated musical elevator commissioned by the Smithsonian Asian Pacific American Collection in collaboration with Christine Sun Kim and New Orleans Airlift. Other recent performances and exhibitions include: LUNA Jazz (2019) an interactive sound and projection mapping installation featuring body tracking camera controlled custom animation and musical sound presented at LUNA Fête 2019, and In The Shade for cello and sound sculptures with cellist Nancy Snyder at the Katzen Arts Center in Washington D.C. (2019). Recent work has been presented as a part of the New Orleans Contemporary Arts Center's "Constructing the Break" exhibit (2018), FAKE (2018) at the Science Gallery (Dublin, Ireland), Arts Council New Orleans LUNA Fête (2017), the 2017 THNMF (Perth, Australia), the 2016 Pure Data International Conference (NYC), the New Orleans Contemporary Arts Center's "A Building with a View" exhibit (2016), The 2015 New Interfaces for Musical Expression International Conference (Baton Rouge), the New Orleans Contemporary Arts Center's "REVERB: Past, Present, Future" exhibit (2015), and New Orleans Airlift's Musical Village (2015).
Dr. Snow holds a PhD in Music Composition from the University of California, San Diego where his primary mentors were Chaya Czernowin, Philippe Manoury, and Miller Puckette.