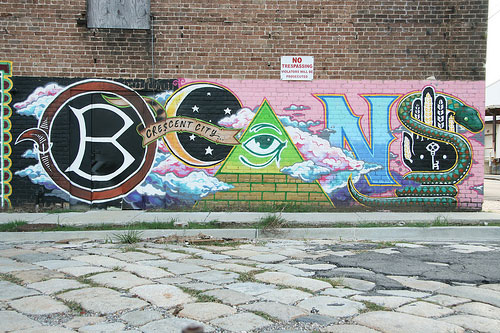 We've all seen it: the tags, throw-ups, and pieces, and sometimes the markings of the grey ghost. I'm referring of course, to graffiti. Students in Professor Stephen Ostertag's Deviant Behavior course (Soci 108) produced a digital media project on graffiti in and around New Orleans for their final project of the semester.
After reading Gregory Snyder's (2009) ethnography Graffiti Lives: Beyond the Tag in New York's Urban Underground, Tulane University students combed the city in search of graffiti. They photographed a variety of writing forms and styles, and composed a narrative with which they discussed their photographs in relation to Snyder's research. The final product was a three to five-minute video that they uploaded to YouTube.
What is more, Snyder noted how his research on graffiti and graffiti artists allowed him to learn about a social world that existed right beneath his nose, though one he hardly noticed. His ethnography allowed him to discover a meaningful and insightful sub-world in a city he had lived in for a number of years. In addition to its fit in the scholarship on deviance and its constructions, this project allowed students to explore New Orleans in ways they never would have expected. They discovered an entirely new city, learned about competing definitions of art versus vandalism, learned how deviant behavior can sometimes serve as springboards for more acceptable careers (such as tattoo artist, or clothing designers) and enjoyed themselves in the process.
New Orleans warehouse district graffiti video by Liz Simons.