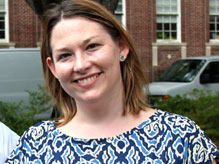 "Squashed spider" is how my dissertation adviser once described my network maps which provided visual representations of grave patterns, and so I spent much of the 2012 calendar year figuring out how to present my "squashed spiders" to the world. My almost completed book manuscript, "The King's Canvas: The Transformation of Ancient Macedon," is a look at the institutional change that led to the emergence of Macedon as a major power in the fourth-century BCE Aegean world. Unlike past studies of Macedon, my work places it in an Aegean-wide geographic context and looks at it through an institutional, rather than Great Man, context. The rise of ancient Macedon is a dynamic "worst-to-first" story in which the small tribal kingdom of Macedon quite quickly and unexpectedly becomes the dominant power among the Greek city-states in the area of mainland Greece, coastal Asia Minor, and the Aegean Sea.
My core argument is that Philip II, the king under whom Macedon rose to power (and father of Alexander the Great) and his immediate successors were able to act as transformational leaders because their raw material, the fragmented Balkan tribes c. 425-350 BCE, had rich resources but weak political, economic, and cultural institutions. More specifically, during this time period there was a lack of strong and cohesive socio-political communities and identities within and among the Balkan tribes of northern Greece. Weak institutional environments are especially conducive to the rise of what Max Weber called a charismatic or transformational leader, creating the perfect environment for an entrepreneurial leader like Philip to experiment with and forge strong replacement practices, communities, identities, and institutions in the new Macedon.
I am able to make this argument in part by using burial data, which I study using methods such as cluster analysis and network modeling, as proxy data for political communities and as evidence for institutional change.
My data suggest that as the Balkan tribes were rapidly integrated into the dominantly Greek Aegean world during the fifth century BCE, a previously strong regional burial tradition, constituting an important means of forging an aristocratic warrior community and identity, began to fall apart and was replaced with selected Greek burial practices. This institutional mimicry was incomplete, however, with the adopted burial practices being decoupled from their larger significance in the original framework of the Greek citizen-state. These less cohesive burial traditions reflect a weakened regional sense of community among the Balkan tribes, paving the way for Philip's transformative reign.
I was fortunate to spend the 2012 calendar year on research leave, funded in part by an ACLS Fellowship and in part by the research leave that Tulane so generously provides to its junior faculty members who have passed their third-year reviews.  Receiving a Glick Research Fellowship mid-year was icing on the cake and greatly enhanced this research leave.
The database that I have built is a unique resource; it represents the only substantial cataloguing of the Balkan material, and the resulting archaeological analysis will constitute the only systematic and comprehensive survey of ancient Balkan, and in particular, Macedonian, burial traditions.
Initial plans to revisit libraries and museums in Greece to update my database were scuttled by the unfortunate current state of affairs in the country, which made travel there ridiculously expensive and difficult and not necessarily the best use of the funding. In hindsight, it may have been a blessing in disguise to use the funds otherwise; my Glick Fellowship allowed me not one but five very important opportunities: 1) enhancement of my database through acquisition of new publications of new data, 2) refinement of my statistical analysis through updated software, 3) superior presentation of my network maps and geographical maps through custom mapping software, 4) the opportunity to reframe my presentation of this data as an important contribution not only to the scholarship on Macedonian history but also to the theoretical literature on "Hellenization" and cultural borrowing, and 5) and the opportunity to delve into leadership and entrepreneurship studies so as better to understand the qualities and conditions that result in successful ventures, past and present.
In short, my Glick Fellowship afforded me the type of experimentation with new approaches, new technology, and new data that I argue assisted Philip in his "worst-to-first" rise to the top. It is with hope of similar, albeit less violent and autocratic, success that I thank the Glick family for assisting scholars like myself by giving us the means to look at our work through fresh eyes, assisted by new technologies, and as viewed by a variety of audiences.