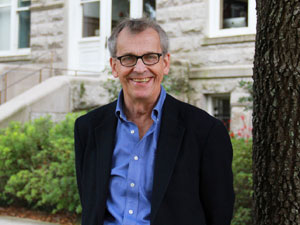 Some people think of the poet as a solitary soul, inhabiting an attic, lines of poetry bursting from head to paper. That's not me! I've gone on record numerous times talking about my writing practice, which means working every day, most of what I write landing in the delete box of my computer.
I've always been interested in ekphrastic poems, poems written in response to works of art, whether painting, sculpture, photography or film. My first book of ekphrastic poetry, The Van Gogh Notebook, was written entirely in New Orleans, using books from Howard Tilton. But thanks to funding from Tulane, I've been writing poems face-to-face with original works of art. I've received grants from the Center for Scholars, the Dean's office, the English Department and a research fund which accompanies my position as Senior Mellon Professor in the Humanities.
There I was in France, speaking French—but never to the satisfaction of the natives. I was able to navigate my way to the spectacular Rodin Museum and to the artist's country estate at Meudon. At the Museum, I sat in front of The Age of Bronze for hours, then went to the café mentioned to fiddle further with the poem. I did about twenty more drafts in my hotel room.
---
WRITTEN IN A CAFÉ, BOULEVARD DE LA TOUR, PARIS AFTER VIEWING RODIN'S The Age of Bronze
Once we, too, were so young, one of the gods,
we thought, lifting one arm above our head,
defying other gods to take us on.

Then the years came, thirty, forty, fifty.
After fifty, everyone is mortal.

But in my room I can assume his pose.
No one but you, reader, knows my secret.
I turn back time. I become a statue.
This is what poetry does: it always lies.
Lift your right arm up above your head.
suspend us while you take on your new age.
This instant you are twenty, all things possible—
---
But sometimes my subject matter, even when I am pursuing a work of art or architecture, is the all-too-human. As this next poem demonstrates, the speaker is not much interested in the palace and monastery outside Madrid he has come to visit. He finds himself fascinated by his fellow tourists.
---
El Alcazar in Segovia
Following too closely, the cobblestone street
echoing my feet, they were always there,
the threesome, all about twenty, two girls,
a guy, all blond, all very good-looking
in a chic, well-dressed, MTV kind of way,
always there, every turn.
When I look back,
there they are always, almost on my heels,
our route to the castle one burning ascent,
the Spanish sun relentless in its gaze.
A threesome, I thought: he has a good time
for sure, and then: you're a pathetic fool.
Next: vertigo at the ticket window.
The guy—cool shades, nose ring, earring, teased hair,
turned back from the window, began to sign.
The girls signed back. It must have been assent.
They entered the castle. I lost all three.
But I still hear them, turning a corner.
---
I am hoping to put many of my ekphrastic poems together into a book in the near future. Already, I have traveled to Amsterdam and Leiden for Rembrandt, to Paris for Rodin and to Rome and Florence for Michelangelo. Last summer, I wanted to add a woman artist, one who had spent much time in Europe since that is where my other artists worked. The natural choice was Mary Cassatt. Soon, I was on my way to Paris, where she lived most of her life.
I loved Young Woman Sewing In a Garden for its composition and color but was stymied by attempting to write from it. Then I remembered how much I liked Browning's My Last Duchess in high school: I would write a dramatic monologue in which Cassatt herself speaks. I started writing the first draft of this poem in an overcrowded room of The Louvre, where I told myself I was like visual artists who still come to copy the great Masters.
---
Young Woman Sewing in a Garden
Reader, enter this painting. I have stilled
the woman's gaze, her sewing and her hands—
mine, Mary's—one moment for your eyes.
Hush. Find this resting place within yourself.
Whatever object she is sewing, diaphanous,
nothing but light, filling the picture plane,
and this young woman's quiet—nothing else seizes it.
I knew that object once. Now you tell me what it is.
Read in such concentration as your gaze,
fixed on the hands, their laboring white space,
reveals to us. I'm giving her to you.
We're sewing now, admit it, stitch by stitch.
These orange geraniums our audience,
we're almost done. Or have we just begun?
---
My ekphrastic poems and my exciting travels led me to apply for and receive an ATLAS Grant two years ago. I drove around Louisiana, interviewing people about the effects of Katrina and the oil spill on their lives. I've written 196 pages of a manuscript I need to hone down substantially. But that's a separate story of poetry-on-location.