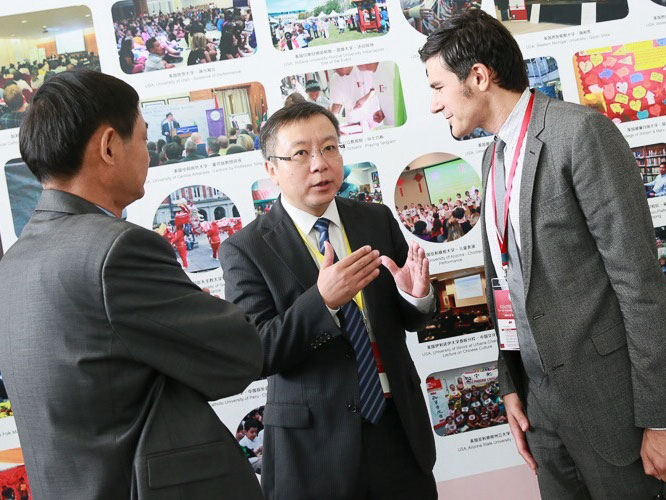 In early December 2014, I found myself in balmy Xiamen, a coastal city in China's southern Fujian province. Along with James Zhu, the Tulane University Confucius Institute co-director, I attended the 9th Confucius Institute Global Conference, which brought together several thousand delegates representing 127 Confucius Institutes from around the world. The conference opening ceremony featured speeches by Mr. Yuan Guiren, Minister of Education of China, and by Madam Liu Yandong, Vice Premier of China and Chair of the Council of the Confucius Institute Headquarters. The opening ceremony was followed by two days of presentations on a wide range of topics, ranging from advances in Chinese language pedagogy to strategies for improving the legal status of Confucius Institutes in their host countries and tips for managing the relationship between host-country Confucius Institute directors and Chinese Confucius Institute co-directors. The global conference concluded with an impressive closing ceremony, featuring a lecture on the state of the world by John L. Thornton, Professor and Director of Global Leadership at Tsinghua University in Beijing and on the Confucian way of doing business by Li Dongsheng, Chairman and CEO of TCL Corporation, one of the largest electronics companies in China. The highlight of the closing ceremony was a speech by Madam Xu Lin, Director General of Hanban (the Chinese National Office for Teaching Chinese as a Foreign Language). In her speech, Madam Xu outlined the achievements of Hanban since 2004, when Confucius Institutes first began to be established, and outlined the challenges that lie ahead as Hanban continues to expand the number of Confucius Institutes and Confucius Classrooms around the world, while also aiming to broaden the scope of their activity beyond language teaching and to integrate them into the cultural milieus of their host countries.
The Confucius Conference presented an excellent opportunity for a meeting with the leadership of East China Normal University (ECNU), our partner university in China and the Chinese counterpart for our Confucius Institute. In a meeting with Ren Youqun, Vice President of ECNU, James Zhu and I discussed several specific ideas for expanding the scope of activity of our Confucius Institute and for deepening our existing productive partnership with ECNU. The high stature of ECNU, which is both a leader in language pedagogy and one of China's top research universities with strengths across the board in the humanities, social sciences, and sciences, offers a wealth of possibilities for deepening our cooperation.
Although I was in Xiamen only for a short time, my few days there gave me an opportunity to reflect on the achievements of our young Confucius Institute, to interact with representatives of Confucius Institutes from around the world and learn from their experience, and to think about the future of Chinese studies at Tulane. This is a time when general awareness of the importance of China in global affairs has reached an unprecedented peak. The Confucius Institute and the Asian Studies program, along with our partnership with ECNU, provide us with extraordinary potential to expand our offerings of both Chinese language courses and content courses on China — all of this will greatly benefit our students.