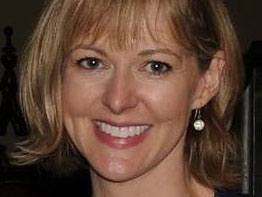 This past September, I arrived at the American Academy in Rome, to begin my year as the 2010-11 Milicent Mercer Johnsen Rome Prize Fellow in Medieval Studies. I am one of 32 fellows who represent a range of disciplines in the arts and humanities, from musical composition and landscape architecture to classical studies and early-modern Italian studies. Most fellows are connected to an academic institution, some as pre or post-doctoral fellows, but others are independent scholars or artists. The Academy's mission is to bring us together to encourage intellectual exchange across disciplines, and give us time and resources to foster our own work here in Rome.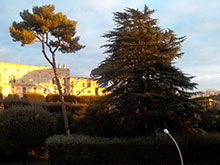 Life at the Academy has far exceeded all my expectations. To start, my family and I settled in to our spacious apartment with large windows overlooking the 17th-century Villa Aurelia, in a building next door to the main Academy building, a neo-Renaissance palazzo built by McKim, Mead and White between 1911-1914. We have use of the Academy's excellent library and are given a private study, and twice a day we sit down as a community to enjoy local, sustainable Roman fare prepared by Mona Talbott, a disciple of star chef Alice Waters of Chez Panisse. A typical dinner features three courses as well as wine selected by an in-house sommelier. On the menu tonight: handmade ravioli with marjoram pesto, roast spring lamb with crispy potatoes, arugula salad with toasted hazelnuts, and chocolate-dipped pistachio cookies and fresh mint tea to finish. As if the food weren't enough to entice you to come to meals, you might find yourself sitting next to the likes of artist Chuck Close, poet Derek Walcott, or photographer Annie Leibovitz, all of whom visited this spring. Thus the social life surrounding indulgent mealtimes is aimed at the more noble purpose of promoting conversations that might lead to new connections or ideas relevant to our work.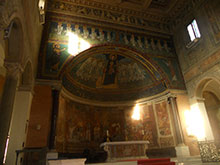 And speaking of work, I have been busy researching a new book on the late medieval/early Renaissance painter and mosaicist Cimabue, who worked in the late 1200s in Rome, Assisi and in Tuscany. I am particularly interested in the way Cimabue's style signaled a sea-change in art for his time, and I am seeking to understand how the Franciscan order, one of his primary patrons, contributed to that change. My schedule varies between library time and site visits to examine works of art in person. I have spent hours examining Rome's medieval past, particularly mosaic-decorated churches, as well as looking at illuminated manuscripts in the Vatican Library. Side research trips to Naples, Assisi, Pisa, and Foligno have also kept me busy. Because of my recently-published book, I have also been asked to speak on its topic at the Scuola Normale in Pisa as well as La Sapienza University here in Rome this month. Although at times I feel overwhelmed by the riches of the research possibilities before me, I have relished the opportunity to use Rome's resources, and I am grateful for the tremendous contacts I am making.
Although leaving this paradise won't be easy, I look forward to returning to Tulane this fall and bringing my year in Rome back to bear on my future teaching and research pursuits.