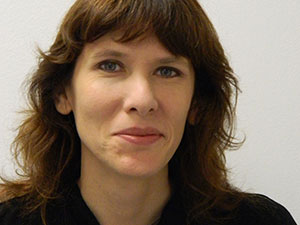 I write this News from the Field on my last day in Paris, having spent one month in the city carrying out research for my book on the Neo-Impressionist artist Georges Seurat. I'm here thanks to a Glick Fellowship from the School of Liberal Arts that I was awarded last spring, and my time here has been extremely beneficial to my work. I spent my days primarily at the new Bibliothèque nationale de France, but also in the library of the Institut national d'histoire de l'art, two tremendous collections that in some ways couldn't be more different. The former is a very sleek, modernist complex composed of four glass towers built in the 1990s and located on the outskirts of Paris. The library of the National Institute of Art History, on the other hand, is housed where the Bibliothèque nationale used to be (parts of its collection are still there), in a building whose oldest parts date to the 17th century and which is located in the heart of the city, close to the Palais-Royal and Musée du Louvre.
The topics I've researched during the past month have been quite wide ranging. For example, I spent some time investigating how time was measured in France in the 19th century and researching the gradual implementation of standardized time here in the late 19th and early 20th centuries. I also explored contemporary discourses on certain types of entertainments that were popular in Paris at the time and on the cognitive states that these performances ostensibly induced in their audiences. Other topics that I researched included late 19th-century advertisements and posters in Paris as well as the Eiffel Tower's original illumination, among several other topics. As disconnected as these subjects might seem, they all relate to Seurat's body of work in various ways and to what I argue is his sustained exploration of the different facets of visual experience in late 19th-century France. It's been very valuable to have all the relevant primary sources at my disposal, allowing me to find answers to questions I've long had as well as to pursue lines of inquiry that emerged in the course of my time here.
Of course, the visual resources in Paris's museums are also incredible. I visited the recently reinstalled Impressionist galleries in the Musée d'Orsay, and they look beautiful. I also saw a special exhibition on Edvard Munch at the Centre Pompidou, and two shows in a new museum in Paris called the Pinacothèque, one on early 20th-century German Expressionism and the other on Alberto Giacometti. As luck would have it, there was an exhibition on Neo-Impressionism at the Musée Marmottan Monet, which was a particular treat for me.
All in all, my month in Paris has been a really productive and rewarding experience. I come back to Tulane with a renewed sense of wonder at the tremendous scholarly and artistic resources of this city.