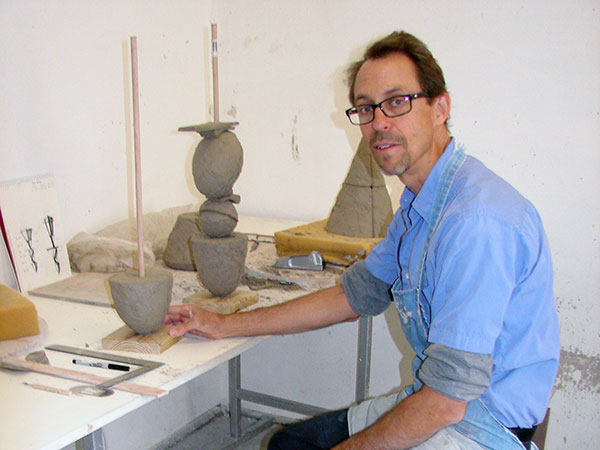 The collection of old and new stone and brick buildings that make up the International Ceramics Center in Kecskemet, Hungary enclose an inner courtyard like a small medieval town. Steep terra cotta tile roofs and white washed buildings reflect the traditional Hungarian architecture, allowing the Center to blend into the block it occupies in the old section of central Kecskemet. After nearly a week of rain, the sun shines down warmly on a collection of sculptures and pots that are now outside drying rapidly in anticipation of scheduled firings. The bright weather has brought the artists outside as well to chat and share information. My 13 American colleagues as well as ceramic artists from Ireland, Turkey, Poland and Hungary are engaged in making new work here over periods ranging from two weeks to several months. I arrived on June 19, joining a group of mostly faculty artists invited by LSU Professor Emeritus Joe Bova to come to the International Ceramics Center and interact, collaborate, and develop some new work over a two week residency. Sadly, the time is swiftly passing and we are all pressed to get the work finished and fired before our looming departure date.
The International center was established in 1978 by Director Janos Probstner and has grown over nearly 30 years from a couple of residences and a common workshop into an extensive complex of work studios, apartments, galleries, meeting rooms, and a lovely new museum. Due to the organic way the facilities and the program have developed over time, it has a rambling feel but is surprisingly large, seeming to reveal new rooms and equipment with each day I work here. Though the buildings have a rustic feel, the facilities are excellent with modern electric, gas and wood kilns, throwing and slip casting facilities, even a screen printing and photography studio. In the 1980s the Center was largely supported by the state under the communist government, but it has made the change to a being a largely financially self sufficient enterprise that is still focused on providing a locus for some of the best international ceramic artists to work and share ideas.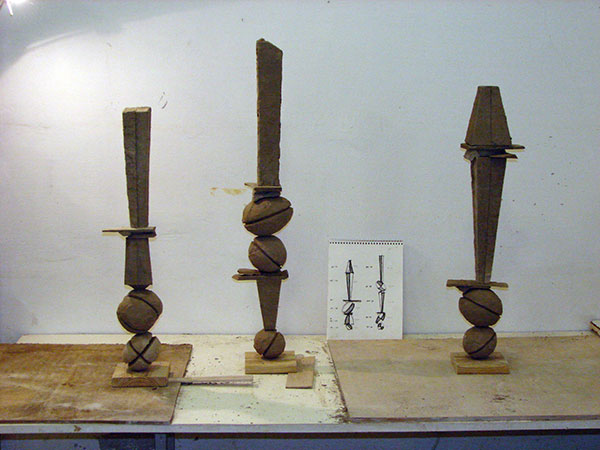 I am using this period to revisit some totemic forms that have interested me over more than a decade, but that I had set aside while focusing on recent tile based wall sculptures. New drawings provide the starting point for the pieces that investigate relationships between man-made and organic forms. The interface between oil production in the gulf and the environmental catastrophe from the BP well is an influence as well. I am fabricating forms with the potters wheel and various other hollow and solid working techniques. The local clay is referred to as "Chamotte", a word commonly understood by European ceramicists as "grog," which is a fired clay ground and used to temper and open a clay body. In this context the Chamotte refers to a plastic clay body with a high percentage of large particles of grog. This is a coarse but surprisingly strong and plastic body that handles very well. It fires to a buff color at stoneware temperatures, but I will ultimately be treating the surfaces with copper oxide and overglaze enamels. I have just had time to complete the fabrication of five of these pieces, and will fire them once to 1200C in time to pack and bring them back to the U.S. The glazing and final firings will all be done in my studio in eastern New Orleans.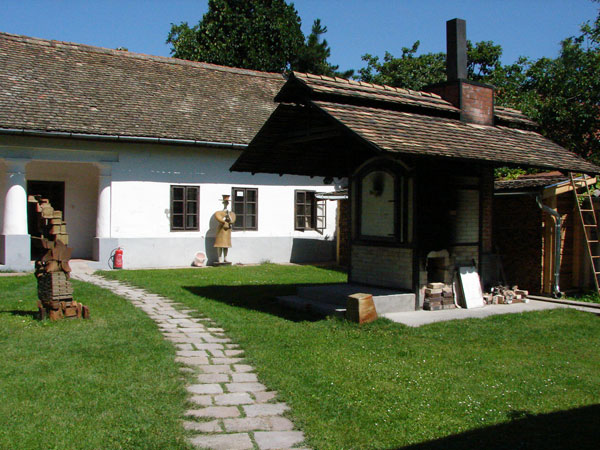 The studio spaces are loosely divided and I am sharing one of three rooms in one wing with faculty artists from U Mass, Amherst, Hope College, and Texas State University, San Marcos. Our conversations have ranged from working processes, contemporary criticism, various artists' work to cooking and grocery stores. A special trip touring through the famous Herend Porcelain factory and museum was arranged and shed light on the remarkable history and craftsmanship they have achieved. Most evenings at the Center we gather for a collective meal, taking turns as teams of chefs. I shared duties the first night, presenting a menu that included cold cucumber soup, salad, chicken and sausage jambalaya (with paprika in lieu of cayenne), and a chocolate mousse cake. The Hungarian wines are surprisingly good, and the meals help renew old friendships and establish new ones. As we fire our work and prepare for departure, it is possible to see the influence of new materials, environment, and perspective on most of the pieces that have been made since arriving. Though still preliminary, these influences may continue to inform my thinking and enrich the studio work for the next academic year.
Post Script: Four of the sculptures built during the residency will be exhibited at the Sources of Inspiration: Tulane Faculty Art Exhibition, at the Carroll Gallery in the Woldenberg Art Center, August 20 – Sept 24, 2010. More info. here.