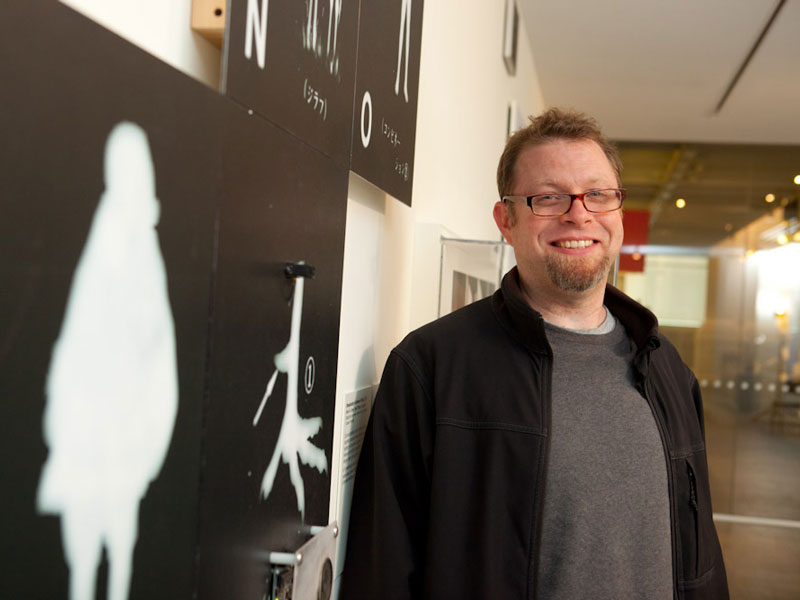 Art created with the aid of a computer has a short history that can only be traced back to the early 1960's. During that time, "artists" (engineers and scientists) needed access to computer labs at universities or government institutions to create their work. The artwork created on these cumbersome computers was minimal and vector based. Now with the rapid growth of technologies, artists are using computers to create everything from colorful graphics to complex sculptures using 3-D printers. Many have abandoned commercial software and now embrace open source programs, which allow for more customization and creativity.
During my sabbatical last year, supported by the Board of Regents Award to Louisiana Artists and Scholars, I spent fall of 2012 preparing for an exhibition of my work in Tokyo, Japan scheduled in the spring of 2013. I focused my technical studio research on my interest in physical computing and creative coding. Physical computing focuses on building interactive systems that use sensors and micro-controllers to control electronic circuits. Along with the tangible media being crafted, I was using Processing, an open source programing language, to create generative animations that allow for systems of chance to occur. This experimentation and prototyping resulted in a series of digital videos for the exhibition titled, Placebo Effect, in Tokyo.
The exhibition took place at Art Lab Akihabara in central Tokyo during April of 2013. Akihabara was the perfect setting for my exhibition since it is an area where a wealth of electronic supplies can be purchased, and more recently, art galleries have been concentrated. The work created for the exhibition Placebo Effect looked at structures of scientific knowledge along with the periodic table of elements, which has been referenced in my earlier work. The videos titled, Concerning Things That Can be Doubted # 1 and Concerning Things That Can be Doubted #2, reveal and obscure charts, diagrams, graphics and electronic circuits. Within the video, the subject's hands attempt to make sense of the graphics and electronics, giving them order and purpose.
The three-part video Placebo builds upon the ideas found in the other exhibited videos but adds voice-overs and actors in the artwork. The voice-overs relay instructions and data while the actors in the video attempt to make sense of their environment. This juxtaposition of sound and moving images in Placebo both enlightens and mystifies.
The exhibition at Art Lab Akihabara was well received and attended. Opening night included a public lecture along with questions and answers. The rest of my time in Tokyo was filled with research at NTT InterCommunication Center [ICC], a new media museum, and meeting with colleagues in the Digital Design program at Meisei University.
The wealth of technological resources and stimuli provided in Tokyo is not only inspiring but also pinnacle for my research. It allows me to keep my hands on the pulse of the profound capacity that art may be produced via various techniques and impending innovation of digital coding and software.