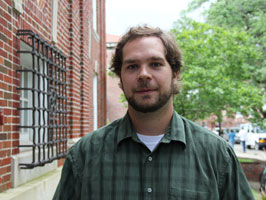 In the Central Namib Desert of western Namibia, the research base at Gobabeb acts as an indispensable oasis- both material and intellectual. It is home to the Gobabeb Research and Training Centre, which has hosted researchers working on a wide range of scientific topics since its inception in 1962. This September, I had the fortune of using Gobabeb as my base in conducting archaeological excavations in the Central Namib, along with my co-director Ted Marks (Tulane B.A. 2008) and volunteer Jordan Krummel (Tulane B.A. 2012, M.A. 2013).
Our fieldwork focused on the Mirabib rockshelter, which was first excavated by the Namibian archaeologist Beatrice Sandelowsky in the late 1960s and early 1970s. These early excavations succeeded in uncovering an archaeological site with phenomenal preservation of organic materials, thanks to the hyper-arid conditions of the Central Namib and the shelter from the elements provided within this shallow cave site. Early discoveries included twine, wooden tools, and even animal hair preserved within layers thousands of years old. Thanks to the generosity of the Namibian National Heritage Council, the National Museum, the Ministry of Environment and Tourism, and (of course) Beatrice Sandelowsky herself, we were granted permission to conduct new excavations at Mirabib in the fall of 2013. This allowed us the opportunity to bring 21st century technology to bear in the investigation of this fundamentally unique and important archaeological site. Our excavation team also included three students from the University of Namibia (Tendai Mhangwa, Aina Shigweda, and Jacinta Indongo), who participated in our project as a part of their coursework there.
Our new excavations quickly proved that Mirabib more than lives up to its billing as a site with astonishing organic preservation. In a layer dating to around 6,000 years ago, we discovered a perfectly preserved melon gourd, which looked as if it might have been left in the cave yesterday. Upon closer examination, we realized that this gourd was perforated at the top and filled with various kinds of tools. When we carefully removed the gourd, we found inside a cache of replacement stone tool parts for knives and arrows, replacement arrow link shafts, and what we believe was a fire starting kit. Our feeling is that this object was used as a water container. When the nomadic hunter-gatherers at Mirabib left the site, the gourd was filled with the materials for maintaining foraging tools in the future and buried. Later, we also found large quantities of ostrich egg shell debris in association with the same kinds of replacement technological materials. This form of caching behavior make sense in the context of the sparse foraging environment in the Central Namib. Likewise, it was a very vivid experience to hold in my hand a water container used by a member of a hunter-gatherer band in one of the driest deserts on earth left behind more than six millennia ago.
Later in our field season, we also had the pleasure of participating in the Gobabeb Desert Research and Training Centre's "open day" festivities in which the public is invited to tour the facility. While Jordan and I assisted with the child care duties alongside the Gobabeb staff, Ted was surprised to find himself in charge of the venomous snake exhibit. I am pleased to report that no children or snakes were harmed during the "open day" proceedings. We were also pleased to provide a guided tour of the Mirabib rockshelter to a group of U.N. delegates present in Namibia for the eleventh session of the Conference of the Parties (COP11) to the United Nations Convention to Combat Desertification (UNCCD). This was a quite an honor and all present acknowledged the importance of Mirabib as a long-term record of human adaptations to aridity at the scale of thousands of years.
All in all, it was a fantastic field season and I am grateful for the opportunity provided by my Glick fellowship. As always, I am also thankful to my ex-Tulanian and Namibian colleagues for all of their help this year and in previous field seasons.