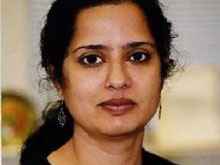 My sabbatical year from 2009-2010 was spent away from New Orleans in a quiet neighborhood of Carrboro, just a few minutes away from the University of North Carolina, Chapel Hill, which was amply provided with libraries where I did my research. If a little cabin in the woods is the desirable retreat for many creative writers, I found no reason to dispute its usefulness for the critical and theoretical work of literary analysis with which I was occupied. I had had little time for focused research and writing in the turbulent years immediately following Katrina when I was Director of Women's Studies (now the Program of Gender and Sexuality Studies). The wooded calm of the surroundings—occasionally broken by deer that delicately gamboled through yards and mystified my dog who had never seen such creatures in Uptown New Orleans—was just what I needed after the sometimes too exciting bustle and turmoil of a rebuilding city.
While quite some time, a luxury one can ill-afford in the frantic pace of a busy semester on campus, was spent catching up on the latest research in my fields of Caribbean literature and postcolonial theory and writing sundry essays and reviews, the majority of it was spent completing two projects that had been interrupted by the contingencies I mentioned above. One project was my book manuscript titled Pathologies of Paradise, which surveyed a wide swath of Anglophone Caribbean fiction written fairly recently but which covered the colonial and postcolonial periods up to contemporary times in the islands of Trinidad, Jamaica, and Guyana. "Paradise discourse," in one scholar's phrase, has dominated Caribbean historical, sociological and literary studies, from the foreboding inception of imperial possessiveness as Columbus waxed lyrical on the tropical beauty and verdant potential when he made his way through parts of the islands. Its echoes continue in the language of tourist brochures and state marketing of the islands as just such vacuous idylls for metropolitan consumption. But as students in my Caribbean literature courses have often noted, the literature itself expresses deep and sometimes morbid trauma. Caribbean literature records not just a "slave sublime" but also a broader social memory: a carefully preserved narrative of genocide, environmental damage and suffering that resuscitates in the literary text the dismembered remains of the individual and historical body.
It is not surprising, then, that Caribbean history moves on to continuing dispersal and coerced migration with new economic pressures and political upheavals after independence. Beginning with V. S. Naipaul and Jamaica Kincaid who often reinterpreted homesickness as being sick of home, I critique the master narratives of unavoidable exile that dominated Anglophone Caribbean fiction since the fifties. Such national disavowals are repeated in what I call "toxic domesticity": from the nation to the individual and from the island to the gendered space of the home as a site of specific violence. In contrast to the idealized genteel and bourgeois domestic scenes of Victorian England, domestic spaces are ruptured and convulsed with stories of rape, incest and trauma, particularly in Caribbean women's fiction. However necessary it may be to disrupt the playful trivialization of the Caribbean in tourist versions, the problem of dwelling too much on pathology became quickly apparent as chapter after chapter seemed to reiterate trauma. I end, therefore, with a study of Caribbean literary humor. Helene Cixous reinterpreted Freud's short piece on the apotropaic Medusa through the derisive laughter of the demonized Gorgon. If, according to Derek Walcott, history is the Medusa of the Caribbean, then various writers demonstrate how Medusa laughs despite, or perhaps because of, the petrifying weight of the past. My book seeks to find a way out of a monocular vision of the Caribbean as either a carefree or a devastated region and to present it as a deeply complex and ambivalent space.
The second project, now at the proofreading stage, is a collection of essays for the MLA Options in Teaching series, which has a growing compilation in various subfields of literary and cultural studies. The book, for which I am primary editor, focuses on teaching Anglophone Caribbean literature in the academy and includes a number of scholars and a wide range of topics from North America, the Caribbean, the UK, and Australia. The diasporic span of Caribbean literature from the actual islands to each of these areas, including Canada, signals the continuing promise of this field.