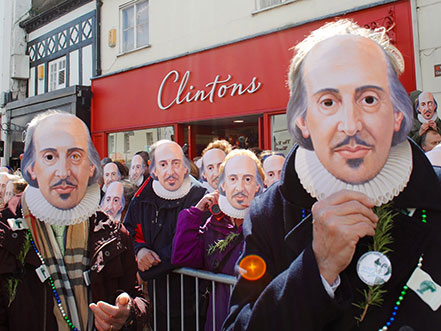 People get very proprietary about Shakespeare. Actors insist that his works only make sense in performance. Scholars, conversely, say that you cannot understand the plays without studying the variants between their multiple Renaissance editions—quartos and the famous First Folio—and surveying the Bard's wide range of literary sources. Some directors modernize the dress and language of Shakespeare's characters on the belief that only anachronism can keep the dramas relevant, whereas others mount pared down, puritanical productions that emphasize instead of spectacle the correct pronunciation of Shakespeare's blank verse. Certain critics deplore the Swan of Avon's enforcement of the cultural status quo regarding race, class, and gender, whereas others celebrate his flouting of all such categories in preference for the anarchic spirit of carnival. The disputes seem as varied as the readers and audiences who are still drawn, 400 years after his death, to the mysterious alchemy of Shakespeare's works.
In the eighteenth century, Samuel Johnson extolled Shakespeare as the "poet of nature"—that is, of our common human nature. The same author who gave us the grandeur of Othello also imagined his tormentor, Iago. Hamlet, the usurped Prince of Denmark, has as his dark double in Shakespeare's imagination (and on our stages) the murderous usurper himself, his uncle Claudius. The passion of Juliet and the cynicism of Mercutio, the moral fortitude of a Kate or an Isabella, as much as the chauvinism of a Petruchio and the prurience of an Angelo, are all part of the human tragicomedy that flowed from a single quill. Shakespeare, because he was human like us, is a poet of contradictions.
The unifying theme of the School of Liberal Arts' unprecedented international collaboration with the Shakespeare Anniversary Celebrations in Stratford-upon-Avon on April 23; the installation of the Folger Shakespeare Library's First Folio! Exhibition in the Newcomb Art Museum on May 9 through May 31; and the upcoming summer productions of the New Orleans Shakespeare Festival at Tulane, is Shakespeare's status not only as a great Renaissance writer but also as a citizen of the world.