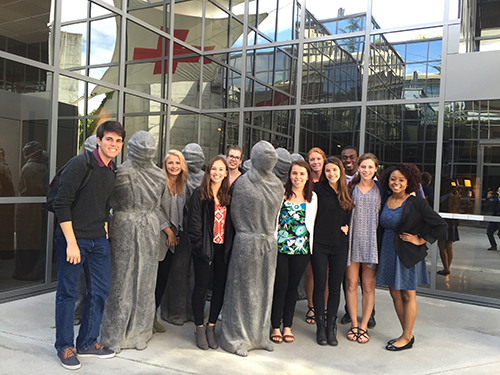 Colin Crawford Robert C. Cudd Prof. of Environmental Law,
Director, International Development Program, School of Liberal Arts,
Payson Program for Global Development, Law School
For six weeks this summer, 10 Tulane undergraduates experienced the United Nations system up close in Geneva, Switzerland. The program, Institute for International Development in Geneva , included an intensive course on health, development and migration and an internship with the Geneva-based non-profit, the International Center for Migration, Health and Development (ICMHD).
Junior Kendall Knuth observed that: "academically, I was exposed to a new, very important area of study. Refugees (and their health) will be a world issue for a long time." To be sure, the students found the intensive format challenging, and also incredibly rewarding. Sophomore Hannah Ballew said that "it was really cool getting to know our professors on a more personal level. Interacting with professors in a smaller classroom is really rewarding." Each of the students emerged from the internship with an original work product that ICMHD will use in its work throughout the globe, and that several of the students plan to use in their job searches. Senior Carrie Renshaw says that the whole experience made her think differently about her future career direction: "We were able to speak to professionals with diverse and extensive backgrounds. My ability to explore potential career paths was invaluable." Carrie reports that as a result of the Geneva program, she now wants to pursue work with global policy impact.
The program included multiple fields visits and meetings with a wide range of international actors, among them representatives of the World Health Organization, UN AIDS Program, the World Meteorological Organization, the International Committee of the Red Cross and many others. For many students, these visits were unforgettable. Sophomore Erin Bennett reports that "the visits to agency headquarters around Geneva exposed us to different areas of international development and opened my eyes to many possibilities." Her classmate Rayne Pestello, a junior, seconded this view, saying the visits "transformed the way I see and understand my classes."
In short, the Geneva course proved life-changing for these students, in many ways. Junior Daniel Horowitz summed up the feelings of many: "this experience was wonderful and I feel like I learned a great deal from it. The lessons I learned will benefit me greatly, not just in college, but after I graduate." Junior Madeline Mertz echoed his view: "My time in Geneva was better than I could have ever imagined."