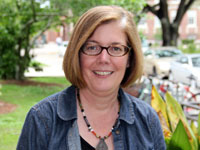 On a brisk November morning, a group of ten or so people walked along a newly cleared path to where an enormous oak tree stood. For those of us who have walked across Tulane's campus, the sight of a majestic oak tree is familiar. But this oak tree was located at the very edge of an 80-acre property in Mt. Vernon, Alabama. The property had been purchased by a group of Vietnamese in Alabama and donated to the Venerable Thích Tịnh Từ to establish a Buddhist retreat for residents of the Gulf Coast. In the years after Hurricane Katrina, volunteers and construction crews had transformed the single-family ranch-style house into a meditation retreat to host up to 100 people. Most of the time, the monastery was home to two female monks.
My research project this year has focused on Vietnamese Buddhism along the Gulf Coast. I initiated the project to inquire how people used their involvement with religious organizations to make rights or claims as citizens. Devotional practices have been an object for ethnographic study on the role of religion, showing how people have been inspired to reimagine their place in the world through such acts. Lien Tri Monastery stands apart from my observations at other Vietnamese Buddhist organizations. No flag of the Republic of Vietnam is flown. No map of Vietnam is displayed. No national anthem in either English or Vietnamese is performed. Monastic life revolves around maintaining the grounds, carrying out the rituals of monastic life, and opening the doors to those who wish to practice or learn more about Buddhism.
But the political life of Buddhist organizations is difficult to see at first glance. Members of these Buddhist organizations must obtain necessary permits, create administrative structures consistent with their status as non-profit organizations, interact with local officials, and maintain good neighborly relations. They must continually solicit financial support through fundraising events that range from evening performances by Vietnamese singers from California and Texas to selling ritual objects from Vietnam. These organizations are not external to demands of political life even as they are intended to serve as a refuge from those demands. Through this year-long research project, I hope to document a range of practices—some that conjure up the diasporic Vietnamese nation, some that invoke an economy of making-merit, and others that emphasize impermanence—in order to understand how people navigate the boundaries of the religious and the political.
My research project has been generously funded with a Monroe and Glick Fellowship through the School of Liberal Arts. These fellowships have allowed me to travel from eastern Louisiana to the Florida panhandle to participate in Buddhist ceremonies and other events as well as interview both ordinary and ordained Buddhists. In the coming year, I plan to develop a web-site about Buddhist practices to appeal to a broad audience and accompany a planned book on the social history of Vietnamese Buddhism along the Gulf Coast.
Lien Tri Monastery in Mt. Vernon, Alabama is located four hours from New Orleans. It offers a monthly meditation retreat in English.