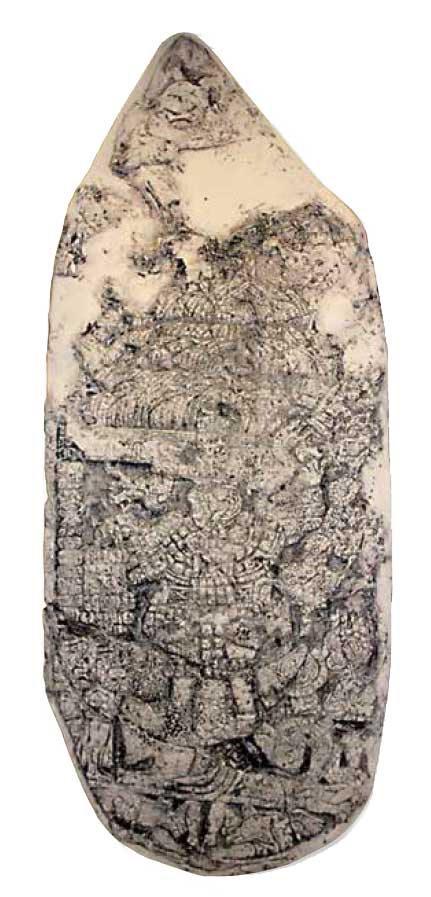 Over a thousand years after he was first carved on a large stone slab (known as a "stela"), the great ruler of the ancient Maya city of Uxmal, K'ahk' Pulaj Chan Chahk, has been erected once again for everyone to see in a main entryway to Dinwiddie Hall on Tulane's uptown campus. 
The replica of Stela 14 shows the king in about A.D. 900 dressed as the Maya rain god, Chahk. He wears a mask bearing the god's otherworldly features as well as his characteristic widebrimmed hat. He also wields the god's thunder-making instruments, including a conch shell trumpet, a stone axe, and an incense bag. The ruler stands on a two-headed jaguar altar, diminutive duck-billed rain gods appearing below and in front of him, while clouds and rain gods fill the skies above. Below the altar, two deceased individuals are sprawled in a cave or sinkhole; they are likely sacrificial victims offered during the rainmaking ceremony. A hieroglyphic text runs along the left side of the scene, in front of the ruler's face, that reads: "This is the image of K'ahk' Pulaj Chan Chahk, Left Hand of the Sun God." 
Carved monuments such as this one show how rulers were considered both divine and war-like. 
The replica was made in the 1930s. After being exhibited at the Chicago World's Fair in 1933, it lived in the shadows for years until the decision was made to place it in the entranceway in November 2013.