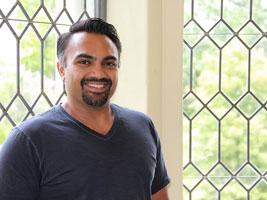 This summer, from May 19th to June 8th, field school students from Tulane University, the University of Alabama, and the University of Pittsburgh participated in archaeological excavations and service projects in Clarksdale, Mississippi, home of the mythical crossroads where bluesman Robert Johnson is said to have sold his soul to the devil. During this summer course offered through the Tulane Summer School, field school students learned both field and lab methods in archaeology by engaging in hands-on research at the Carson site. This site represents one of the largest Native American settlements in the Lower Mississippi Valley before European contact. Students learned how to excavate ancient middens (accumulations of debris from everyday life) and the houses and monuments of prehistoric Native Americans. In the lab, students learned to identify the material remains of Mississippi's native inhabitants, including objects like handmade pottery, stone tools, decorative beads, and the different kinds of architectural materials used to build their native houses. This summer, I was fortunate enough to have fellow Tulane Ph.D. student, Haley Holt Mehta as an assistant field director for this project, as well as to have as crew chief recent Tulane graduate Benjamin Davis (Tulane B.A. 2014).
Fieldwork at Carson this summer focused on excavating two large structures, one located on the summit of a large earthen monument and likely dating to around AD 1530, and another non-monumental structure dating somewhere between AD 1200 and 1600. Both structures were excavated by my field school students at the Carson site, which was first mapped by the Smithsonian Institution's Bureau of American Ethnology in the late 1800s. Back then, the site had over 88 earthen mounds, many of which were small earthen rises on which Native American houses were build. A few were large flat-topped pyramids, and today, only these large earthen mounds remain. These large earthen mounds were monumental platforms on which temples and the houses of chiefs and chiefly families were constructed. My research has focused on whether structures on the summit of Mound D represent temples or elite residences. The data collected by my students and me will enrich the history of Mississippi's native peoples and provide a materially based explanation for how status differences are reflected in houses and artifacts, all of which will contribute to my dissertation research on native cultures just before European contact.
While in the field, students also participated in several service learning projects with a local afterschool arts program called Griot Arts. Griot Arts takes high-school aged students and gives them structured opportunities to express themselves artistically. This year, we invited students into the field with us, and students were given the opportunity to teach local high school students what they had been learning in the field. This was an exciting avenue for my students to become teachers themselves and to work collaboratively with local community members. In addition, we also helped the Griot Arts community build garden boxes next door to their community center so that they could begin experimenting with urban gardening, an interesting perspective on agriculture in the middle of the Mississippi Delta, one of the most productive farmlands in North America. We also visited the Griot Arts students during their end-of-year recital and were fortunate to cheer them on during performances of dance, blues music, and hip-hop.
Finally, we ended our excellent summer of field work and service learning with an exhilarating canoe expedition on the Mississippi River. As Mark Twain once said, in Life on the Mississippi, "And then you have the shining river, winding here and there and yonder, its sweep interrupted at intervals by clusters of wooded islands threaded by silver channels… And it is all as tranquil and reposeful as a dreamland --nothing to hang a fret or a worry upon". The Mississippi River is an enchanting force and we were fortunate enough to paddle the river with the help and guidance of Quapaw Canoe outfitters, based out of Clarksdale, Mississippi. They were kind enough to take us downriver from Montezuma Landing to Quapaw Landing, down the Mississippi River and into the Old River channel next to the Carson site where we had been working. We actually travelled the Mississippi River the way Mississippi's prehistoric inhabitants would have traveled it and how Hernando de Soto and his men traveled it.
To summarize, it was an excellent field season at the Carson mounds site! Students had the ability to experience and participate in archaeological research and also to engage in challenging service learning projects, for which they have received upper-level service learning credit. I am thankful for the contributions of my students and for the immeasurable help I received from Haley Holt Mehta and Ben Davis. Research at Carson has been supported by the Mississippi Department of Archives and History, the Louisiana Board of Regents, the Department of Anthropology, the Tulane Summer School, and the School of Liberal Arts Graduate Student Summer Merit Fellowship program.
Read more about this project on Jayur Madhusudan Mehta's blog.
View current and previous images of work at the Carson site.