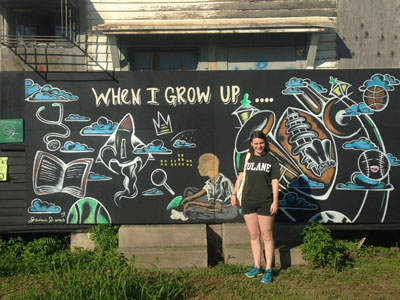 Amy Fottrell was a Tulane University freshman when she first conceived of the idea for Roots of Renewal, an enterprise that employs young adults directly out of prison to turn blighted properties into small businesses.
The 2015 graduate had been volunteering in the Central City neighborhood for Outreach Tulane. She remembers signs throughout the neighborhood that said, "Don't Shoot" and "Stop the Killing."
She talked with a neighbor who lamented the senseless killings that touched lives of many in the community and vacant property in the area becoming havens for criminal activity.
"I started contemplating a solution that addressed the root causes of violence," Fottrell says.
Roots of Renewal plans to purchase one blighted home in Central City and employ eight recently released offenders, aged 18 to 24, to renovate the home into a small manufacturing business. Once the building is renovated, the same men will learn a trade in manufacturing.
Roots of Renewal has received acclaim, such as garnering a $7,500 award and fellowship from The Resolution Project in 2014. Hillary Clinton praised Roots of Renewal in her opening address at the Clinton Global Initiative University conference last June.
Fottrell's experiences at Tulane prepared her to run a nonprofit venture. The Center for Public Service has been a source of mentorship.
Innovative public policy and sociology courses offered through the School of Liberal Arts gave her the background to work with New Orleans officials to get Roots of Renewal off the ground. "I felt like I had a lot of knowledge about what I was getting into before I got into it," she says.
The Nashville native is now working full time for Roots of Renewal.
"I really just love New Orleans," she says. "I feel like I can do something here to make a difference in the city."