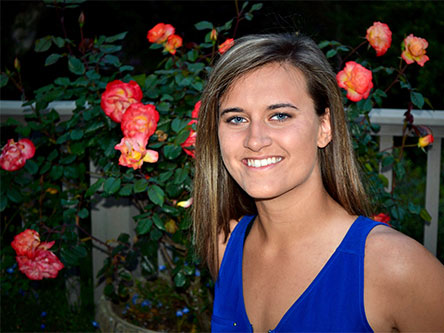 Hannah Hoover, a rising senior pursuing a double major in Anthropology and Classical Studies, has been selected as a 2017 Beinecke Scholar. The Beinecke Scholarship encourages highly motivated students who have demonstrated superior intellectual engagement and academic ability to be courageous in their pursuit of graduate study in the arts, humanities, and social sciences, and generously supports this pursuit with a $34,000 award. Tulane can nominate one student each year for this selective award, and Hannah was one of only 20 winners of this prestigious scholarship for 2017.
Hannah plans to pursue her PhD in anthropology, with a focus on the archaeology of the Southeastern United States. She intends to specialize in pre-colonial Native American communities and instances of first contact with Europeans. She also has academic interests in geoarchaeology and Geographic Information Systems. Hannah has been able to hone her skills in excavating through her fieldwork at the Berry Site in western North Carolina under the direction of her faculty mentor, Professor Chris Rodning. Over the past two summers, Hannah has been supported in this fieldwork by the Jean Danielson Memorial Research Grant (Summer 2015) and a Newcomb-Tulane Research Grant (Summer 2016).
Next year, Hannah will write an honors thesis focusing on geomorphology, which will involve investigating the sediments and deposits of colonial Spanish forts, missions, and structures to better understand their construction processes. Hannah observed that, "The support of the Honors Program was instrumental in my receiving the Beinecke Scholarship. They have been integral throughout my academic career by directing my interests, providing funded opportunities to develop research ideas, and aiding in my current plans for graduate school."
The Beinecke Scholarship Program was established to provide substantial scholarships for the graduate education of students of exceptional promise. Since 1975, the program has selected more than 590 college juniors from more than 100 different undergraduate institutions as winners of his prestigious award. For more information on the Beinecke Scholarship, contact Dr. Jennifer Beers, coordinator for nationally competitive scholarships in the Honors Program, 105 Hebert Hall, at jbeers@tulane.edu.