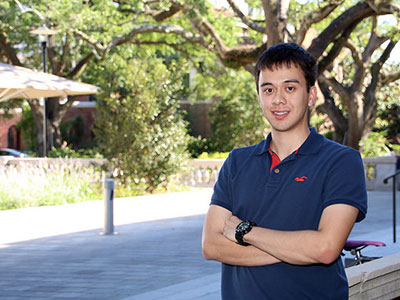 Ian Rohr, who graduated with majors in Russian and International Relations, as well as a minor in Economics, embodies the intellectually curious and adventuresome nature of the liberal arts student.
From an early age, he became fascinated by Russia, joining an ethnic dance and music ensemble at age eight. Once at Tulane, this interest was nurtured and flourished. In the fall of his sophomore year, he studied Russian foreign policy at the Moscow State Institute of International Relations.
The following summer, he received a Critical Language Scholarship from the U.S. Department of State to study in the Russian city of Nizhny Novgorod for two months. As part of the program, he signed a language pledge agreeing to speak no English.
When he returned to Tulane as a junior, he successfully sought a State Department grant to start a Russian conversation club. He used the grant money to hire a native Russian speaker to attend the club meetings and speak with Tulane students.
But exploring Russia was not Ian's only focus. Last summer, he completed an internship at the University of Economics in Ho Chi Minh City, Vietnam, greeting foreign guests from local consulates. There, he lived with a host family and helped redesign the university's study abroad website.
Ian then returned to campus, and to his passion for Russia, writing his senior thesis on Russian militarization of the Artic and its role in Russian foreign policy.
Rohr credits his experience at Tulane as instrumental to developing his skills and passion. "My professors in both the Political Science Department and the Russian Department have been very helpful. They've given me great career and academic advice," he says. "I'm very grateful for the opportunities I've had at Tulane."
After leaving Tulane, Rohr will begin a position with the U.S. State Department as a Foreign Service Consular Fellow. "I've always wanted to have a career that involves being able to use my Russian language skills, dealing with people from other countries and also being able to travel," he declares. "And I think the Foreign Service is a great opportunity for that."
Armed with his Tulane education and experiences, Rohr is certainly well prepared for his next adventure.