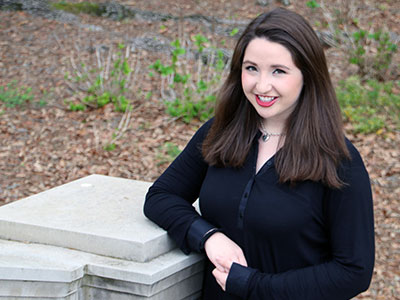 The really spectacular things in life are beyond our control. As someone who is always trying to plan for the future and make sure everything goes according to that plan, I have had a hard time accepting this. This past December I had the amazing chance to be the interim personal assistant for Tony and Emmy-award winning actress Kristin Chenoweth. To say the least, I now understand why sometimes we need to let go and let destiny direct us.
After hearing from a friend that Kristin would need an assistant while she was filming the independent film Class Rank in my hometown of Alexandria, LA, my mom asked me if I was interested. After a few cover letter/resume-laden emails and an in-person interview with one of the producers of the film, I was officially going to be assisting my musical theatre idol. I couldn't believe it. The show that made me fall in love with musical theatre was Wicked, the musical in which Kristin starred as Glinda. After so many years of listening to, singing along with, and loving her voice, this bubblegum diva was going to be my employer.
All my fears about her being high maintenance, disinterested, or intimidating vanished the moment I saw her through the airport waiting area window. While I was nervously trying to decide between shaking her hand or waving to this 4'11" angel, she hugged me like I was someone she'd known forever. She is not only a gifted performer, but is also a gifted "people person." Kristin instantly made me forget that she was a three time Tony nominee. I knew this experience was going to be wildly beyond any expectations I had.
While working with Chenweth, we talked about her career, auditions, Broadway debuts, and both of our theories about life. She found out I was a music major and we instantly had tons of topics to discuss. I tried to play it cool for the first few days and not ask her nerdy questions, but after waiting a little bit to express what a big fan I was; the storm of questions began. I learned so much from her. Tips about television acting, behind-the-scenes costume secrets, and so much more. We experienced everything from a perpetually beeping and smelly trailer, costume fittings, delayed shooting times, power outages in the hair/makeup trailer, fast food runs, and geeking out over our favorite musicals and performers. We sang Adele in the car after a 3 AM shoot, obsessed over the new musical Hamilton, shopped at the mall, had deep life discussions over chai tea lattes at a coffee shop, and went to a scary part of town to get the right false eyelashes. You name it, we did it in the short period of time we had together.
Something I really admire about her is that she emphasizes how important it is to get a college degree. We discussed how I was a classical singer but my passion was musical theatre; exactly how Kristin was in college. The song I had sung in my voice jury the day before, "Somebody, Somewhere" from Frank Loesser's The Most Happy Fella, was a song very close to her heart. Kristin being a past music major and me being a current music major was huge in our connection. It's quite common for people in her field to not have attended college and have gone straight into the "real world." Kristin not only has a Bachelor's degree in Musical Theatre, but she also has a Master's degree in Opera. She believes that so much personal growth happens during college and I absolutely agree with her. Being adored by young people is not wasted on her; Kristin is an amazing role model to people of all ages.
After a few days of us working together, Kristin said, "We still need to sing together!" I was terrified/overjoyed/bewildered at the same time. She suggested that I let her know when I could come to one of her concerts to sing one of the most iconic duets from Wicked with her: "For Good." After looking at both of our schedules, I realized that her concert at the Smith Center in Las Vegas was over my spring break. I texted her and told her this and she simply replied, "Done."
The date was set for March 25, 2016 at 7:30 PM in Las Vegas. At that point, I had about three months to positively perfect the Wicked Witch of the West, known as Elphaba in the musical, section of the song. I had sung the duet twice before but nothing had prepared me for performing it with the original Glinda in front of over two thousand people. The day had come and I was a bundle of nerves. I didn't have a sound check, but I knew the song well enough that it would be ok, right? I tried to calm myself down when the concert began, but nothing I repeated over and over in my mind could help me now. I needed to let go and let it be.
"For Good" was after she sang the classic Glinda number, "Popular." All during the song my hands were shaking and my heart was beating like crazy. Finally the time had come. Kristin began talking about my little town of Alexandria, Louisiana, and the movie she filmed there, Class Rank. And then she began talking about me. She told me to stand up and before I knew it I was backstage being handed a microphone. Kristin was so sweet and so encouraging. During the opening chords she said to me, "This is our moment." We sang and it was a dream. The audience was extremely kind and gave us a standing ovation. I was so overwhelmed with so many emotions afterwards…I had just sung with THE Kristin Chenoweth. THE Kristin Chenoweth!! The singer I have idolized forever, the person I have uncontrollably sobbed at while watching her sing, the person I watched host the Tony Awards, and now the person who I can call my friend.
Life is weird and so is show business, but Kristin Chenoweth is not. I have heard that one should never meet your idols: "They'll disappoint you," or "They won't appreciate your love for them." I thought I agreed with these pessimistic statements. There were times I wondered if any celebrity could possibly be a genuine and empathetic human being. As you can probably assume, I definitely don't think that anymore. Perhaps one day my renewed faith in my idols will be proven wrong, but for now, I think this experience with Kristin is all I'll ever need. My faith in the world and its kindness has been restored by the one and only, 4'11" star, Kristin Chenoweth.
BIO: Shira Kaplan is a freshman from Alexandria, Louisiana studying Musical Theatre and Psychology. Shira is a campus and arts department tour guide through Tulane Green Wave Ambassadors, a brother of Tulane's professional business fraternity Alpha Kappa Psi (Pi Chi Chapter), a sister of Sigma Delta Tau sorority (Alpha Iota Chapter), and a performer in Tulane's Musical Theatre Workshop productions.