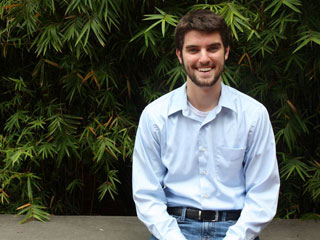 Ethan Levy is a natural-born entrepreneur. As a child, he charged his family a dime to walk up the stairs of their home in suburban Baltimore. In middle school, he devised a way to profit when his friends outgrew their basketball shoes – shoe4you, a service to buy and sell last season's sneakers.
So when it came time to choose a college, Levy says Tulane was a natural fit since the university is experiencing a fast-growing culture of social innovation and social entrepreneurship. Tulane is now offering a minor along with robust co-curricular programming for students across disciplines.
"I knew there was a real entrepreneurial ecosystem here," says the Tulane freshman. And he's wasted no time immersing himself in all that Tulane has to offer.
Throughout the beginning of his spring semester, Levy worked with Tulane's social venture student incubator program, the Changemaker Institute, to develop his idea for a program called Launchange. Its online network aims to connect social entrepreneurs ("dreamers") with skilled individuals who want to actively help ("believers") and with experienced mentors ("gurus").
Levy sees it as a great resource for all of those who want to bring about social change. His dream is to expand the Launchange program to other universities.
A graduate of Dulaney High School in Lutherville, Md., Levy is a member of Tulane's inaugural class of Altman Scholars. Undergraduates in the four-year Altman Program in International Studies & Business, funded by Tulane alumnus Jeffrey Altman (B '88), earn two degrees and participate in at least two study abroad experiences. The program appeals to Levy's wanderlust.
"Traveling is the best form of education you can receive," he says.
At Tulane, Levy says, there are lots of passionate students with great ideas on how to make the world a better place.
"My goal is to one day have my own business, one that has substantial social impact. Being in New Orleans and being involved with Tulane gives me a lot of opportunities to meet that goal."
Mary Sparacello is a writer in the Office of Development.