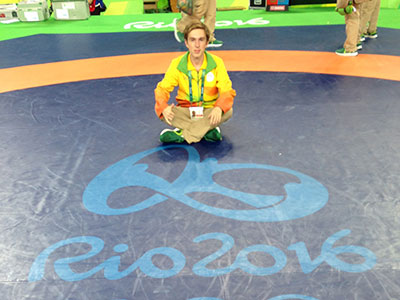 I decided to work as a volunteer in the Rio 2016 Olympics because I used to live in a city in the northeast part of Brazil, a city called Recife. There I learned Portuguese and kept a very strong desire to return to Brazil. I applied to be a volunteer two years ago and began the process of interviewing and handling the logistics of arriving in Brazil.
The year before I went to Brazil I was finishing my freshman year at Tulane, taking two courses in Portuguese with Megwen Loveless who I cannot thank enough for helping me bolster my Portuguese before the games. I was accepted in November and began the process of finding flights, accommodation, and meeting my team of volunteers.
I had chosen to work on the International Relations team, they are the volunteers that accompany the Olympic Family to wherever they need to go. The Olympic Family is comprised of heads of state, members of national and international Olympic committees, as well as judges and referees from different federations. The volunteers had numerous positions at the drop-off zone, the Olympic Family lounge, and the Olympic Family seats at each event. My team was at the Olympic Shooting Center, far up in the Deodoro Olympic Park. It was about a 2-3 hour commute every morning to get to work on time. I met numerous people belonging to national committees, organizing committees, as well as government officials.
After the shooting events ended, I was called to work in Carioca Arena 2, where wrestling was taking place. I worked there for the final four days of the Games by which point I was exhausted by the commute and the incredible amount of energy that everyone had surrounding me. Volunteers were given lots of opportunities to work behind the scenes as well as tickets to two separate events at the beginning and end of the Games. I went to see Beach Volleyball, Handball, Weightlifting, Field Hockey, and the dress rehearsal for the opening ceremonies.
Being in Rio was in of itself an incredible experience, as the city is already full of celebration and wonderful people, the Olympics only multiplied the festivities. Talking to a lot of the spectators, volunteers from outside of Brazil, and the athletes, everyone went exploring in Rio and had an amazing time discovering a truly beautiful city. Personally, Brazil is a place that I will always return to, and I hope the Olympics have inspired people from all over the world, especially Tulane students to come and see a truly magnificent region of the world.