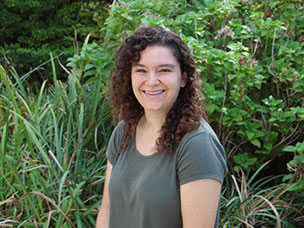 Student Spotlight - Mikayla Stern-Ellis

One of the main reasons I decided to attend Tulane was because of Dr. Katharine Jack, Professor of Anthropology and Director of the Environmental Studies program. When I was applying to colleges I researched professors that I would be interested in working with at each of the institutions and I was able to meet Dr. Jack when I visited for Honors Weekend. She talked about her research with wild white-faced capuchin monkeys and how she often has undergraduates go to her research site in Costa Rica. Knowing studying monkeys in Costa Rica was a possibility if I attended Tulane, the choice for college was made infinitely easier.
I have been to Santa Rosa National Park in Costa Rica three times now to research white-faced capuchin monkeys, two summers and one semester abroad. I have tried on a variety of different roles in research, from behavioral observation, urine collection, fecal collection, lab analysis preparation, and conservation education. Most recently during my Spring 2016 semester abroad I devised a project where I could combine my two passions about the research: behavioral observation in the field and conservation action. My honors thesis topic is the effect of drought on the behavior and survival of white-faced capuchin monkeys: quantifying the impact of climate change on primate populations. By recording the impact of climate change on primate behavior, I will be able to suggest conservation action to preserve a population of monkeys previously thought to be protected from human interference in the environment.
This work has reinforced my passion for conservation. While in Costa Rica I had a lot of time to consider my future and I realized I am not as interested in research as I am in conservation education and action. After graduating in May I hope to work at a farm animal sanctuary where I can make a difference in the lives of animals that were previously wronged by humans. I know that this opportunity to study wild and untouched monkeys in a beautiful country at no cost to me (thanks to Tulane/Newcomb grants) is very rare and I am so grateful to have had this experience.