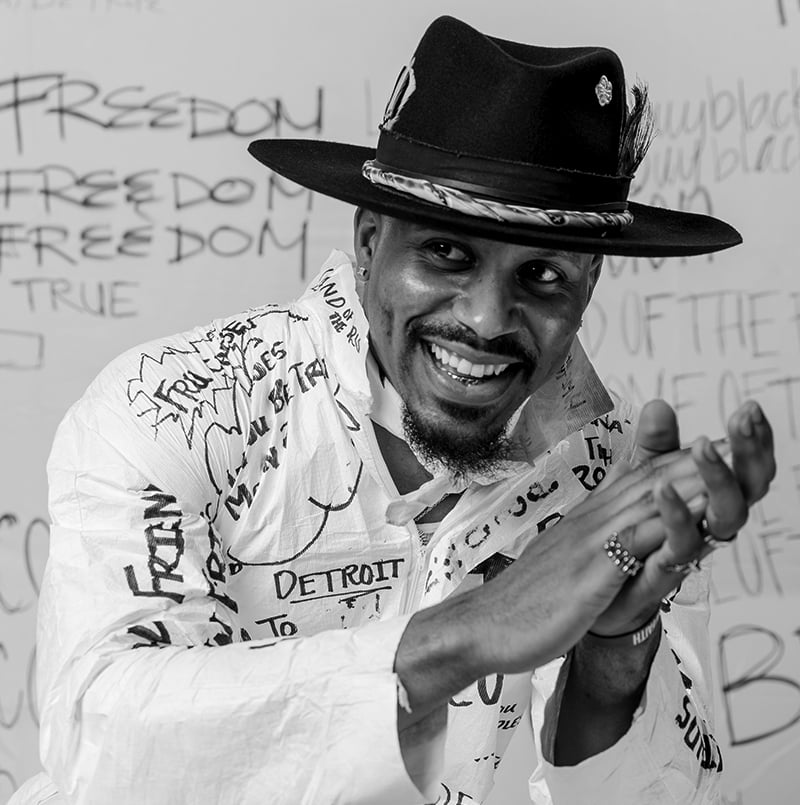 Jordan Sullen earned a Bachelor's in Sociology from the School of Liberal Arts in 2014, as well as played as cornerback for the Green Wave football team. Following graduation, Jordan moved to the National Football League (NFL) for four years — signing with the Denver Broncos, Chicago Bears, Pittsburg Steelers and then Carolina Panthers. In recent years he transitioned out of the NFL to pursue other passions, including health, wellness, and fashion. He is currently Head of Shops for the Atlanta-based hat store Fruition Hat Company.
Why sociology?
I've always considered myself a great observer of people, so I had a curiosity to learn more about human interactions, behaviors, tendencies, and so much more. I was fortunate enough to learn from some of the best professors in the world. They delivered the curriculum in a way that felt both relatable and applicable. Growing up in the heart of New Orleans, majoring in sociology was a huge eye-opener for how I've come to see the world around me. Attending class never really felt like a chore to me, mainly because my professors had a unique way of opening discussions with me and my peers.
Could you tell us a little bit more about your journey? How did you transition from the NFL into your current role?
Wow! Where do I even begin... What I'll say first is that nothing about my journey was easy.
Although I wouldn't trade any moments of adversity, I now realize how pivotal it is to be exposed to environments outside of what you're used to. I grew up in an environment much different than the confines of Tulane, but it took my full buy-in to the Tulane experience to learn and accept that. As an undergrad, I experienced some of the lowest points in my life—but also some of the highest points of my life. I had the opportunity to connect with individuals from all across the globe whom I still stay connected with until this day. My college experience was indeed a sweet escape from everything I'd known for most of my life. Oftentimes, we live with the pressure of resisting change to avoid disappointing our loved ones and how they might see us, but my whole life changed when I began to see how far a Tulane degree could take me. The perks of being at a private university is that you solidify more genuine friendships and relationships. Wouldn't trade it for the world.
Honestly, the NFL was just a stepping stone to guide me back to everything else I'm talented at. Being and becoming a pro requires every ounce of commitment you have, and I was willing to pay the price daily when many others were not. If I paid attention to the scoreboard during my time Uptown, I'd probably say I lost more than I won, but I saw things differently. I needed to endure the pain of everything I experienced at Tulane to propel me onward to life after football. Here I am…still winning, still finding the good in the midst of so much bad.
How did you decide when to make the transitions? Football to fashion is a big leap!
I've always had a unique sense of style, since I was young. I've especially always had a love affair with hats and the artistry behind them. I like to think of hats the same way many view the sport of golf. Hats open pathways for great conversational pieces and have a gravitational pull on the folks who cross paths with you. Hats are a feel-good piece that breed confidence in people who've sometimes given up on their image because of age and other factors. Aside from my creative endeavors, I consider myself a true advocate for health and wellness, and I've tried to be as unconventional as possible in showing that. This is also a facet of our lives that we tend to give up on, so I try to live an active lifestyle with the hope of inspiring someone somewhere. We live in a digital world, so there's no limit to how many people you can reach, that you may never meet. The ways I connect with people come easily because I always try to give them the real me…the good, the bad, and the ugly.
Life is all about transitions, and I try to adapt as needed. Of course, that comes with years of practice and preparation, but I firmly believe Tulane was a huge part of preparing me for life's transitions. I'm a very logical person, so I am usually in tune with the reality of knowing when my impact is needed elsewhere. Transitioning was tough for me at first because I try to live on principles, but I can't think of a time when I took a leap of faith and didn't land on my feet. Bottom line is, if I can't make a profound impact on this environment, then I'm better suited for an environment where I can. Impact is always needed somewhere. Part of transitioning as an athlete is figuring out where you'll make an impact beyond the sport. It's hard, but it's worth it!
Now, working at Fruition Hat Company, are there skills from your time at Tulane that helped—or continue to help—you grow?
Tulane helped broaden my perspective on pretty much everything. When you grew up in the South how I grew up, you care less about things like networking because everything and everyone in your network is accessible. Tulane made me grow comfortable with being uncomfortable. The confines of campus allowed me to connect with so many different people from different walks of life. The prestige embedded in the Tulane name alone has become embedded in me as well. The beautiful part about all of this is that it has so little to do with football. Football just gave me the opportunity to experience it all. Tulane helped me develop good habits that have carried me well beyond Uptown New Orleans.
As someone well-versed in different areas, what advice would you give any soon-to-be graduates on navigating a passion-oriented career?
The harsh reality is this…you may think you have your entire life figured out because of what the statistics say. It's easy to be convinced that graduating from Tulane will automatically place you among the elite. While I had a Tulane degree, I had to realize it wouldn't save me from a fiercely competitive world. There are a multitude of impressions we must make daily to prove we belong. Whether you're looking to explore a field that aligns with your passion or you're following the traditional path in your field, there's always going to be competition, which either makes or breaks you in the grand scheme of things.
What saved me particularly is my background as a student-athlete. Competing at the highest level continues to give me an edge in any setting I walk into, mainly because nothing prepares you for achieving a common goal like sports. Before I became a pro in anything else, I had to learn the ins and outs of being a pro in the NFL, from the way I carried myself in public to limiting who had access to me and my newfound resources. I am eternally grateful for how I grew up because it gave me insight into the things that Tulane could not teach me—we call it street smarts. I've seen firsthand what a collegiate experience in New Orleans can do for students who hailed from very different places around the world. My advice would be to hold fast to the things that New Orleans and Tulane University have taught you, because I promise you it'll keep you exclusive in the "real world" — as the song "Do You Know What it Means to Miss New Orleans?" says...
You are more prepared for the lemons life tends to throw at us than you think. Now go make lemonade! Just promise me one thing: as you begin to find your place in the real world, make it a point to reach back out to a steadily growing generation of new Tulanians. We are the standard whenever we go! #ROLLWAVE