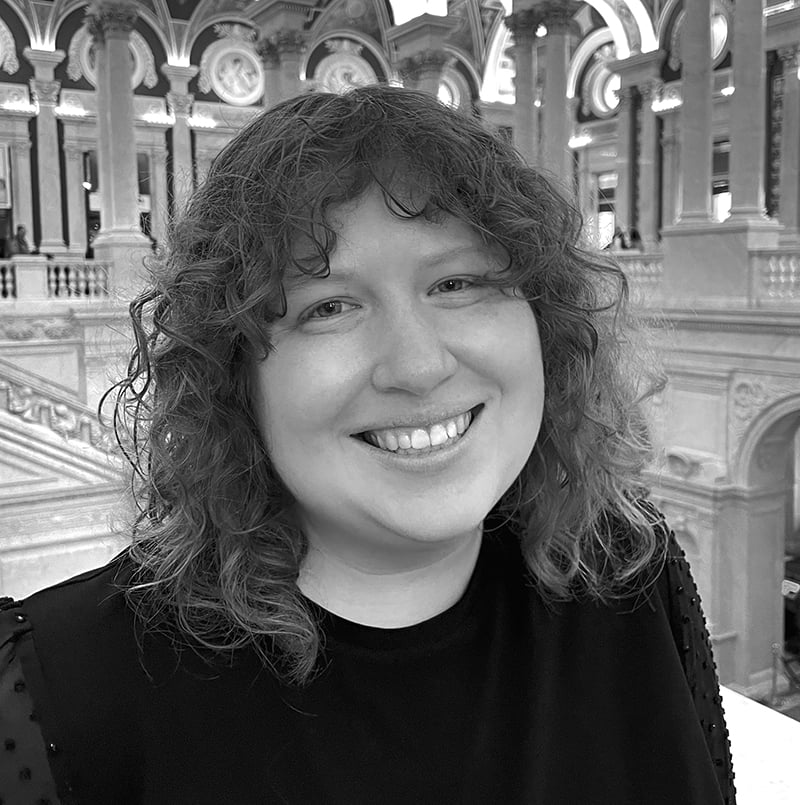 Rebecca Kelly graduated from the School of Liberal Arts in 2019 with degrees in International Relations, French and History. As an undergraduate she was a research assistant on two separate projects — both focused on gender and politics. After graduating, she applied for a Fulbright Scholarship and interned with U.S. Senator Tammy Duckworth before being hired as a Constituent Advocate for the U.S. House of Representatives. She started her role in June 2020 — at the height of COVID-19 — and helps constituents with issues including human rights, immigration, defense, poverty alleviation, and more
Three degrees! Why?
I majored in international relations and French, with a history minor. I was always interested in world events and looking at the bigger picture, so my major was a natural progression of those interests. World events are intertwined with national and local issues, and studying international relations helped me understand the world I live in much more extensively. Additionally, my French major came from my middle school dream to study French and do a semester abroad.
What inspired you to pursue a career in international and national policy?
I can't quite remember what initially inspired me to go into my field. My mindset has always leaned toward public service. Throughout my childhood, I constantly read books about historical public servants like Eleanor Roosevelt and John Lewis, which likely influenced my goals.
In regard to how I ended up in my current role, I mainly fell into it unintentionally. I applied for an internship with Senator Tammy Duckworth's Chicago office while I waited to hear back on a Fulbright application because I greatly admire her as a lawmaker and leader. I ended up liking my internship more than any of my previous ones, since I felt like I was directly helping people. I found myself deeply invested in serving constituents. Once Covid hit, I decided I wanted to continue the work I was doing, and the staff recommended I apply for my current position. With so much uncertainty at the time, I was thankful to have a good job that helped people during such an immense and world-changing crisis.
What is your day-to-day like, as the Constituent Advocate in a U.S. House of Representatives IL District Office? How does this role align with your passions? 
As a constituent advocate, I sit at the cross-section of where policy meets reality. I help constituents deal with issues with federal agencies, including the Department of State, USCIS, SSA, and Medicare. Our government is large, and often does not work well. I can help people navigate through the bureaucracy and shake some answers to their problems loose. This role aligns with my belief that it is not enough to discuss policies in theory, we must also consider how policies impact regular people. It also furthers my belief that issues are interconnected on multiple levels. An earthquake or the collapse of a government on the other side of the world can throw the immigration process for someone's parent into chaos here in Illinois. A flawed policy from decades ago can cause major problems down the line for an individual.
What might seem like minor changes to a policy can greatly improve or upend someone's life. I like being able to help these people fix their problems, and I often can see the direct impact I make on their lives, even if I do get frustrated with the many pitfalls in our government and certain mindsets that resist change. Seeing these failings up close also allows me to raise the issue with our legislative team so they can try to find legislative or oversight fixes to them. Overall, though, there is nothing more gratifying than making a positive impact on others, like helping a mother reunite with her daughter, ensuring a dialysis patient has Medicare in time for treatment, or getting a son an emergency passport appointment so he can visit his dying father.
What advice do you have for students trying to determine what comes after graduation?
My path has always been an indirect one. I did not have as many connections as some of my more privileged peers, so I had to take what opportunities I could get. I underestimated, however, the importance of transferable skills. Even internships or part-time jobs that I thought had nothing to do with my goals ended up being useful. For example, my job as a banquet hall waitress working weddings prepared me to help with the many events we put on in our district.
Future grads should always think creatively about how to sell the skills learned throughout all their life experiences, not just the directly relevant ones. Additionally, they should not stress if they end up having a couple of internships after graduating. It can be hard to find a job in politics or government without full-time internship experience, unfortunately. There are internships that pay a living stipend, though, and it is easier to get an impressive internship in the fall and spring semesters after graduating than summers during college.
Lastly, the advice I always give to my interns for this field is to not go directly into graduate school. Initially, I thought I wanted to go to grad school right away. I first interned for a year because I applied for Fulbright, which I ended up not getting after making it to the semi-final round. Retrospectively, I am honestly so glad I did not get it, and not just because of Covid. I thought I knew what I wanted to study in grad school my senior year, but after working for a year, I realized I wanted something completely different. Working for four years has given me more experience and insight than any senior would have. I'm planning to go back for my master's next year, but this time around I feel like my decision on what to study and where to go is more deliberate and practical. Plus, the knowledge I gained during working will provide more depth and focus to my studies. Do not make impulsive and panicked decisions about grad school during senior year because you are worried about not finding a job—get some work experience before considering grad school!