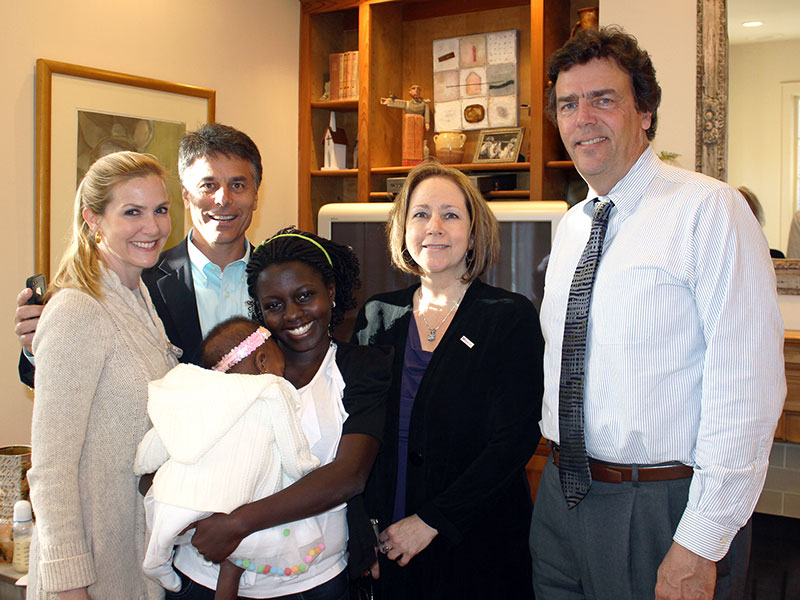 Alumni Spotlight: Whit Huguley
In 2018, the Louisiana chapter of HeartGift treated its 50th patient, 3-year-old Javier, providing heart surgery for one more child in need. "Treating Javier was a meaningful milestone representing HeartGift's success," explained Whit Huguley (A&S '80), a Tulane liberal arts alumnus that helped found the organization's local chapter.
HeartGift provides life-saving congenital heart defect surgery to children from around the world where specialized medical treatment is either scarce or nonexistent. The foundation, which was established in 2000, has served more than 400 patients from more than 34 countries. The Louisiana chapter is one of five throughout the southern U.S., and, with an expanded partnership with Children's Hospital of New Orleans, aims to bring 12 children to Louisiana for heart surgery each year.
Huguley became involved with the organization's local chapter before the first surgery candidate, Pasha from Kenya, was treated in 2010. But his interest in giving commenced after graduating from Tulane with a degree in economics when Huguley began working for an agricultural commodities company. Today he is the managing director of a U.S. subsidiary of the London-based ED&F Man. Working across multiple countries, ED&F Man specializes in trading, processing, and distributing sugar, coffee, molasses, fish oil, animal feed, and many other agricultural products. As he travels the world, Huguley often visits the communities from which the company originates or sells products.
Huguley has a passion for giving that is mirrored in ED&F Man's social responsibility commitment—the company has contributed to schools and nursery services in Guatemala, Peru, and Vietnam as well as HeartGift, supporting the communities in which they do business. The company also has a relief fund that has responded to natural disasters in Indonesia, Philippines, Haiti, and even New Orleans. Individually, Huguley also offers support throughout New Orleans, serving on the board of directors of LCMC, a network that includes Children's Hospital, where he was previously board chairman, and St. Michael Special School, where one of his children is currently enrolled.
"Whit and ED&F Man were instrumental in providing the resources we needed to start the Louisiana chapter of HeartGift,"said Stephanie Berault, executive director of HeartGift Louisiana. "They have continued to financially support us over the years, and they have also reached out to their vast network of friends and associates to tell our story. With their help, over 50 hearts have been mended at Children's Hospital in New Orleans so far. Those children, who had no other access to advanced medical care, are all leading normal, healthy lives all over the world."
While ED&F Man is focused on commodity trade and financial brokerage offerings, Huguley sees his philanthropic work supporting those in need as one of the most important aspects of life. "I am very fortunate for the opportunities I have been given, which I attribute to my family, education, career, and hard work. However, not everyone has these opportunities, so I appreciate being able to give back and make a difference when possible."