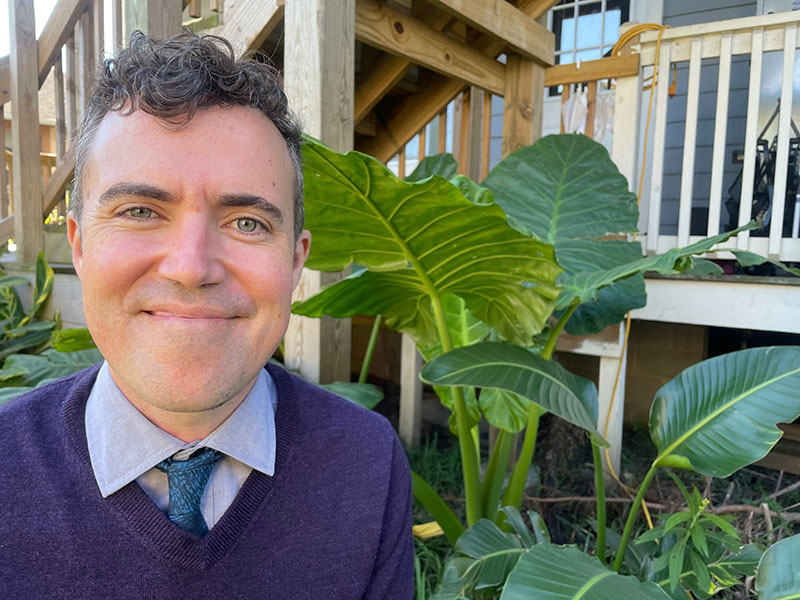 In coastal Louisiana, we are surrounded by water management infrastructure and industrial facilities that affect our landscape and health. But what would our communities look like if individuals along the coast were more involved in regional planning for these developments? Doctoral anthropology candidate Theo Hilton's research asks just this and posits that governing institutions responding to this question in more accountable ways is key to environmental equity across the region.
Throughout the next year, Hilton is participating in a prestigious fellowship with the Environmental Protection Agency's (EPA) Gulf of Mexico Division through an award from the National Academies of Sciences, Engineering, and Medicine. Hilton's work with the EPA is centered on developing methods to respond to socio-ecological problems in the Gulf South, such as protection of coastal communities from sea level rise, intensifying storms, and a myriad of toxic exposures, from petrochemical production effluents to harmful algal blooms. His work will also explore how these responses can increase government policy that promotes a more sustainable livelihood for those in the region, leading ultimately to environmental justice.
As Hilton explains, "Achieving environmental justice is achieving a situation in which no human deals with greater exposure to environmental harm than another, or a situation in which exposure is equitably distributed. It also means that everybody has a say in what that's going to look like." His day-to-day activities at the EPA supports this goal as he talks to community members and partners about the organization's work, participates in calls with the National Environmental Justice Advisory Council, and helps secure funding for research and programs that promote equity.
Hilton's fellowship is part of the National Academies' Gulf Research Program, which awards a small number of Science Policy Fellowships each year to address the intersection of science and public policy. Their overarching mission aligns with Hilton's graduate research that explores how we define and relate to the environment and how human systems of organization and power influence our ecological systems. His dissertation delves into freed people's communities founded along the Mississippi River in Louisiana during the Reconstruction era, and how residents in these communities today—many of whom are descendants of original founders—are using historic preservation claims to gain better environmental protection.
For Hilton, voices of historically excluded groups are most important in the discussion of environmental justice. His work has led him to questions of how we construct science, how we make claims about what "naturally is," and how inequities in human systems inform these precepts. "A lot of times, when we talk about outreach to historically excluded groups, it gets construed as something other than the science," said Hilton. "My research explores the premise that all science is positional, and it is really important to think about who is asking the questions, especially around technologically driven environmental management interventions. Bringing my social science methodologies into the conversation with physical scientists at the EPA can help create more dynamic responses to today and tomorrow's environmental concerns."