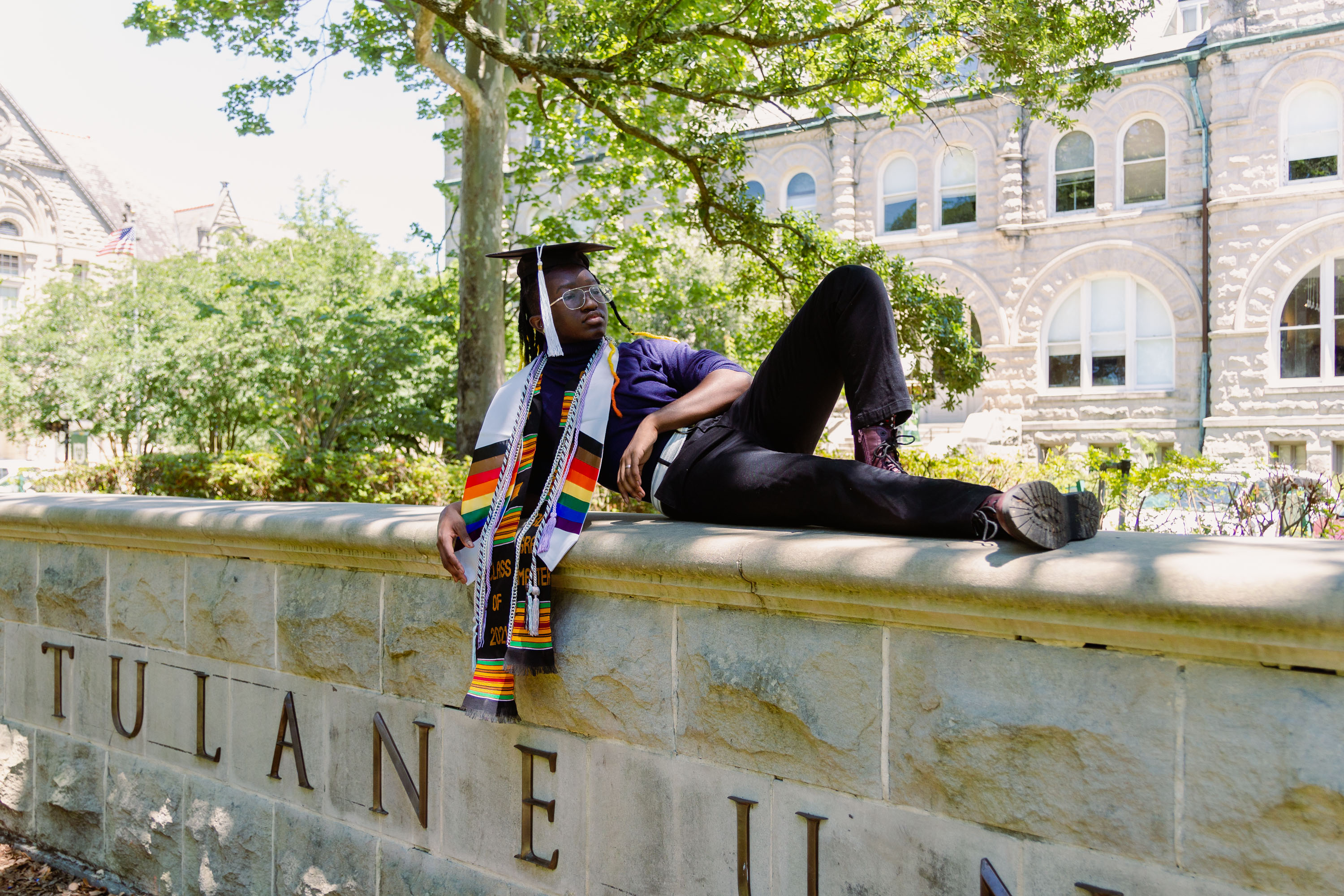 Applying his critical skillset centered on technology and diversity, graduating senior Lucien Mensah (SLA '21) will complete a data analytics internship with the confectionary company Mars this summer. Throughout his undergraduate studies at Tulane, Mensah has prioritized confronting biases in data and language through his linguistics major in the School of Liberal Arts, and he sees his upcoming opportunity with Mars as an exciting entry point to a dynamic career.
Mensah grew up in Florida, speaking the Ghanaian language Twi with his family and community members, and his interest in language grew from spending many years of his youth learning multiple languages online. While he has a goal of increasing the number of underrepresented languages in technology and ensuring his family's language is fully recognized in software, he is equally dedicated to diversifying the field of technology. As Mensah explained, "technology is moving into diverse spaces, but the people doing the work aren't diverse. Their personal biases are impacting the data collection processes and results."
Mensah's roles as Community Engagement Advocate with Tulane's Center for Public Service, Council Chair for the Gender and Sexuality Advisory Council with Tulane's Office of Gender and Sexual Diversity, as well as his experience as a Diversity Fellow and current role as a Digital Research Intern—where he focuses on feminist leadership in technology—have all informed his personal and professional goals. During his undergraduate studies, Mensah also participated in Tulane University Marching Band's drumline for three years and was involved with the Gender Exploration Society, the Queer Student Alliance, the Coalition of Queer and Trans Students of Color, and the Undergraduate Student Government. In addition, Mensah worked on public service projects with the New Orleans organizations NOAGE and the New Orleans LGBT Community Center.
"My main goal in life is to be happy," said Mensah. "And overall, I want to do the most I can to benefit my African community, while at the same time uplifting the queer community." Mensah looks forward to applying his knowledge in his day-to-day tasks and bridging this work with his greater passions, such as working to decrease homophobia in Ghana, where his family is from, and assisting individuals there in ways that most benefit their health and happiness.
At his internship with Mars, Mensah will focus on analyzing customer sentiments. Ultimately, the experience will give him the opportunity to see how data science works in the real world by learning how to clean up collected data and create machine learning models for companies. Mensah will be staying in New Orleans for this remote internship and will complete his master's degree in computational linguistics through the Department of Linguistics' 4+1 program over the 2021-2022 academic year. He also plans to continue volunteering in the New Orleans community.