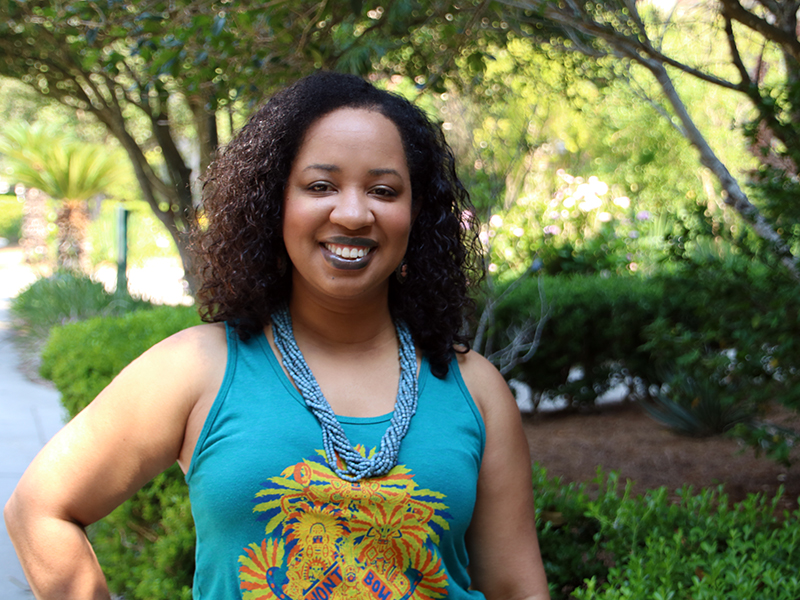 Composer and pianist Courtney Bryan never followed the most straightforward path to artistic success. Drawing mostly from jazz but also incorporating experimental music, gospel, classical and R&B, her work defies easy characterization. While some of her compositions have been religious, she describes her music as "bridging the line between the sacred and the secular," and her art also unflinchingly explores historical themes and political issues. As she composes each fearless piece of music, she follows her own truth, her own journey. That courage and verve are the reasons she has been bestowed with the prestigious Herb Alpert Award in the Arts.
"I just feel like I'm on a unique journey to myself," said Bryan, an assistant professor of music in the School of Liberal Arts, as well as a celebrated pianist and composer. "I'm grateful for the Herb Alpert Award and this recognition of my journey. I feel encouraged to go further boldly in that direction and create the music that I feel that I'm meant to create."
The Herb Alpert Award in the Arts is given every year to five risk-taking mid-career artists working in the fields of dance, film/video, music, theatre and the visual arts.
In the letter informing her of the award, the judges were expansive in their praise. "We value your breadth, the ways you gather and create communities, and your creation of a new kind of cosmopolitan classical music imbued with fierce urgency of the moment and a real story to tell. We appreciate your concern for and commitment to spirit, social justice, and shifting power dynamics and we celebrate your profound connection to the human voice. We perceive that you are on a powerful journey and as listeners, we're lucky enough to be on it with you."
The award comes with a $75,000 prize that will allow Bryan to take a research leave for the 2018-19 academic year. She plans to work on a number of compositions and recordings and has recently been named the Mary Carr Patton Composer in Residence with the Jacksonville Symphony in Florida.
"When I come back to Tulane, I have this feeling I'll come back a little different than when I left," says Bryan. "I'll have all this time to really pursue this journey and just really put my full self into it, and I'm excited about that."