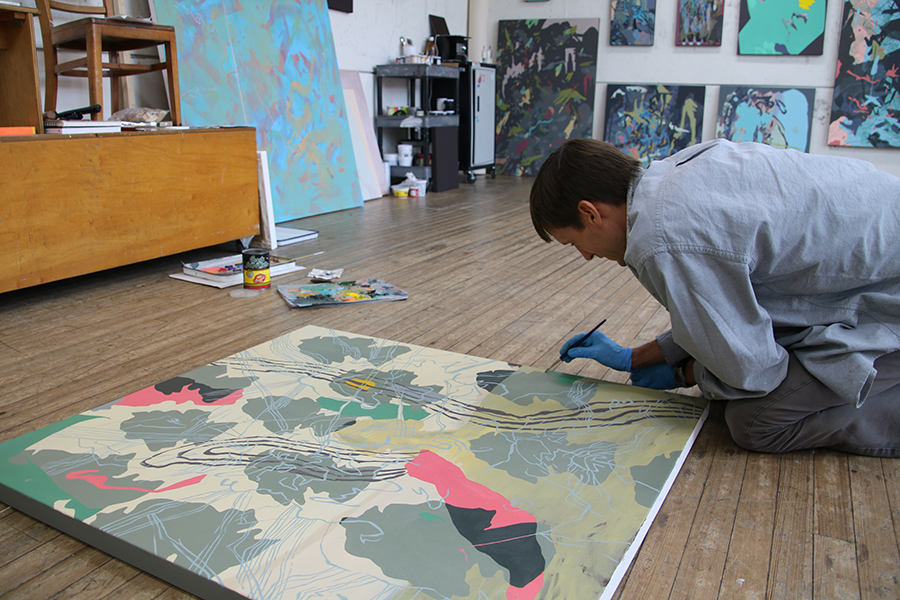 Faculty Spotlight - Aaron Collier
Assistant Professor of Art Aaron Collier is inspired by questions and possibilities. His new paintings and works on paper, which will be on view in his upcoming exhibition, Of Rocks and Ruins at New Orleans' Octavia Gallery, respond to the illusiveness of our inability to see or understand something fully.
"I find there to be an extreme amount of verisimilitude in abstract painting. Abstraction can feel more like an experience with the world than viewing something chronicled in its totality," Collier explains. While his paintings are mostly composed of varying expanses of color and little recognizable imagery, Collier doesn't claim to be a purely abstract artist; in other words, he doesn't wish for there to be a complete divorce between his imagery and the world.
Of Rocks and Ruins will be comprised of Collier's newest body of work that is inspired by traditional paintings, such as Leonardo da Vinci's "Virgin of the Rocks," 1483-1486, as well as his experience visiting Palatine Hill in Rome. In a recent conversation, he explained that while some architectural elements are more intact at Palatine Hill's ancient site, visitors essentially examine shards and fragments in order to create a vision of what once was. 
"The questions that drive my practice are several: how can we enjoy, how can we take pleasure in, how can we exist within finite knowledge? How can we savor and appreciate these beautiful, astounding fragments?" 
Collier began teaching in Tulane's School of Liberal Arts in 2006 as a professor of practice in painting and drawing, focusing on fundamentals in foundations courses such as line, shape, and color. During those first few years, he began reconsidering these same fundamentals in his own work. 
"The daily opportunity to observe and participate in the creative processes of Tulane's driven students is incredibly inspiring, challenging, and humbling. Students have no idea how thankful I am for such a gift."
---
Collier's solo exhibition, Of Rocks and Ruins, opens at Octavia Gallery October 6, 2018, as part of Art For Art's Sake. An opening reception will take place October 6 from 6-8 p.m., and the exhibition will be on view through October 27.