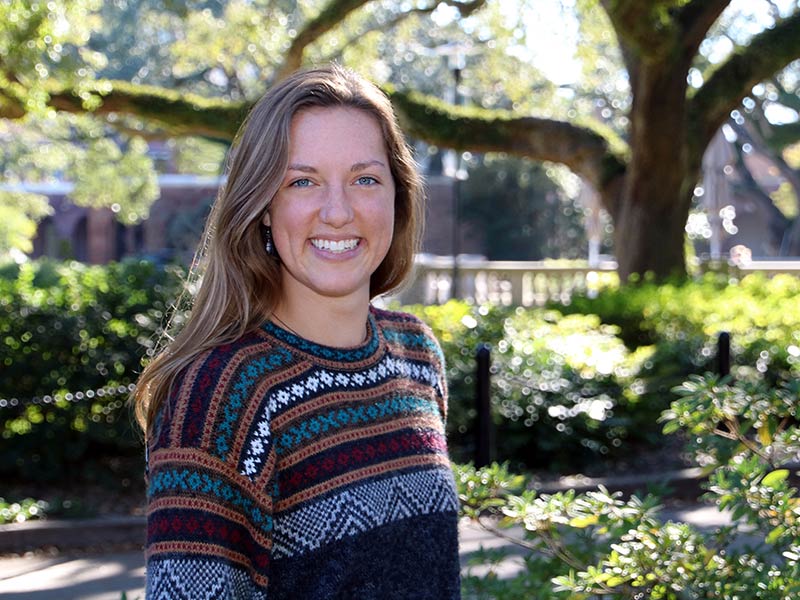 In a recent study from the Food Research and Action Center, more than one in nine Americans—40 million people—reported struggling against hunger last year. Moved by this fact and understanding the overall importance of a healthy diet, Emily Bonenfant has grown increasingly interested in making good food more accessible. Bonenfant, a senior studying environmental studies and international development in the School of Liberal Arts, is passionate about the relationship between humans and their environments, and after studying abroad in Ecuador last year, Bonenfant honed her academic focus to ethnographic research—studying individuals in their environment—with a special focus on food justice.
Shortly after arriving at Tulane from New Hampshire, Bonenfant joined the campus club Food for Thought and Action, now Food Justice Advocates, which aims to spread awareness about food justice in New Orleans through volunteer work at urban farms and public programs on food advocacy. "I have such a love for growing and producing my own food, and I love to share this opportunity and passion with others," Bonenfant explained.
This past summer, Bonenfant furthered her commitment to environmental work by beginning an internship with the Recirculating Farms Coalition (RFC), working with community members in New Orleans' Central City neighborhood. RFC is a group of farmers, educators, non-profit organizations, and many others committed to building local sources of healthy, accessible food, working together to create farms that use clean, recycled water as the basis to grow food. RFC has also built raised garden beds in the greater New Orleans area such as Guste Homes and has a mobile wellness program. As Bonenfant describes, "this experience is a living example of how humans are dependent on their natural environment, even within the urban landscape of New Orleans, which connects deeply with my studies at Tulane."
Throughout her internship at RFC, Bonenfant assisted the program and outreach coordinator by helping lead cooking demonstrations and volunteer events, building raised bed gardens in various community centers, watering the community gardens, and asking for donations for the organizations' two urban farms on New Orleans Mission property. Grateful for the opportunity to gain professional experience in this role, Bonenfant also sees how her work makes an important impact on the health and success of our citizens.
"Since starting college in 2015, I have been passionate about food justice, and supporting organizations that are helping to provide all New Orleanians with equitable access to fresh, affordable produce around the city. I have learned so much during this time, and am eager to continue work in this field."