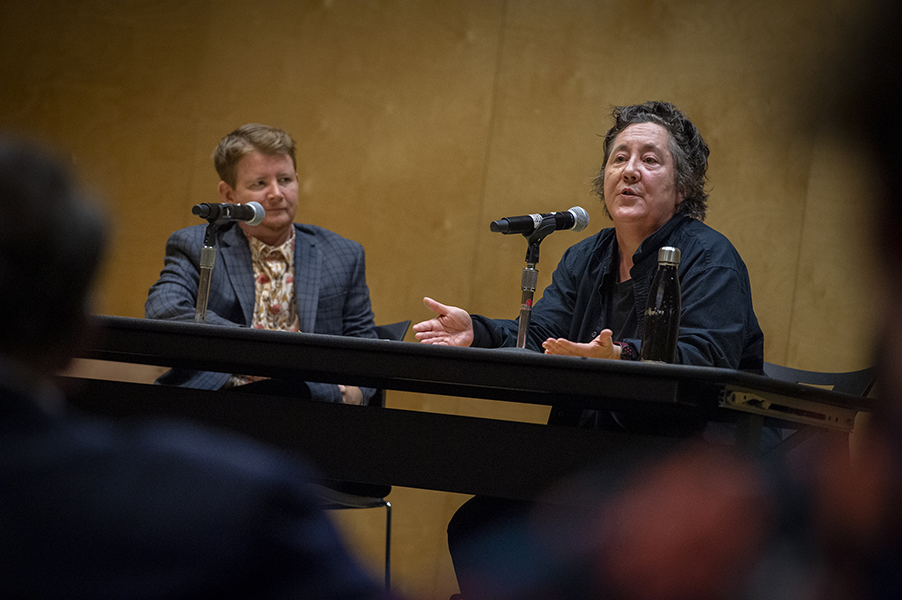 When Christine Vachon, a prolific queer film producer who has created films such as "Boys Don't Cry" and "Carol" came to speak at Tulane University for the inaugural Bobby Yan Lectureship in Media and Social Change this month, I have to admit I was preparing myself to be frustrated.
I would like to begin by positioning myself in this article as a cisgender white lesbian so that readers understand that this is coming from the perspective of someone not in the trans community. However, as a senior digital media production and theatre major in the School of Liberal Arts, one of my major research focuses is LGBTQ representation in media. Spoiler alert: it's not great. According to LGBT Fans Deserve Better, a website dedicated to tracking queer representation in media, queer women made up only 1% of characters on TV in 2017, but made up 10% of overall deaths on TV. If straight characters died at the same rates that queer women died on broadcast television last year, 38% of straight characters would be dead. I also believe that people should be able to tell their own stories, which makes a movie in which a trans man is raped and murdered, directed by a cis woman, not particularly ethical in my perspective, especially when a cis woman actor is cast as said trans man.
With my particular history and interest in queer media representation in mind, I was interested in how open Vachon was to acknowledge these facts. Red V Tremmel, a professor in the Department of History and the Gender and Sexuality Studies Program, moderated a discussion with Vachon after her lecture. Tremmel began by asking Vachon how she felt about the controversy around "Boys Don't Cry," with many people upset about the casting of Hilary Swank as Brandon Teena and the violence against him that the movie graphically depicted. Tremmel also brought up that this movie was one of the only depictions he has ever seen of a trans man in media. Vachon responded that if done today, they would have of course cast a trans man. She also explained that if the burden of queer representation rests on one movie, it will collapse, and added that there needs to be more representation in general so that there can be negative experiences of the queer community in media without that being the only representation. The historical context of the movie being made during the AIDS crisis is also important to note, as Tremmel highlighted, so that society could be aware of the tragedies in the queer community that were often going unnoticed by the general American public in the 1980s and 1990s.
I believe that "Boys Don't Cry" is a significant, historic movie for the queer community, but is not without major issues. But more importantly, I believe this recent discussion shows that LGBTQ representation continues to be a critical subject, and we need to support conversations around it. Having a speaker series like the Bobby Yan Lectureship is a powerful addition to a Tulane education because it allows students, faculty, and even prolific producers to engage in necessary dialogue around these issues. In order for the queer community to get the representation we desperately need in TV, movies, and other forms of modern media, we as a society need to build off of the past missteps in LGBTQ representation and continue the fight for more nuanced and authentic queer experience to be present on the silver screen.
The Bobby Yan Lectureship in Media and Social Change is part of the Tulane Trailblazers initiative, which celebrates the contributions of people from diverse backgrounds who have made a substantial and lasting impact at Tulane. It is named after six-time Emmy Award winner Bobby Yan, a 1995 Tulane graduate who founded Tulane's Asian American Student Union. For more coverage on the inaugural Bobby Yan Lectureship, visit Tulane Today.