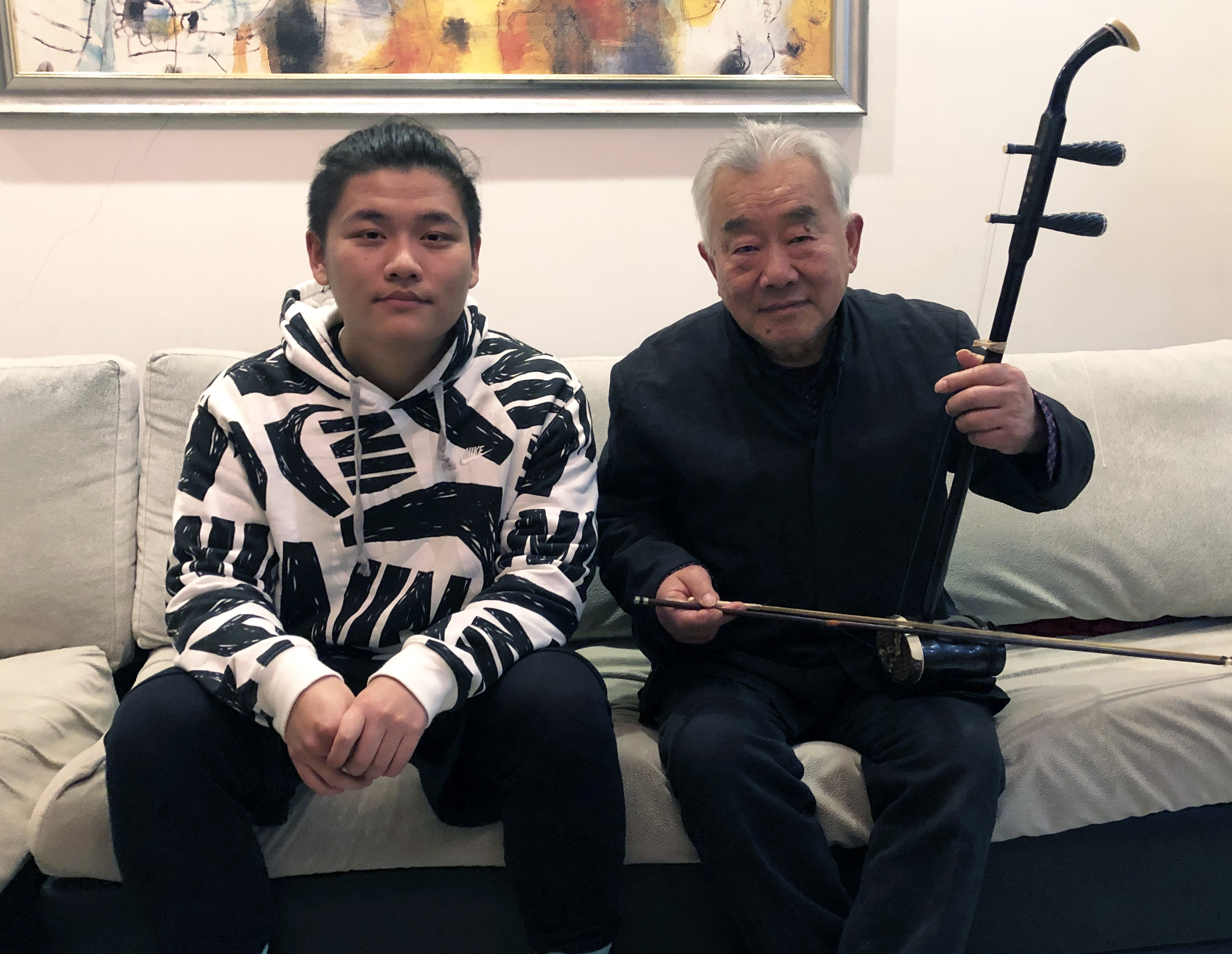 Although he has been unable to attend classes on campus this year, Tulane economics and business sophomore Haochen Hua (B, SLA '23) is making the most of remote learning in his hometown of Wuxi, China. In the fall of 2020, Hua took advantage of his geographic location by featuring his grandfather's musical talents in a special video assignment for music professor Dan Sharp's "World Musics" class.
"It struck me as a moment that, despite all of the hardships and disadvantages of the pandemic year, certain possibilities did arise," said Sharp. For his Critical Karaoke assignment, Sharp asks students to create a short video of themselves performing a close reading of the musical details and the cultural context of a particular song, as it plays in the background. "Students have really run with this assignment in the past; but, before Haochen, no one has actually demonstrated an instrument like the erhu that is less familiar to the class, nor has anyone invited their grandfather to do it!"
The erhu, as Hua explains in detail in his assignment, is a two-stringed bowed musical instrument played solo or in ensembles for both contemporary and traditional musical scores. Throughout the course of his video, Hua discusses the history of the instrument and the song "Reflection of Moon on Erquan," which was written in his hometown. Hua also outlines themes of the song, melodies, and both bowing and fingering of the erhu by the song's composer and performer, Abing. Later in the video, Hua's grandfather appears accompanying the song on his own erhu.
"I enrolled in Professor Sharp's class because I wanted to explore music that represents people around the world. I also wanted to make a contribution to the course, classroom, and understanding of my home country by bringing my perspective and music from China," explained Hua. Taking this course not only fulfilled a music requirement for his liberal arts education, but it is where Hua's sincere interest in music of the world developed. "If I hadn't taken this course, I wouldn't have challenged myself or stepped out of my comfort zone in very important ways. I wouldn't necessarily have found the great joy I do today listening to Brazilian, African, and Arabic music—I'm so glad I did!"