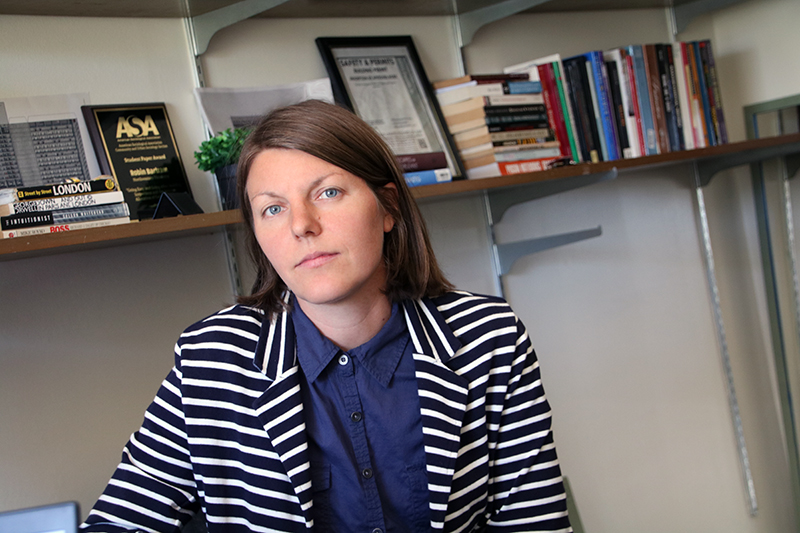 Faculty Spotlight: Robin Bartram
How do we become good stewards of our neighborhood and city? How do our actions impact those living around us? And how do city and state housing laws and policies help or hinder urban residents?
These are just a few questions that inspire discussions in professor Robin Bartram's "Introduction to Urban Sociology" course. Bartram began teaching in the School of Liberal Arts in fall 2018 and is deeply inspired by Tulane University's placement in and engagement with New Orleans. For each topic she explores in class, Bartram's students read a newspaper article about New Orleans and use sociological concepts and theories to unpack what is happening in the city. One topic they're exploring this semester is gentrification in New Orleans. Together the class read recent news coverage of issues ranging from Airbnb, neighborhood stigma, affordable housing, and community investment. Then, drawing on sociological theories and accounts of historical and racialized policies and practices, students write a paper on gentrification as if they were the mayor of New Orleans.
Bartram uses a multifaceted approach in both her research and teaching. "I come to things primarily trying to understand how structural forces are either furthering or reducing inequality. And I'm also interested in the legal side of things, the ways laws and policies are written and enacted or selectively enforced, perhaps."
Bartram joined Tulane after completing her doctorate in Chicago, and her forthcoming book about the selective enforcement of building codes will explore some of the issues related to housing that she discusses with her students. The book also explores the ways people interpret built environments and how people make decisions or claims about individuals that live in public housing. While in Chicago, Bartram was also a research resident at the National Public Housing Museum, which will be the first museum dedicated to public housing in the U.S. The museum is based in a former building developed for public housing in the 1930s, and one of their main goals is to change the narrative around public housing. "If we want to make things better, if we want to improve society and the wellbeing of everyone, we have to question our assumptions. This type of interrogation, which I believe forms the foundation of a liberal arts education, is crucial to understanding each other and not just working and living together, but supporting each other."