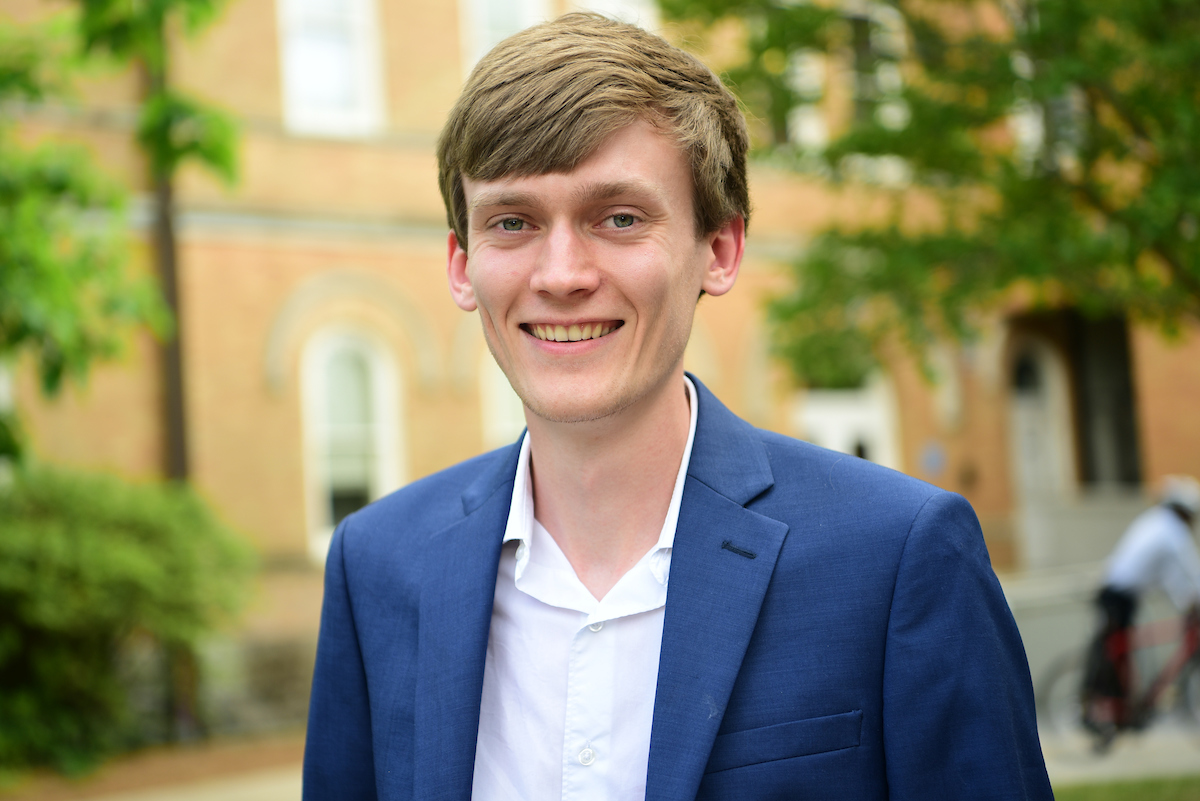 Jake Ward, a senior graduating in Political Economy and Economics with minors in Mathematics and German, epitomizes the values of a liberal arts education. His intellectual curiosity, strong work ethic, and commitment to engaging the local and global communities are just some of the reasons why faculty and students from a range of fields have been interested in working with him since he has been at Tulane. His quick, British wit helps too.
Jake has been an integral part of the Tulane community since his first year, and his contributions have been academic, intellectual, and collegial in equal measure. In his first year, he sought out challenging courses, such as Honors Calculus 3 and Honors Research and Epistemology courses. His professors at that time suggested that he study mathematics given his strengths in the field, yet his interests remained in the School of Liberal Arts. Jake explored a range of disciplines with faculty in Political Economy, German, Economics, and yes, Arabic, as well. He took that knowledge with him during his time studying abroad in Berlin where he began his research on Right Wing Populism in Germany, which served as a precursor to his honors thesis. Guided by his faculty committee, including Professors Mark Vail, Patrick Egan, and Scott McKinley, Jake successfully defended his honors thesis entitled, "Legitimate Radicals: The UK Independence Party and the Alternative für Deutschland."  He describes the project as "more than any other academic project I've ever undertaken — it feels like a real chapter of my life." Jake argues that popular narratives of populism tend to be simplistic, vague, and incomplete. With this assessment in mind, he asserts that the rise of the UK Independence Party and the Alternative für Deutschland can only be understood in the context of continent-wide and national trends and the interaction between cultural and economic forces, and he conveys these ideas in a sophisticated and nuanced way.
"A lot of college is self-driven. You'll come to find you're more qualified than you think you are, and people are happy to help you along the way."

- Jake Ward (SLA '18)
In addition to his contributions in an academic setting, Jake has played an active role in the Tulane community. He held RA positions in Butler and Weatherhead and helped facilitate the Books and ReadingSociety, led by Professor Mike Kuczynski, in the Honors Residential Learning Community, fostering his own love of reading and inquiry. He was President and co-founder of Tulane's chapter of European Horizons, an international student-run think tank which focuses on issues of contemporary European politics and Trans-Atlantic relations, and he regularly brought professors and students together to discuss critical issues. During his senior year, in addition to writing his honors thesis, he was chair of the highly successful Inaugural Honors Thesis Forum, where thesis writers presented their research to the campus community. He explains, "We want younger students to be inspired to work on their own projects and to learn how to talk about their work, whether in a forum or in an interview setting." He plans to use these lessons to work on a Democratic campaign post-graduation. After living in the US for six years, Jake would like to connect further with this country, doing his part to address timely issues and fight injustices in American politics. 
As his time on Tulane's campus comes to a close, Jake offers advice to incoming students. He encourages them to take the opportunities handed to them, and, if they are not immediately apparent, to seek them out. "A lot of college is self-driven. You'll come to find you're more qualified than you think you are, and people are happy to help you along the way." They, myself included, were thrilled to help because of Jake's inquisitive mind, thirst for knowledge, and generous spirit, exemplifying the very best of a liberal arts education offered by Tulane University.  
Jake's Quirk: "I'm a Brit who doesn't like tea."