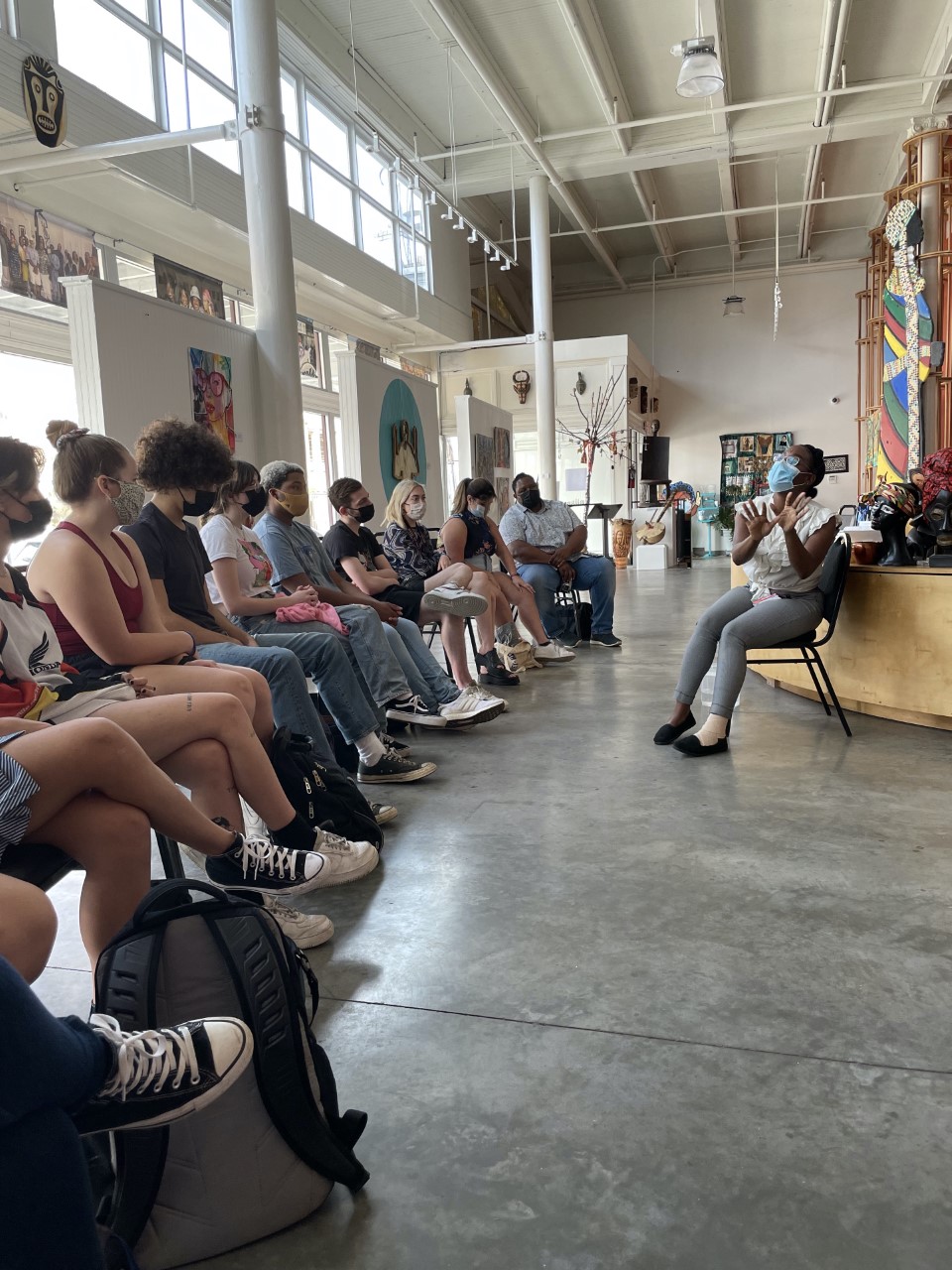 "Photography has become an important ingredient to success over the last few years," explains Sean Fader, assistant professor of photography in the Newcomb Art Department. "Whether a portrait for your LinkedIn profile or photographs of your new clothing line for a website, having the equipment necessary to produce images of or about yourself really sets you apart."
In Fader's undergraduate "Photography: Lighting for the People" class, students are addressing this need by practicing the foundations of photography in the studio and in the greater New Orleans community. Throughout the semester, students study lighting and portraiture through classroom instruction and a partnership with Ashé Cultural Arts Center, a vibrant art and cultural institution in New Orleans' Central City neighborhood.
"My goal for this class is to increase access to the extraordinary photo resources that we have at Tulane," said Fader. For the service-learning component of Fader's course, he has developed a program where students will take portraits of Ashé staff members and a number of culture bearers living in the neighborhood. "In addition," Fader continued, "I hope the students learn what it means to care for and support others in this practice. This is paramount for portrait photographers to learn, because it is so important to make sure your subject walks away feeling well represented." Through classroom discussions on the history of photography, whose narratives have dominated conversations on what makes a "good portrait," and how photography can be a force for change, Fader helps his students understand how artists can reshape narratives and stereotypes through imagery, and how this relates to their work with community members.
Typically, once studio art students complete their work for a course, they display their artwork for a critique by their professor and peers. For Fader's students, the subject of their photographs will play the largest role in evaluating the student's work, emphasizing the importance of truly depicting the person in front of the camera. At the conclusion of the semester, each community member will keep their digital and print photographs and Fader will organize an exhibition of the students' work with Ashé.
The process Fader's students are embarking on to create these portraits is integral to his own work, which investigates visibility and representation of diverse communities through photography. In his recent body of work "Best Lives," Fader works with community members to share their own experiences of what being queer means and looks like, and then creates what he refers to as "anthem portraits" of these individuals. Often displayed adjacent to these photographs is "Insufficient Memory," Fader's series that documents sites where queer individuals were killed, and in many cases, forgotten. In both bodies of work, the artist and professor is posing the question: Can we use our photography practices to destabilize what people imagine queer bodies are supposed to look like?
"I'm always trying to think of how to best represent people in my work, and I hope to impart this process on my students in addition to the skills they gain in and outside of the studio," said Fader.
Fader's photographs are currently on view at the Albright Knox Museum. His project, "Insufficient Memory" is featured in this exhibition, and is also available to view online. Stay tuned for more information on the "Photography: Lighting for the People" class exhibition at Ashé Cultural Arts Center.