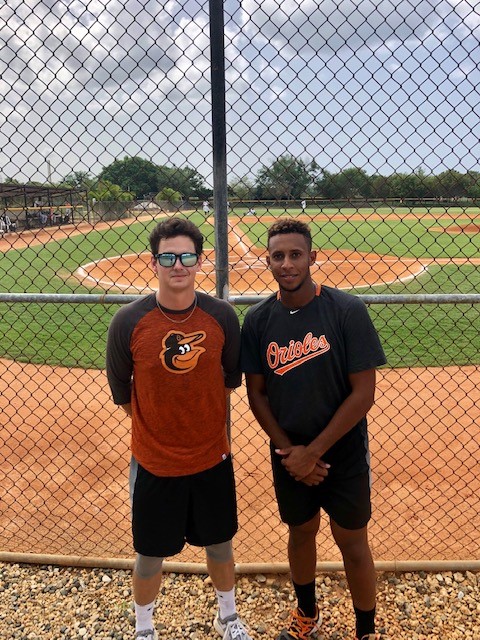 In the Dominican beach town of Boca Chica, the Baltimore Orioles have two professional affiliate teams competing against other Major League Baseball (MLB) organizations in the Dominican Summer League. This league promotes the development of first- and second-year professional baseball players, mostly in their teens, from Latin America. After graduating from Tulane in May 2019, I began working at the Orioles International Academy and spent the 12-week season as the video coordinator for one of these teams. While there, my everyday duties included a range of tasks such as recording and charting games on a team computer program, conversing with coaches to write daily lineups and game reports, and working directly with players to go over video footage of past games and learn English. All of this added up to a relatively demanding work schedule that spanned six days a week, but I consider it a tradeoff worth making to work in operations for a Major League team. I was also able to build personal relationships with our players, some as young as sixteen years old, from various Latin American countries including the Dominican Republic, Venezuela, and Cuba. Not to mention, I had the choice of spending days off either at the beach in Boca Chica or exploring the various neighborhoods in the capital of Santo Domingo.
As a Tulane graduate with a double major in political science and Spanish, much of my coursework intersected the topics of Latin American cultural studies and international development. The Spanish language skills that I developed at Tulane were fundamental to my life in Boca Chica, and, in turn, this position continued to foster those skills. My general understanding of development in Latin America allowed me to determine tactics that were useful in the specific area of player development as well. Overall, my academic background combined with my affinity for baseball made this opportunity with the Orioles a perfect way to spend the summer.
Similar to studying abroad for a significant period of time, participating in the Dominican Summer League season had its peaks and its challenging times. In order to get the most out of these experiences as a whole, it's important to take the good and the bad in stride, which is something I learned as a junior at Tulane living abroad in Argentina. I've just moved back to New Orleans this month, and plan to apply to law school and pursue a career in collective bargaining and international player agency.
Elliott Michalson is a 2019 Tulane graduate with a bachelor's degree in political science and Spanish. During his tenure at Tulane, Michalson studied abroad in Cuba and Argentina, and was the president of the Club baseball team during his senior year. Michalson most recently worked for the Baltimore Orioles in Boca Chica, Dominican Republic, as a video coordinator intern.