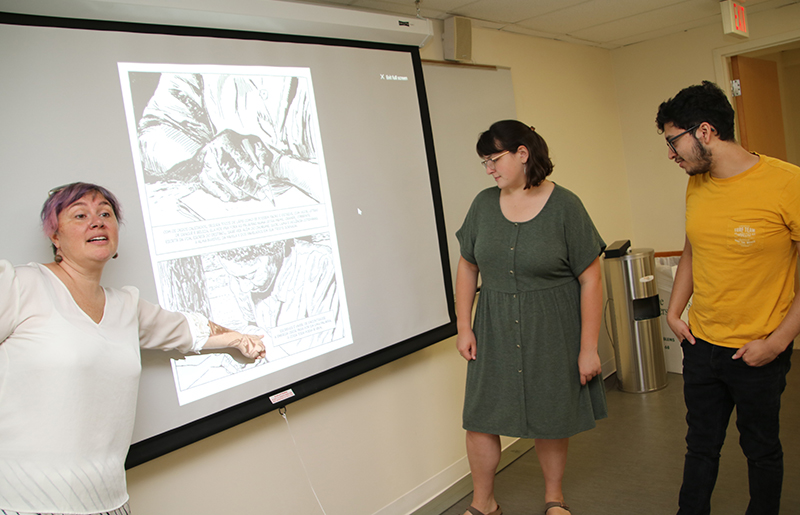 Across Tulane's School of Liberal Arts, language courses aim to incorporate moments for students to find their voice, express opinions, and practice analytical skills through multiple methods of engagement. For Megwen Loveless, a professor in the Department of Spanish and Portuguese who received her doctorate in anthropology, this comes in the form of emphasizing Brazilian culture in the classroom and beyond. As she explains, "Language classes are as much about performing a language as they are about learning to speak, listen, read, and write. When you study a new language, you are also studying gestures, expressions, and core grammar in more nuanced ways, which is vital to learning a language in its entirety."
Portuguese language classes at Tulane begin each session with a Brazilian song that informs and relates to the day's lessons. Students also enhance their proficiency via weekly one-on-one telecollaboration sessions with native speakers from Brazil. And already in the first weeks of their second semester of Portuguese, scholars begin reading their first novel in their new language. This fall, in an effort to highlight how the Black Lives Matter movement has changed the learning environment in the United States as well as across Brazil, students are reading the graphic novel Carolina. Each of these engagement opportunities expands students' understanding of the Portuguese language and actively familiarizes them with cultural subtleties.
"Studying Brazilian culture has been essential to my language learning journey," said political economy and finance sophomore Raleigh Kreis (SLA, B '24), who is enrolled in Loveless' second semester of Portuguese. "It has supported my development of a strong vocabulary, but it has also created a foundation from which I can better understand viewpoints and experiences of people who are different than myself."
Every other Friday, Loveless' students read from and discuss Carolina, which traces Afro-Brazilian writer Carolina Maria de Jesus' powerful life story of growing up in poverty in Brazil, experiencing a myriad of hardships, and becoming the first Afro-Brazilian female writer to receive international acclaim. The novel, written by Sirlene Barbosa and illustrated by João Pinheiro, also draws attention to key social issues through written content and imagery.
"I'm really excited for our students to be talking more about issues of race, inclusion, sexuality, power, and violence as they develop their language skills," said Loveless. "Carolina is a stew from which we can pull out themes that are very important for our students in the United States, but that also correlate to lived experiences in Brazil."
As Kreis reflects on this experience, "Our discussion around Carolina really explores the power of language. As we make our way through the book, we learn to read and interpret new vocabulary as we develop nuanced opinions about our own culture and a different culture. The fact that the text itself is about an Afro-Brazilian woman who taught herself to read and write, in turn, emphasizes the value of our own education and our ability to turn our studies into action."
Carolina author Sirlene Barbosa and illustrator João Pinheiro will be present in Loveless' class for a Q&A on December 16, 2021 at 12:30pm. For more information on their presentation or to attend, please contact mloveless@tulane.edu.