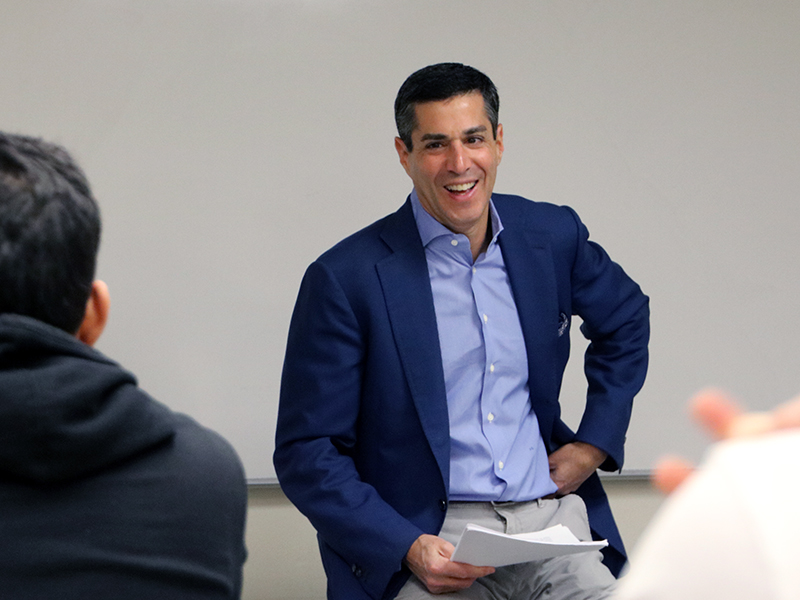 "Once you get into the workplace, it's the full tapestry of personality, approach to problem solving, and interpersonal skills that help determine one's success. The breadth of education and experience that a liberal arts education equips you with is very beneficial in that respect," explained Jim Gold (A&S '86), a Tulane liberal arts alumnus who was an Executive in Residence on campus this fall.
Over the course of two months, Gold visited numerous classes, gave two lectures, and provided one-on-one career advising to Tulane students. Gold studied English while at Tulane, and after obtaining an M.B.A from Harvard Business School moved on to pursue a career in retail and merchandising, most recently holding the position of President & Chief Merchandising Officer for the Neiman Marcus Group, LLC. "It's been fun to have an opportunity to be back on campus and see the extraordinary changes taking place," remarked Gold. "Tulane is a very different place today than when I was here—the campus and the student body are so impressive."
During his time with students, Gold shared how wide-reaching retail is as an industry—ranging from digital companies like Amazon to department stores, vertical brands, restaurants, and auto dealerships—and the extent to which it drives our economy. He encouraged students to think about retail when considering the array of professional possibilities it presents, and outlined the massive transformations the industry is going through, driven by technology. "I believe that most retail companies today crave associates who are comfortable with technology in all of its forms. And historically, younger associates would come to a company and have little to bring to the table regarding experience," Gold explained. "But it is flipped today—the insight and comfort level that youth have today with technology is essential for businesses. Recent graduates are in a better position than ever to add value to a company as a young associate, and they should be very optimistic about how much opportunity is out there."
From advising students on the importance of developing social skills, to urging them to get out of their comfort zone, work hard, and hitch their wagon to the most talented people in the organization, Gold also explored the correlations between university and professional settings. "When I was a student at Tulane, it became clear to me that if you were willing to invest in the experience as a student, professors were willing to invest in you. They wanted to see demonstrated interest, and if you sought them out, they were always willing to spend quality time with you. And I believe there is an analogy here in terms of how a young professional should approach their work—it is critical to be resourceful and proactive as they navigate their new company. "
Gold values his undergraduate experience at Tulane and reflects on how his liberal arts coursework prepared him in many ways to succeed, including creating a foundation built on being able to write and communicate effectively—important tools for every profession. "It was really nice to be able to offer some advice to Tulane students, and to do my small part to help them navigate the road ahead after graduation," said Gold.